This post may contain affiliate links. As an amazon associate, we earn from qualifying purchases.  Find out more in our disclosure.
Dreaming of a European ski trip with your family? Switzerland is a beautiful place to visit all year, but it's especially magical for a winter ski trip. The city is surrounded by mountains, like Sunnegga, Matterhorn, and Weisshorn, all boasting ample amounts of deep, soft snow, ski lifts, and kid-friendly Zermatt resorts galore.
There are also a lot of pedestrian-only city walks, shops, and restaurants for you to peruse and enjoy after spending a day on the mountain, which makes this one of the best places for a family ski trip where you can get a little bit of everything. The charming town combined with the incredible skiing is an unbeatable combination.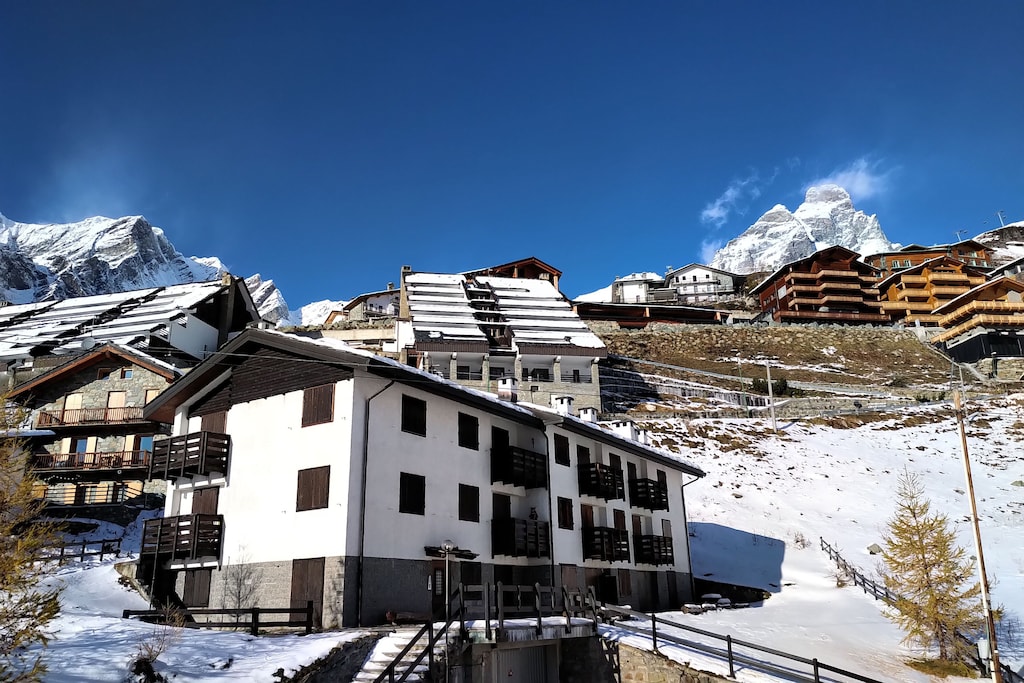 Quiet and cozy with panoramic views of the Matterhorn mountainsides, this Ski Chalet w. Sunny Terrace, one of the best ski in ski out hotels in Zermatt, sits within mere steps of Cervinia Ski Lift. It's the optimum place for kid-friendly Zermatt winter sports, featuring access to both Matterhorn Ski Paradise and the Breuil-Cervinia Gondola. The chalet is within walking distance of the local town's shops and restaurants, so there's no shortage of things to do, eat, buy, and enjoy.
The Ski Chalet w. Sunny Terrace's kitchen is notably a favorite for past guests. It's full, well-equipped, and boasts all of the modern appliances and utensils that you would need to cook breakfast, lunch, and dinner in a homey atmosphere like this family lodging in Zermatt. However, if you'd prefer to grab a bite elsewhere, there are authentic Italian cafes in the local village, perfect for grabbing fresh-brewed coffees and pastries to fuel your mornings.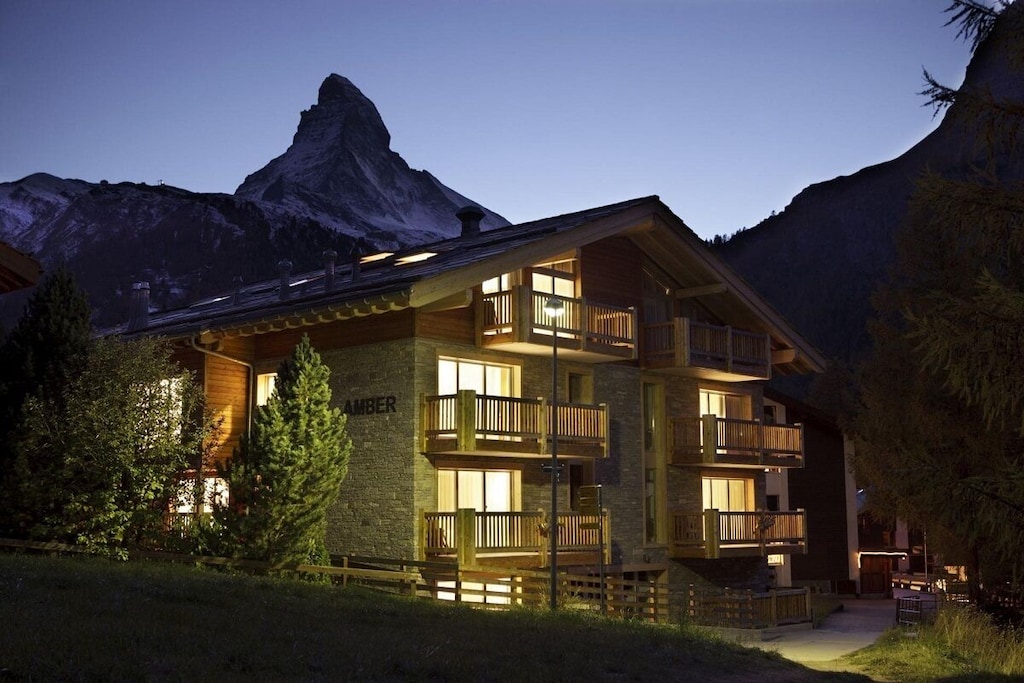 Ranked as one of the best hotels in Zermatt for families, the Zermatt Luxurious Three-Bedroom Condo bolsters an incredible view of Matterhorn peaks and sits close to the Matterhorn Express Lift Station. When snow conditions permit, guests can ski to and from the condo entrance, with on-property heated racks for wearable winter gear and storage compartments for skis, snowboards, and other wintry equipment.
As for the family ski in ski out in Zermatt property and chalet itself, this Zermatt Luxurious Three-Bedroom Condo features double and twin-size bedrooms, all with private ensuite bathrooms, complimentary toiletries, and clean, plush towels, and walk-in showers. The condo, a favorite for Zermatt resorts ski in ski out, comfortably sleeps 6 people, with plenty of space to cozy up in the living room in front of the fireplace after an exhausting day on the slopes.
With ski-in ski-out access and a clear line of sight to beautiful Matterhorn mountain, Studio Vitalis A&B, dubbed one of the best Zermatt studio rentals, is a one-bedroom apartment-style vacation rental with a well-stocked kitchen, ensuite bathroom, and garden views from a private, well-furnished balcony. One apartment is accommodating to couples, while another is accommodating to families. The latter features two single beds and one double bed, all plush and comfy with plump pillows, warm blankets, and fresh, crisp linens. The family-friendly Zermatt on mountain lodging is also the larger of the two, and it accounts for children with a cabinet full of books, board games, and other entertainment.
Guests to this family-friendly Zermatt Studio Vitalis A&B have close access to ski pass vendors, ski equipment rentals, and ski storage units. There's also a nearby ski school that has great classes for both kids and adults.
You could also walk to Matterhorn Museum for history tours of Matterhorn Mountain and its many artifacts.
While Studio Vitalis A&B, an ideal choice for family lodging in Zermatt, boasts a full kitchen with all modern appliances and amenities, not everyone wants to cook every day of their vacation. For eats that you don't have to serve up yourself, Sparky's Bar & Restaurant is a local Zermatt favorite with a casual, cozy atmosphere. The kid-friendly Zermatt fare is a combination of classic Swiss and American, like jalapeno poppers with sweet chili sauces, stuffed dumplings with chutney, and lambs with rice, tomatoes, and peppers.
One of the draws of the Hotel Berghof, a popular family ski in ski out in Zermatt, is its heated indoor swimming pool with a jacuzzi tub and waterfall. While kids swim and have fun in the pool of one of the best ski-in ski-out vacation rentals in Zermatt, parents can supervise from the poolside cabanas – all heated, indoors, and convenient for warm, cozy fun, and relaxation. This hotel, one of the best kid-friendly hotels in Zermatt, sits next to the Matterhorn Paradise Cable Car, granting shuttle access to local ski lifts and shops, restaurants, and in-town cafes. There's one one-site restaurant, serving up traditional European foods, and breakfast is served buffet-style for Hotel Berghof guests. The Zermatt-Furi Ski Lift is less than 100 feet from the hotel entrance.
Families to Hotel Berghof have access to a kids' playground, as well as board games, card games, and a library of puzzles, books, and movies to rent. One of the best hotels in Zermatt for families, the hotel doubles as a full-service spa, complete with facial treatments, waxing services, body wraps and scrubs, and a wide range of styles for massages.
Seated alongside Zermatt-Sunnegga Ski Lift, the Overlook Lodge by CERVO Zermatt, a popular option for family lodging in Zermatt, offers studio to two-bedroom apartment options, but the two-bedroom option is the perfect one for families. There's an extra-large double bed in one bedroom and bunk beds in another, plus a pull-out sofa bed in the living room, making it possible to comfortably sleep four to six people in one apartment.
For entertainment off the slopes during your family ski trip to Zermatt, kids can check out board games and puzzles from the reception desk. There's also a library of books and movies for rent in one of these best kid friendly hotels in Zermatt, as well as a scheduling department for walking and bike tours. For mom and dad, there's a full-service spa that offers couples massages.
Within a ten-minute walk of Zermatt Center, complete with family friendly shops and numerous restaurants, the Hotel Plateau Rosa is a car-free, pedestrian-friendly resort with rustic, lodge-style rooms. The rooms at this family ski in ski out hotel in Zermatt overlook the Matterhorn from the south side, while northside rooms have beautiful views of the property gardens. Matterhorn Express 1 and Matterhorn Express Gondola are located within steps of the Hotel Plateau Rosa entrance. Plus, there's winter equipment storage at the front desk upon request.
Bergstube, a restaurant near several ski in ski out hotels in Zermatt, serves a combo of Swiss and European cuisine. While many options on the menu are kid-friendly, it's also an opportunity for children to try new foods at this popular ski in ski out in Zermatt. The skillet dinners are favorites with ingredients like bacon, eggs, and onions tossed in a butter sauce and served sizzling in a cast iron dish. Other favorites at this Zermatt on mountain lodging location include the schweinschnititzel (fried pork schnitzel), meat and veggie fondue, and scrumptious desserts like fresh-made apple pies.
Think of those charming small-town ski in ski out in Zermatt commercials that you've seen of rustic lodges in the Swiss Alps. That mental image perfectly describe The Pollux, a beautiful ski hotel that boasts an on-site ski shuttle, ski-in ski-out access, and storage facilities for winter sports equipment. It's a family friendly Zermatt hotel, offering free buffet breakfasts every morning during your stay, as well as two on-site restaurants with bars and lounges.
Children stay free at The Pollux, an ideal destination for family on mountain lodging in Zermatt, and there is in-room childcare available when scheduled in advance of parents' plans. Mom and dad can schedule an indulgence of spa services, complete with a Turkish bath, at the on-site wellness center. Then relax for an hour with cocktails at the Chami Bar Fireplace, located within this popular family ski in ski out in Zermatt.