This post may contain affiliate links. As an amazon associate, we earn from qualifying purchases.  Find out more in our disclosure.
Mont Tremblant Canada is a fun ski destination for all ski enthusiasts. With its thrilling mountain peaks, fascinating architecture, and enjoyable ambiance, the city offers unlimited skiing pleasure for everyone.
To make your ski holiday more memorable, these accommodations we're featuring in Mont Tremblant feature amenities and facilities geared toward creating a wonderful skiing and lodging experience. All of these places to stay have easy access to the ski hill, which is perfect for families with kids. If you are looking at skiing at other resorts in Canada check out Whistler or Fernie.
And guess what?
We've carefully selected the best ski-in ski-out hotels in Mont Tremblant for you. Here are our top hotel and vacation rental recommendations.
The Best Ski-In Ski-out Hotels in Mont Tremblant
Planning On Skiing With Little Kids?
Grab our Complete Guide to Skiing with Little Kids!
Designed to take the guesswork out of skiing with kids ages 5 and under so you can hit the slopes with confidence and get your child loving skiing from the very start!
Strategically built at the center of Mont Tremblant and at the base of the majestic Tremblant peaks. The significant reasons Fairmont Tremblant is recognized as one of the premier ski-in ski-out hotels in Mont Tremblant are — its proximity to Fairmont Tremblant resort and its astonishing facilities. 
Ski tourists flock to the hotel every winter to get a massage at the modern spa, enjoy its unique amalgam of alpine glamor, and experience the balanced mixture of adventure and relaxation. This ski-in ski-out Mont Tremblant hotel offers guests wine tasting, yoga classes, and skiing guide privileges.
The carefully designed, family-friendly Mont Tremblant hotel boasts satellite TV, a seating area, and modern bath amenities for all rooms. You'll love the on-site restaurants and bars, where you can eat sandwiches, salads, and ham. If you need a place with impressive concierge services, this hotel for family ski-in ski-out in Mont Tremblant has a passionate team of concierges.
Any family lodging in Mont Tremblant with kids can stay here for the child-friendly pools and hot tubs. They even have games available to play with your kids. Make sure to dress warmly because the weather can change drastically while skiing. You will want to dress your kids in a base layer, mid-layer, and outerwear while skiing. Warm gloves can make all the difference in how long my kids will stay outside.
The kid-friendly Fairmont Tremblant accommodation has one-bedroom condos and Gold Rooms with large beds. The one-bedroom condo can sleep four, and the Gold Room can sleep two. Family on-mountain lodging in Faitmont Tremblant costs $386 per night.
Technically located adjacent to Mont Tremblant National Park and Tremblant Lake, Place Saint Bernard is a family-friendly accommodation you should consider. If you want a fabulous Mont Tremblant resort ski-in ski-out experience, this is the place for you!
In the mornings, you can make hot chocolate and relax beside the fireplace in the room. Or you can cook breakfast in the full kitchen with modern utensils and gadgets. Our family loves to bring a jug full of hot chocolate to the ski hill for whenever we need a break to warm up. Then, after skiing you can go to the village that is within walking distance to eat dinner with your family.
The rooms here are elegant and clean. Staying at the property for Mont Tremblant skiing will be perfect for kids because of the large rooms and flat-screen TVs for movies during skiing breaks. With its facilities and babysitting services, this property is one of the top kid-friendly hotels in Mont Tremblant. Staying at a ski-in ski-out lodge is so nice with kids because you can easily come inside for a hot chocolate break or if your toddler needs to take a nap. That way one parent can easily take them inside while everyone else keeps skiing.
On top of it all, this hotel is refreshing for a family ski-in ski-out in Mont Tremblant, and the lodging options include studio rooms, a one-bedroom suite, and a loft suite. The studio room and the one-bedroom suite sleep four, while the Loft suite sleeps six. The price starts at $167 per night.
Sommet Des Neiges is a perfect pick if you want to stay in a family-friendly Mont Tremblant hotel. The hotel is set at the center of Mont Tremblant's pedestrian village, where Mont Tremblant National Park, Le Diable, Le Géant golf courses, and Mont Tremblant Casino are easily accessible from the property. Everything you might need is within walking distance. This is especially nice if you don't rent a car.
The friendly staff at this kid-friendly Mont Tremblant hotel will ensure you enjoy your stay. The Sommet Des Neiges has a great contemporary room with a really comfortable sofa, internet access, and an HD flat-screen TV. This is perfect for teens and younger kids.
Visit the sauna for a stress-relieving steaming session. After a day of non-stop skiing, dip in the outdoor saltwater whirlpool or the swimming pool. My kids always love staying at hotels that have swimming pools. Also, the hotel's fitness room is always open for workouts.
The hotel is a good location for kids, and the rooms are spacious for them to play. They also have a fun game room with a lot of different games that you can play together after a day of skiing. The hotel's one-bedroom suite can sleep four, the two-bedroom suite sleeps eight, and the three-bedroom suite can sleep ten. Sommet Des Neiges mountain lodging rooms are available at $170 per night.
If you want a family ski-in ski-out in Mont Tremblant experience that makes you feel at home, Ermitage du Lac – Les Suites Tremblant is the right place for you. The room furniture offers premium comfort — and gives you a good night's sleep. Besides, Cabriolet Ski Lift, which can help you explore Mont Tremblant, is a few blocks away.
This ski-in ski-out Mont Tremblant hotel will give you and your family a great vacation. Here, you can relax in the hot tub and crash out on the hypo-allergic bedding after an outdoor family ski-in ski-out in Mont Tremblant. The hotel has amenities for kids, including free cribs or special kids' beds, free WiFi for Netflix and YouTube videos, and a kid-friendly outdoor pool. 
With an array of facilities at the Ermitage du Lac, this hotel is a great choice for any family. Guests are welcome to lodge at the one-bedroom condo that sleeps six or the deluxe room that sleeps four. You need to budget at least $140 per night for this place. 
Located at the base of the slopes of Mont-Tremblant, this ski-in ski-out Mont Tremblant hotel is amid spectacular peaks and fun places in the pedestrian mountain village. Every part of this hotel has been meticulously thought out to offer a magnificent family ski-in ski-out in Mont Tremblant experience. This is why Homewood Suites by Hilton is famous as the coolest property for Mont Tremblant resort ski-in ski-out.
In terms of amenities, every room at the hotel features a cable TV, an air conditioner, a full kitchen, and a safety deposit box. You can relax beside the fireplace in your room and grab a complimentary hot breakfast before skiing or playing golf at the golf course nearby. Family on mountain lodging in Mont Tremblant gets more enjoyable at the hotel when you visit the on-site sauna to unwind.
The hotel has a variety of things that will make kids happy — the spacious playground is one of them. Even better, kids can improve their skiing skills at the ski school close by.
If you visit this hotel and see its amenities, you will understand why it's on our list of the best hotels in Mont Tremblant for families. The property's room options range from a one-bedroom suite to a Superior Suite with a Murphy bed. The one-bedroom suite sleeps four, and the Superior Suite sleeps eight. The price starts at $169 per night.
Read Next: How to Teach Your Kids to Ski and Tips for Spring Skiing
If you plan to visit the Mont Tremblant Casino during your vacation, this ski-in ski-out Mont Tremblant hotel is less than two miles from the casino. The Parc National du Mont Tremblant is also a walking distance away, making the accommodation an easy pick for families among other kid-friendly hotels in Mont Tremblant.
Le Westin Hotel has plenty of family-friendly amenities, from luxurious kitchenettes to a well-furnished fitness gym. Make your stay here unforgettable by experiencing restorative massage at the property's spa. You'll also like the hotel's complimentary breakfast.
Recognized as one of the unique kid-friendly hotels in Mont Tremblant, the kids can get extra beds or cots. There's a playground for the little ones at the hotel, and babysitting services are available too. This can be so nice for young kids or babies who either need a break from skiing for the day or aren't skiing this trip.
No list of stylish ski-in ski-out hotels in Mont Tremblant is complete without the inclusion of Le Westin Hotel. The hotel has one-bedroom suites that sleep four and two-bedroom suites that sleep eight. This accommodation is one of the most affordable on our list of the best Mont Tremblant hotels — lodging at this place costs at least $158.
The Best Ski-In Ski-out Vacation Rentals in Mont Tremblant
This two-bedroom condo is a good pick if you want to stay at the heart of skiing activities, making it one of the best ski-in ski-out vacation rentals in Mont Tremblant. From this accommodation, a family lodging in Mont Tremblant can visit the Saint-Bernard Chapel to try out frozen slides and see beautiful ice sculptures.
You'll love resting at this newly renovated, family-friendly Mont Tremblant property after a long day exploring Mont Tremblant's skiing slopes. All rooms have genuine leather couches, a fireplace, Sony Bluetooth speakers, a Google home mini linked with Spotify, and free WiFi. After a long day of skiing there are plenty of restaurants nearby.
This kid-friendly Mont Tremblant condo has a twin bed, high chairs, and a pack-and-play for kids. Engage your kids with lego and board games, or let them watch Netflix movies on the smart Samsung TV in the living room. This exceptional two-bedroom condo sleeps five and costs $259 per night.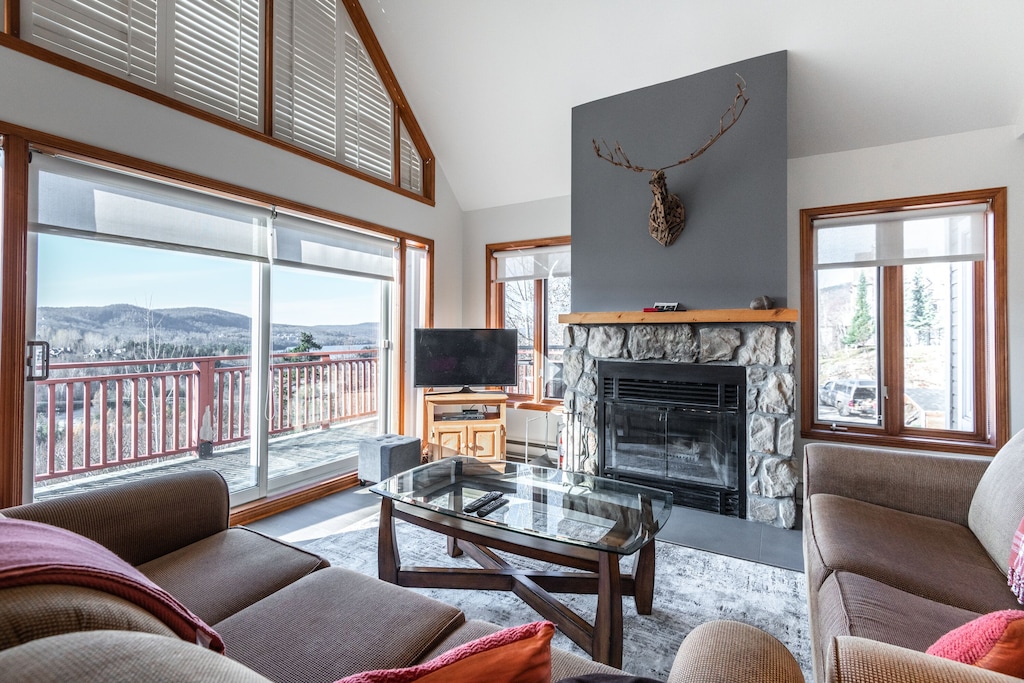 If lodging in the best hotels in Mont Tremblant for families is not your thing, this condo near the pedestrian village is an excellent alternative. Sometimes bigger families have a hard time fitting in a hotel room and this condo can sleep six. This high-standard apartment is one of the best ski-in ski-out vacation rentals in Mont Tremblant, and is very close to the mountain for skiing.  
The condo is stylishly outfitted with thoughtful extras like a dining room, two decks, BBQ, ski locker, heated underground garage, and kitchen with toaster and crockpot. This apartment is suitable for family lodging in Mont Tremblant. It's always nice to have the option of saving money by cooking at the condo. Here are some ideas for lunch on the ski hill. If you're visiting Mont Tremblant for a romantic getaway, you can dine at the romantic restaurants in the pedestrian village. 
The two twin beds in the condo are suitable for kids of all ages. This property has everything a family can expect from the best ski-in ski-out vacation rentals in Mont Tremblant. It sleeps six, and the price for lodging here is $355.