This post may contain affiliate links. As an amazon associate, we earn from qualifying purchases.  Find out more in our disclosure.
Winter has finally arrived, and it's time to get all your kid's ski gear ready to roll!
We know you are all pumped up to enjoy winters with your kids which is exactly why we are here to help you choose the best ski gear for your kids.  Here at Skiing Kids, we are big believers in the saying "There's no bad weather, just bad clothing", and good kids' ski pants are absolutely essential.
Over the last 15 years, we've tried out more kids snow pants than I can even count. Between our 5 kids, we've had a little bit of everything. SOme of them have been AMAZING and lasted through all 5 kids and others got tossed after just a few wears. We're here to help you find the best kids snow pants so your kids can stay warm and dry all winter.
For kids now gear, kids snow pants and kids' mittens and gloves absolutely need to be waterproof since they always have the most contact with the snow. Our family does A LOT of skiing as well as spending tons of time out in the snow in general (thanks to living in the mountains of Utah), so our winter gear gets used HARD! Below we're recommending the best snowpants for kids that will let them play and explore all day, no matter what the weather thanks to these waterproof snow pants for kids.
SPOILER: Skip ahead for a 20% discount on our FAVORITE WATERPROOF SNOWPANTS.
You'll also want to make sure that your kid has a great coat. We've reviewed the best winter coats here and the best ski coats for kids as well. If your kid doesn't love the 2 two-piece snow pants and ski coat combo, check out our review of the best kids' snowsuits.
Sizes 4-16
Waterproofing: 20,000 **Most waterproof kids snow pants**
MSRP: $190 (with discount $152)
If you're looking for the most waterproof snow pants for kids that are made with top-notch specifications that would impress even the most aggressive adult skiers then you will love Shred Dog Elevated ski pants. Shred Dog makes ski outerwear specifically designed for kids with the absolute highest standards. These are definitely the most waterproof snow pants that we've seen with a 20,000 mm waterproof rating (most brands are only about half of that). 
Another great feature of the Shred Dog Elevated kids ski pants is that they can be worn either as a bib or as just a snow pants since the upper section of the snow pants zips off depending on your child's personal preference or style.  These best kids waterproof snow pants also have a completely reinforced knee and instep to help them last even longer as well as adjustable cuffs that can be adjusted to be both longer and shorter which make these great snow pants for passing up and down between kids are growing into. We also love that these snow pants have plenty of pockets as well as zippers on the legs for ventilation on extra-warm days. If you want kid's ski pants that are the highest quality, we think that Shred Dog makes the best waterproof kids ski pants.
NOTE: These snow pants run BIG! All of our kids are average height and wear a full size smaller in their snow pants! Shred Dog is transitioning over their name to Akova during this winter season. Both are the same brand and exceptional quality.
Best Features of Shred Dog Elevated Ski Pants
Ventilation zippers on the legs
Can be converted from a bib to a snow pant and back
Length can easily be adjusted to be both longer and shorter.
Reinforced instep, hem, and knees
Most waterproof snow pants available
Use Code SKIINGKIDS for 20% regular-priced items at Akova
Sizes: 2-13
Waterproofing: 10,000
MSRP: $80 (with discounts, $68)
Our kids have been wearing Proxima ski pants for several seasons and we absolutely love them. The quality is fantastic and they've never disappointed us even in really snowy and wet conditions.
Kids will love that they have TONS of different color options available, which is no surprise coming from Reima! Reima has some of the most high-quality outerwear in the brightest and most fun colors and prints for kids that we've ever seen!
The seams are reinforced on the hems to make them last extra long and the entire outer material is treated with a dirt-repellant finish so they always clean up so nicely, even with lighter colors.  The waterproofing is rated at 10,000. The Reima waterproofing lasts longer than nearly any other brand that we have tried.  Also, the fabric is extra durable, so it stands up to all that kids can throw at it (which in our case is a lot).  Our kids have regularly worn these from age 7-10 and despite the fact that they play HARD, these pants have lasted longer than most others!
Best Features of Reima Proxima Snow Pants for Kids
All seams sealed
10,000 Waterproof Rating
Water and dirt-repellant finish
Reinforced leg ends
Lots of different colors
Relatively affordable
Use code SKIINGKIDS20 for 20% off all purchases at Reima
Sizes: 2-13
Waterproofing: 15,000
MSRP: $149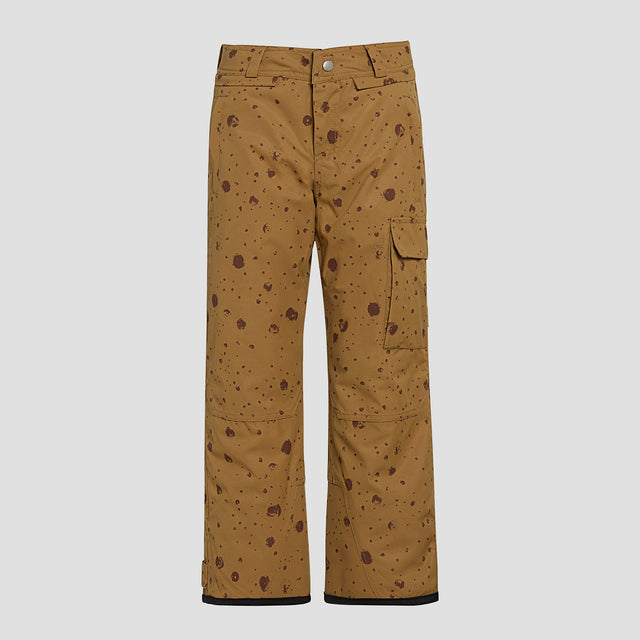 We absolutely LOVE these Namuk snow pants for kids. They have super unique color and design options and they're perfect for the kid that wants to stand out. We are big believers in highly waterproof snow pants for boys and girls and the 15K waterproof rating on these waterproof snow pants for kids makes such a difference in keeping kids dry and we love them for kids who are really active and spend a lot of time outside in the winter. While we used them as snow pants for our daughter, they're pretty gender-neutral, making them some of the best snow pants for boys or girls.
My daughter has been wearing these all season and she loves that the waist adjusts to fit her well (she's very skinny and these adjust well to fit her) and that they have fun colors that make her feel original. Best of all are all the pockets so that she can store all of her things in her snow pants (phone, snacks, and a little cash). We also love that they will last longer with the reinforced ankles. This is especially helpful for skiing since the ankles can get beat up pretty badly by skis.

These are excellent kids snow pants and we highly recommend them!
Best Features of the Namuk Crusade Snow Pants for Kids
15,000 waterproof rating
Eco-Friendly recycled insulation
Tons of fun colors and upcycled options
Reinforced ankles
Zips together with Namuk coats to keep snow out and for extra warmth
Tons of pockets
Sizes: 7-14
Waterproofing: 10,000
MSRP: $100
If you want really great quality kids' snow pants but are on a bit of a budget Boulder gear is an excellent option. Our family has been wearing Boulder gear pants and coats for the last eight years and have always been incredibly impressed. They have some of the features that higher-end brands have but at a much more affordable price, these snow pants have a 10,000 DWR waterproof rating which means that they're great for most of the conditions that kids will be in.
Last year my son wore the Boulder Gear Bolt boys snow pants all season long and was really impressed with them. He always stayed warm and dry with these ski pants, and even after being used constantly, they are still in wonderful condition.  We love that the bolt pants have plenty of pockets (6 pockets in total) as well as ventilation zippers for warmer days.
Best Features of Boulder Gear Bolt pants
Multiple colors and designs make these fun for kids
A great waterproof and breathability ratio
Adjustable waistband
6 pockets
Leg zippers for ventilation.
Sizes: 2-18
Waterproofing: unknown
MSRP: $79
These kids' snow pants from Columbia are great in terms of both style and quality.  These snow pants are a bit baggy and can be a little bit long on shorter kits however you can always roll them up words.  Columbia makes great quality kid's outerwear and these pants are no different. Filled with 60 grams of Microtemp XF II insulation they do a great job of keeping kids warm even on extra cold days. The best part of the Columbia ice slope insulated pants is the waterproofing on the outside. 
These snow pants are quite waterproof, keeping you dry and warm from the chilly water. These ski pants for kids are made of waterproof material on the outside and lined with taffeta for comfort on the inside. The outer material of the pants is 100% Nylon Hydra Cloth 3000 fabric.
 Although these pants don't have any additional outer zippers for ventilation there are two front pockets and a handy cargo pocket on the side which is great for kids to store all of their things in.
Best Features of the Columbia Ice Slope Pants for Kids
Very affordable
Multiple colors are available which are great for kids
Waterproof
Multiple sizes are also available
Insulated against colder temperatures
Sizes: 1-9
Waterproofing: unknown
MSRP: $99
Helly Hansen vertical snow pants are actually snow bibs so if your kids like a little bit more coverage these are an excellent choice. We prefer bibs for kids who are younger or for kids who are more aggressive in their skiing or outdoor play since it tends to insulate them better, keep them warmer, and helps keep snow from going down their pants. These snow pants for kids are adjustable both up and down so they're perfect for both growing into as well as passing down to younger kids.
Helly Hansen vertical snow pants are well-insulated to keep your kids warm during the cold and the top of it is especially great for keeping kids insulated because it is made of Polartec material to keep their core warm. The bottom of the pants is completely waterproof which makes it great for kids who will be sitting or playing in the snow a lot.  These kids' waterproof snow pants are a great choice if you're looking for snow bibs for younger kids but they don't have as many bells and whistles as many of the other brands that we're featuring here.
Best Features of the Helly Hansen Vertical Insulated Snow Pants for Kids
Adjustable leg length both up and down
Waterproof
Fabric is reinforced on the seat, knees, and bottoms of the legs
Fleece Insulated upper
Sizes 4-15
Waterproofing 10,000
MSRP $109
Marmot is well known for making great outerwear across the board and we're thrilled to see that they have some excellent snow pants for kids. The Marmot Edge kids snow pants are great because kids can wear them as regular snow pants or if they need some extra support they can wear them with the attached suspenders so their pants stay put as they ski throughout the day.
These pants are completely insulated and her great for kids to grow into with their grow cuffs to help extend the length of the snow pants. These pants are also fully waterproof so that your kids can enjoy skiing or playing in the snow without getting wet on the inside of the pants. Another great feature of the Marmot Edge snow pants is that they have a snap and zip closure at the waist so that kids can get a great fit no matter how big their waist size is.
Best Features of Marmot Clip Snowpants
Removable suspenders provide two styles
Adjustable length pants so that kids can grow into them
ZIppers on the side pockets as well as a cargo pocket in the front for storage
Sizes 8-20
Waterproofing 10,000
Price $129
Spider is a well-known name in the ski outerwear industry. The Spider Vixen pants are only for girls and the girly colors of the snow pants will make them stand out and really appeal to girls with the more fitted and feminine cut.  These pants also have four pockets which are great for kids who are skiing independently or who always want to take extra things with them. The hem of these pants can also be extended a full inch making these a great set of pants to be able to grow into and hopefully last more than one season. These pants not only have a 10,000 DWR waterproof rating but they also have 60 grams of Thinsulate insulation which means that they will not only keep your kids dry but they will keep them warm as well.
Sizes: 3-8
Waterproofing: 20,000
MSRP: $249
The Tobe Novus snow pants bib Is virtually indestructible. These are 100% waterproof and 100% windproof so if you have a kid that always seems to find a way to get wet no matter what sort of clothing you put them in they are the best snow pants that you can buy. These waterproof kids snow pants are a bib style of snow pants with adjustable suspenders that also have elastic cuffs around the bottom so that snow doesn't get in either on the top or the bottom.
Tobe is known for being a producer of high-quality outerwear that is significantly thicker stronger and more durable than most other brands out there. Although the cost of Tobe waterproof snow pants for kids can be quite high, if you need something that's going to last and be 100% waterproof no matter what conditions your child is in these are the pants to get.
Best Features of the Tobe Kis Snow Pants
Large pockets
Incredibly durable material
Reinforced seams
Boot band is replaceable
Important Features in the Best Waterproof Kids Snow Pants
Whenever you plan on buying snow pants for kids, there are a few factors that you must consider:
· Waterproofing for snow pants
· Snow pant insulation
· Vents, pockets, and zippers on snow pants.
Waterproofing for Kids' Ski Pants
The most important thing to consider when buying snow pants for kids is how waterproof the kids' snow pants are. When you are buying snow pants for kids, you need to check how waterproof the pants are.
Since you will be using these ski pants for kids while skiing and snowboarding, you want to make sure that they are really waterproof since kids tend to get the most wet on their legs and backside while playing in the snow. Good waterproof ski pants prevent kids from getting too wet in these areas.
Look for a waterproof range from 10,000 mm to 20,000 mm DWR for better waterproofing. If a brand doesn't specifically state its waterproof rating, it may be a good idea to buy a brand that shares that information! Remember, not all waterproof coatings are created equal!
Breathability of Kids' Snow Pants
Make sure the snow pants are insulated, waterproof, and breathable. The better breathability it provides, the more comfortable your kid will be. Breathable snow pants will make sure there is no overheating and sweat build-up. While it's important to make sure that our kids are warm while they are outside skiing, remember that getting too hot and really sweaty will usually result in cold kids once that sweat cools down.
Vents and pockets on Kid's Snow Pants
The vents and pockets are important snow pant features, especially for kids as they get older. Pockets are great as it gives kids a place to stash their snacks and other items, and also allow kids to have more freedom. As our kids get older and we allow them to ski independently (with a buddy of course), we always have them carry a snack, a phone or walkie-talkie, and some cash with them.
I also notice that when my kids get to be around age 8 (especially my boys), their legs can get REALLY HOT while skiing. When you are getting the snow pants for the kids, check if it has a thigh vent. The thigh vents will actually keep the flow of the air running and will also make sure that your kid stays comfortable. Moreover, with the vent, the airflow is better, and there is no sweat build-up.
The Best Prices on Kids Snow Pants
While price is not the most important factor when you're choosing a pair of kids' snow pants, it does need to be considered. Even if there are all the features, you will still need to look at the price range. If you're just going to be in the snow for a week-long ski vacation with kids, then you might not want to invest as much as someone who lives in the mountains and wears snow pants several times a week.
However, it's also important to think about how long you want the kids' ski pants to last. I have 5 kids and I know that if I buy high-quality gear for my oldest child, then I can reuse most of that gear for my other kids as they grow up. Truthfully, I've never regretted buying more expensive snow gear for our kids (despite being very frugal), and usually regret buying cheap gear!
I bought my son a cheap boys winter coat from Target when he was 3 and he always came inside wet and complaining in the winter – HUGE MISTAKE! NOW, I always make sure that our kids have high-quality coats, boots, snow pants, and gloves every winter (and if you can't afford to buy new ones, make sure to waterproof old gear with this waterproofing spray).
We compiled the list of the best options for kid's ski pants that are waterproof and designed to keep your kids dry and warm while skiing.
Check out our other kid's ski gear reviews
Best Kids Ski Helmets
Best Waterproof Gloves and Mittens
Best Kids Ski Goggles
Best Ski Socks for Kids
and of course our Family Ski List Printable
Awesome Snow Toys For Kids