This post may contain affiliate links. As an amazon associate, we earn from qualifying purchases.  Find out more in our disclosure.
Hitting the slopes is exciting but let's face it — communication can't be overlooked. Walkie Talkies are perfect for skiing because they have great battery life, con reach long distances and work in remote locations on the ski hill.
Skiing with a walkie-talkie is safer than exploring terrain without one. Having a two-way walkie talkie can help you communicate where you are and what's happening to your family or group. In fact, a walkie-talkie is a must if you'll allow your kids to ski alone so that they always have a way to communicate with you, regardless of cellular coverage. Here are more reasons why a walkie talkie is an essential tool for your skiing:
Why do you need walkie talkie for skiing?
You might think walkie-talkies are not necessary for skiing, but they can be a lifesaver and can save your sanity if you're skiing with kids.
First and foremost, mobile phones don't always pick up signals on the slopes. This makes relying on your cell phone an unreliable means of communication. Furthermore, if you're trying to communicate with your family on the ski hill, most kids aren't skiing with a phone, so you need a reliable and durable alternative. Phones also die easily because of the extremely low temperature in winter, which can make communication with your family or friends difficult. You need a solid communication device like a walkie-talkie to connect you with your loved ones during your ski vacation.
Walkie-talkies come with an easy-to-push button for quick communication — this is a good thing, especially for kids, since they can easily identify what button to push to pick up calls. Besides, snow walkie-talkies are great communication devices for kids who don't own a phone.
Another unique feature kids' walkie-talkie for skiing has is the channel locking feature, which prevents accidental change when skiing. The voice activation feature in some devices also helps when you're out there gliding down the slopes. You just need to push any button after speaking to your radio, and your group will hear you clearly.
Additionally, the robust design of walkie talkies makes them perfect for skiing. Imagine plummeting your precious mobile phone. Shattering your screen can ruin your mood for the rest of the day, but a walkie talkie is significantly more rugged and durable.
Do you still think walkie talkies are not essential for skiing? I bet you don't! Now, let's check out the features you should look out for in walkie talkies.
Features To Look For in Walkie Talkies for Skiing:
Durability: The best walkie talkies for skiing can withstand tough weather conditions in winter.
Rechargeable: Ensure you buy a walkie talkie with a rechargeable battery to avoid the stress of looking for replacement batteries. The battery life is important too.
Attachment Clips: The carabiner clips on snow walkie talkies prevent them from slipping off while you're skiing and allow them to be attached externally, allowing easier access and communication.
Coverage range: What's the point of buying a family ski walkie talkie that won't cover the resort you'll be skiing? You may need to communicate with your kids from the hotel while they're skiing on long terrains. Thus, ensure your device covers the ski resort you're visiting.
It's hard to find the best walkie talkies for skiing but don't sweat it. We've rounded up the finest and the most reliable walkie talkies you can use during your adventurous ski trip.
Here are the best walkie talkies for skiing:
Rocky Talkie is our top pick among the best walkie-talkies for skiing. Skiers of all ages will love its simple design and an easy-to-push big button. The design and durability of this radio are second to none. With a usable range of around 20 miles (depending on the terrain and weather), you can communicate with your friends and family all over, even at the largest ski resorts.
One of the things you'd love about Rocky Talkie is its long-lasting battery, which can last for days and withstand the lowest of temperatures. You don't have to worry about the device dropping off with its heavy-duty Mammut® Wall Light Carabiner. The simple clip-on attachment and the extra leash with a metal carabiner will keep Rocky Talkie in place throughout your skiing. Also, sub-channel privacy codes on the device block signals from other devices not using the privacy codes on your radio.
Pros of Rocky Talkies
Lightweight
Sturdy and durable
Strong and long-lasting battery life
Easy to use
Wide coverage
Simple clip-on attachment
Cons of Rocky Talkies
Despite the locking feature, the channel has been known to change. You'll need to be careful and keep checking the channel.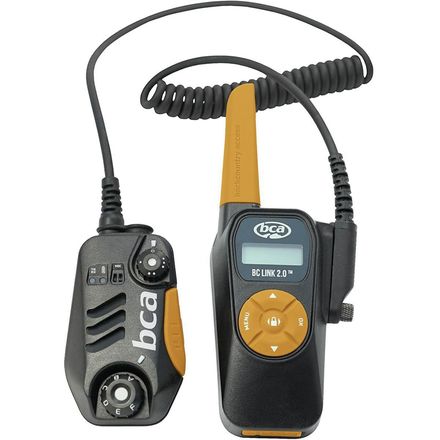 Backcountry Access BC Link 2.0 – Ski
This walkie-talkie for cold weather is one of the most durable devices on the market. The 2.0 watts of power offers a great line-of-sight range (up to 6 miles), which allows you to track your group on long terrains. Monitor the battery level with the battery percentage displayed on the screen. That way, you'll know when you need to charge the battery before hitting the slopes.
Communicating with your family while skiing has never been easier! Backcountry Access BC Link 2.0 has a unique, glove-friendly smart mic that makes it special. With the smart mic, you can keep the device in your backpack —- and control the volume, turn the device on and off, push it to talk, and change the channels. Other good features of this 2-way radio for skiing include a rechargeable battery — that lasts for up to 40 hours — and waterproof protection. You can also use the device with stash backpacks and float avalanches. The radio is also good as a snowboard walkie-talkie. 
Pros
Reliable battery life
Waterproof and strong body
Impressive coverage
Glove-friendly, remote-like smart mic
Cons
The device is a bit heavy for kids
If durability, wide coverage, and a strong battery are what you need, this DeWalt heavy-duty walkie talkie is perfect for you. Made with waterproof and dustproof materials, these family ski walkie talkies can withstand tough conditions during skiing. Drop this DEWALT device from a 2-meter height, and you'll pick it up unbroken. The UHF feature offers a clear long-range reception which varies depending on the weather conditions and terrain.
Unwanted transmissions and noise are diverted with the device's Auto Squelch feature. View the radio's status at a glance with the LCD display. The volume knob is kid-friendly, and the rugged anti-slip design keeps the walkie talkie from falling frequently. This walkie talkie for cold weather also features a key lock that provides security against unexpected channel changes.
Pros
Good for long-range communication
Waterproof and dustproof cover
Shock resistant
22 preset channels with privacy codes
Power saver mode extends battery life
Cons
The belt clip can fall out of the holder sometimes, so it's best to store it in a pocket
This ski walkie talkie from Rivins is a great device that offers some excellent features. The portable size of the walkie talkie makes it easy for both adults and kids to handle. With this 2-way radio for skiing, you can receive signals within a range of 1.2 miles under obstructed conditions, which is not bad for skiing. You can also choose any secure frequency options from the device's 22 FRS channels.
Voice Operated Transmission (VOX), which allows hands-free operation, is one of the unique features of this radio. Rivins walkie talkie can also be used as a kids walkie talkie for skiing, the buttons are child-friendly and easy to press. However, the best way to power the battery is to replace the batteries with alkaline or rechargeable AAA batteries.
Pros
Compact design
Clear LCD screen
Keypad lock
Unique VOX voice control and background noise cancellation
Cons
Low output power
The coverage is not so good with obstruction
This 2-way radio for skiing is really powerful, and the transmitter power output can be controlled by the user. This means you can boost the power and extend the transmission range. Moreover, you can save power by reducing the transmission power when it's not needed. It's 22 channels, and the 121 privacy codes will ensure that you're in contact with your family without interruption. Finding an available channel on this device is so easy that even kids can do it.
Featuring weather channels, you can get real-time weather updates and alerts with the radio. You can also use the walkie talkie as a torch in low-light conditions with its built-in flash. It is one of the good devices that can be used as a kids walkie talkie for skiing. The simple push-to-talk button on the device makes it perfect for kids.
Pros
Up to 35-mile range coverage
Hands-free communication
Controllable transmission power output
Emergency features
Built-in flash
Weather channels and alerts
Cons
It might not survive long exposure to water
The belt clip is not so strong
Midland T51VP3 2-Way Radios – Pair with Charger | REI Co-op
This Midland walkie talkie is one of the affordable yet reliable communication devices you can buy for a ski trip. It offers all the features you need to keep in touch with your family at ski resorts. The NOAA weather channels on the device keep you informed about recent weather information, which can help you stay safe.
The 3-level E VOX feature allows hands-free usage, and the keypad lock secures the channel.
The Midland radio is perfect for skiing with a walkie talkie, and it can be used as a snowboard walkie talkie too. Battery meter, monitor mode, battery saver, and call alert are other great features of this radio.
Pros
Long communication range
NOAA weather channels
It can run on a rechargeable battery or AAA batteries
VOX hands-free operation
Cost-effective price
Cons
The battery life might not last long in low temperatures
Ski resorts' terrains require an extra powerful radio that can transmit signals in cold weather conditions. This Cobra walkie talkie provides both the coverage and durability you need for skiing. Portable and rugged, this radio makes skiing with a walkie talkie easy.
You can get weather condition updates with the NOAA Weather Alerts and patented VibrAlert features. In addition to having 22 channels and 121 privacy codes, the radio provides a range of 35 miles (without obstruction). If you're snowboarding on the slopes, this Cobra radio is a good snowboard walkie talkie.
Pros
Voice-activated transmission
NOAA weather channels
Rugged and waterproof
Improved vibrating feedback for incoming transmissions
Built-in LED flashlight
Secured transmission
Cons
The range might be poor with obstruction