This post may contain affiliate links. As an amazon associate, we earn from qualifying purchases.  Find out more in our disclosure.
If you're planning a Vail ski trip, you'll want to go all out and get the best Vail ski lodging possible. That means easy access, great amenities, and plenty of comforts to make your ski trip as smooth and effortless as possible.
Vail is packed FULL of fantastic lodging options, so we've narrowed it down to the very best places to stay in Vail that make a ski trip easier for parents and still super fun for kids!
The best places to stay in Vail for skiing are ski-in and ski-out lodging, and we've put together a list of the very best options.
Why Should You Choose Vail Ski-In Ski-Out Lodging?
If you're planning a ski trip to Vail, it's clear that you want the absolute best. You want the best Colorado ski resort, the best dining, the best ski school, and of course the best lodging. Vail has become increasingly popular which brings with it crowds, lines, and parking frustrations. If you have a ski-in ski-out Vail hotel, you can just go straight to the slopes. No fighting the crowds to find a parking spot, no long trudge through town to get to the slopes, and no dealing with the mess of public transportation. Getting a ski-in ski-out Vail hotel means that your Vail ski trip will be as simple as possible.
Who Is A Ski-In Ski-Out Hotel Best For
If you're the kind of person who goes on a ski trip to relax, then a ski-in ski-out Vail hotel is perfect for you. Staying right on the slopes takes so much of the stress and frustration out of a ski trip. On top of that, all of the best slopeside Vail hotels are absolutely incredible and are packed full of great features and amenities that make them the best place to stay in town!
Choosing a ski-in ski-out place to stay in Vail can make things so much easier with kids. Not only is it easy to get to the lift from where you're staying, but you can go back whenever you want. Does your child need to take a little nap? Head back to your lodge and rest a bit. Does someone want to end early, but everyone else is still going? With a ski-in ski-out property in Vail, they can really just head back early without disrupting others' schedules.
As a parent, the best part about a ski-in and ski-out hotel is getting a babysitting service that will come right to your room so you can leave your little one, but still check in on them throughout the day!
Family Friendly Vail Hotels
The best hotels in Vail for families are those that offer award-winning lodgings that you'd be hard-pressed to find anywhere else. Family-friendly Vail accommodations offer amenities that both kids and adults can get excited about, regardless of age. These accommodations are safe, secure, and family-focused, and we've composed a list of the best Vail hotels to check into. These are kid-friendly hotels in Vail where children of all ages aren't just accepted but expected and accommodated comfortably like any other guest.
Planning Your Vail Ski Trip
While choosing the best family lodging in Vail is important, there is a lot more that goes into planning a Vail ski trip. Have you considered what do to for ski school, dining, gear, childcare, and a few non-ski activities? Make sure to grab our Family Ski Trip Planner to take all the guesswork out of your vacation planning!
Need more tips for your Vail family ski trip? These articles will help:
How To Keep Hands And Feet Warm While Skiing
Best Family Ski Gear of 2022-23
How To Dress Kids For Skiing
Best Ski-In and Ski-Out Vail Lodging
Looking for family on mountain lodging in Vail? What about a resort where you can slap on winter gear and hit the slopes after your morning coffee? These are the best ski in ski out hotels in Vail, nestled across Vail Mountain for slope-side fun as soon as you roll out of bed. No trekking miles to ski. No trudging uphill looking for the nearest lift. Each of our featured Vail on-mountain lodging options caters to a wintry, whimsical experience for the comfort and fun of kids and families. Check out the following resorts and hotels for family ski in ski out in Vail!
1. Lion Square Lodge  – Best Vacation Rentals in Lionshead Village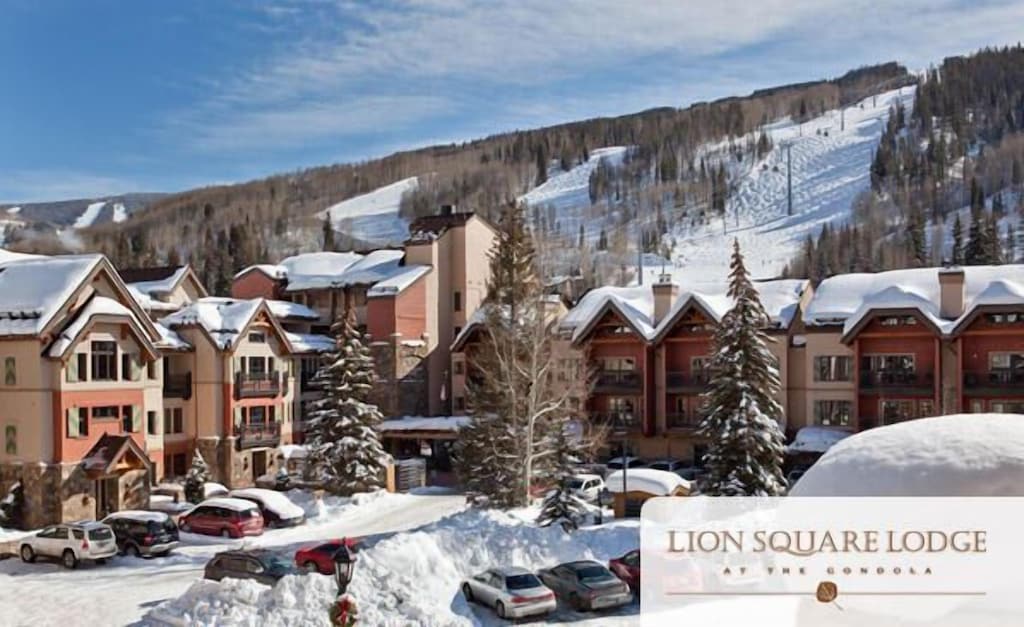 The Lion Square Lodge, snuggled into the mountainside within the scenic Lionshead Village, offers year-round options for family lodging in Vail. Accommodations include premium hotel suites that sleep two to four people, or guests can opt for condominiums with one- to five-bedrooms options and apartment-style layouts that offer all of the comforts of home. The family-friendly Vail condominiums are spacious and offer scenic views of Vail Mountain from private bedroom balconies.
The Lion Square Lodge is a short walk from the Eagle Bahn Gondola, where families are steps away from exploring 5,000 acres of snowy slopes making this a great condominium location. This Vail resort's ski in ski out accommodations include access to two levels of difficulty for snowboarders and skiers; the Green Circle for beginners and the Black Diamond for a challenge. After a morning in the snow, take your youngsters on a kid-friendly Vail Village adventure to sip hot cocoa and stroll a charming walking-only town.
End your night at the on-site Lion Square Lodge restaurant for a taste of Latin-inspired culture and cuisine at El Sabor. It's a ski in ski out Vail dining experience, serving up guest favorites like house-made chips and salsa, cheesy quesadillas, and El Pastor Mexican pizzas. They also offer a kid's menu with favorites, like cheeseburgers, chicken tacos, and chicken nuggets, all served with French fries and drinks.
Another popular accommodation option for family ski in ski out in Vail is the Grand Hyatt Vail. Situated at the base of Vail Mountain, the open-air lift is a highlight where families can wake up, throw on their winter gear, and ride to the top of the slopes for a morning burst of cold fresh air while they snowboard or ski. Accommodations include 285 luxurious guest rooms, all outfitted with either queen-sized or king-sized beds, walk-in showers, and an optional fireplace in a cozy in-room living area. Everyone has their own space to relax in each ski-in ski-out Vail suite, which makes it a big hit with older kids, especially after a long day of surfing the snowy mountainside.
Looking for a chance for romance away from the kids for an hour or two? The Grand Hyatt Vail offers kid-focused, season-inspired activities that give parents the opportunity to get couples' massages at the on-site spa. It's why the hotel is ranked as one of the best kid-friendly hotels in Vail. While kids craft, dance, snack, and enjoy safe interactions with well-trained staff, parents can relax and regain an intimate spark over well-crafted cocktails at the Fireside Lounge.
Afterward, kids and parents can meet up at Gessner, a family-friendly Vail restaurant that serves up a four-star global-inspired fare, like French baguettes with honey-truffle butter, ratatouille pasta, or perfectly cooked Colorado striped bass.
Notably, one of the best hotels in Vail for families, guests to Lodge Tower are treated to mountainside views from the spacious comforts of well-equipped, modern family suites that range from one-bedroom rooms to three-bedroom, kid-friendly Vail condominiums. Lodge Tower is located right next door to Gondola 1, where families can gain ski and snowboard access with optional ski valets to keep winter gear safe while you warm up from the slopes. There's also a pirate ship playground located behind Gondola 1, where kids can explore the high seas of their imaginations, pretend to be shipwrecked on icebergs, and wile away an hour or two while parents take a break on a side bench.
For families (especially those with young kids), this Vail on mountain lodging option is equipped with an on-site guest laundry room. It's pay per load, but always well-stocked with detergent, dryer sheets, and everything mom or dad would need for a quick wash-and-dry of winter gear or weekly apparel.
Bonus: As one of the best ski in ski out hotels in Vail, guests can rely on a concierge service that offers 24-hour coffee, tea, and hot cocoa upon request.
Offering access for accommodating ski in ski out in Vail, the Christiana Lodge, a Destination Hotel by Hyatt Hotel, combines old-world charm with modern amenities. Located right in the heart of Vail village, the location and access to the slopes in incredible. One of the highlights of this charming option for family lodging in Vail is the wood-burning fireplace in a cozy communal lobby. It enhances the alpine experience for kids and adults alike, and it's the perfect way to end a ski day, especially with a mug of hot chocolate from the on-site bar and lounge.
The Christiana Lodge is a boutique hotel, operating through all seasons with kid-friendly Vail activities that change depending on the weather. Families can swim in the heated pool, trek along the base of the mountains on horseback, or explore with a well-planned hiking trip. Gondola 1 is located within seconds of the lodge, offering options for family ski in ski out in Vail.
Side note: This ski in ski out in Vail resort offers an on-site swimming pool that's consistently warmed to a pleasant 85 to 90 degrees in the summertime and up to 105 degrees in the winters. There are also jets in the shallow end to work tired muscles after a long day of hitting the slopes.
Luxurious with an alpine charm, The Arrabelle at Vail Square, a RockResort, is ranked by past guests as one of the best Vail hotels, especially for kid-friendly Vail accommodations. It sits at the base of Vail Mountain, in the center of Vail Square in Lionshead Village, surrounded by shops, dining experiences, and charming boutiques that are lined with pedestrian-only paths.
Aside from being a family ski in ski out in Vail with easy access to the ski lifts, The Arrabelle doubles as a spa. There are steam rooms, oxygen rooms, and hot tubs with heated jets, as well as massage services for a complete relaxation experience that the whole family can enjoy at the end of a long morning on the slopes. Additionally, there's a heated swimming pool on the rooftop, overlooking the beauty of Vail Mountain.
No family lodging in Vail would be complete without hot refreshments, so the on-site Tavern offers daily hot cocoa and cookies for kids and adults alike. Parents can ask for spiked hot chocolate with a hint of Bailey's to warm their bones.
When most people think of ski in ski out hotels in Vail, they conjure images of snowy slopes and ice everywhere. And while skiing and snowboarding activities are always an option, The Lodge at Vail is one of the best hotels in Vail for families because of its year-round kid-friendly amenities.
The spacious suites are separated into apartments, some with in-room fireplaces surrounded by comfy, deep-cushioned couches for an Alpine log cabin feel. The lodge operates all year, with family-friendly activities that change depending on the season. For instance, this resort for family on mountain lodging in Vail offers an on-site bowling alley, the front desk staff is happy to plan a safe hiking trip for families, and an all-inclusive spa for massages, manicures, pedicures, and all-around relaxation.
One draw for this family ski-in ski out in Vail is the option for babysitting services. Parents can schedule a well-trained, professional babysitter for their kids for a few hours while mom and dad explore a romantic evening in the village. Or they can stop at one of two on-site restaurants – Cucina or Elway's – for cocktails and a quiet dinner.
There's history at The Lodge at Vail because it's notably the first-ever Vail resorts for ski in ski out activities. It's seated at the side of Vail Village with cornerstone access to shops and restaurants, as well as quick access to Gondola 1 for winter sports.
If you've never stayed at a boutique resort for ski in ski out in Vail, Montaneros by Destination Resorts Vail is a family-friendly starting point. The condominiums are spacious and cozy, with mountain views from private balconies, complimentary bathrobes for the whole family, and complimentary hot coffee and hot chocolate in the mornings (courtesy of 24-hour concierge services). As one of the best hands-on, guest-focused ski-in ski-out hotels in Vail, Montaneros encourages guests to schedule family-friendly activities throughout each day, such as horseback riding when the weather warms, or a hike on the safe trails of Vail Mountain. 
Aside from skiing and snowboarding on the mountain slopes, there's an on-site ski training facility for anyone who needs a lesson to brush up on their ski skills. Montaneros is one of the only resorts for ski in ski out in Vail to offer training sessions, so we love that feature. They also have a rental shop so it's easy to grab the ski gear you need when you're coming from out of town.
Considered one of the best kid-friendly hotels in Vail, Montaneros is within walking distance to Lionshead Village shops and dining experiences. In the summertime, there are sun umbrellas and on-site outdoor BBQ facilities for picnics and grilling out to enjoy the warming weather.
What is the Best Time to Ski in Vail?
The best time to ski in Vail generally falls between December and March, with peak conditions in January and February. However, the ski season can stretch from late November to late April, depending on the weather that year. If you're skiing with little kids, Spring is a fantastic time to go since the snow is still good, but the weather is a little warmer and you have a higher likelihood of getting some sunny days.
What Should We Wear Skiing in Vail?
Wear moisture-wicking base layers, an insulating mid-layer like a fleece, and a waterproof, breathable outer layer for a coat and snow pants. Don't forget gloves, a beanie, and snow goggles and a helmet. Dressing in layers allows you to adjust your clothing based on changing weather conditions.
Read: 8 Essential Pieces of Ski Clothing for Kids
How Much Will a Vail Ski Trip Cost?
The cost of a Vail ski trip is on the higher end of most ski resort trips. The cost of lift tickets and ski lessons at Vail are some of the highest in the nation. You will save a significant amount of money by getting a season pass instead of day lift tickets, if you're skiing for several days.
If you're skiing at Vail, you want the BEST, and there's a price tag that goes with it. However, you'll get top-of-the-line amenities, great terrain access, and a fantastic ski instructor program to help the family improve their skills.If you want to save a little bit of money, consider teaching your own kids to ski, packing a lunch, and making your own apres ski meal. All of these seem like little costs, but with the higher prices at Vail, they can add up quickly.