This post may contain affiliate links. As an amazon associate, we earn from qualifying purchases.  Find out more in our disclosure.
There are few better ways to get your kids excited about a ski day than a really great ski movie at home. Ski movies are your best shot at bringing those looming peaks and crafty stunts that get their energy flowing to your living room! Be it a cult classic Warren Miller film or Red Bull's range of films for the modern-day skier, each and every one of them is a thrilling mix of epic athletes and adventure.
If you are looking for the right family ski movie to get your kids amped up for ski season, we have just the thing for you. Here's our list of the best ski movies for kids that bring the world of extreme skiing right to your home. Whether you're wanting to get excited about an upcoming ski trip, get tips and tricks to improve your skills, or just feel the STOKE, these family ski movies for kids will do the trick!
What makes a ski movie good for kids?
From documentaries to feature films based on true stories, almost every ski movie for kids will let you experience the entire sport through the eyes of the professional onscreen. When picking the perfect ski movie to watch with the family, however, you will want to look out for a few things. Lots of ski movies feature music with lots of swearing while others feature excessive drinking, neither of which is what we're encouraging you to show to your kids.
We've tried to choose the best ski movies with an overall uplifting and encouraging message, and most of all, something that the whole family will enjoy watching together! SOme of these are more appropriate for skiing teens than little skiers, so as always, do your own research as well to choose the best kids ski movie for your family!
Classic Ski Movies To Watch With Kids
Start your classic ski movies marathon with this iconic Greg Stump rockumentary. Based on a true story, Blizzard of Ahhhs is a courageous tale of extreme skiing that also brought the sport to the limelight.
With an intro that showcases beautiful snow-capped mountains, the movie features a fun trio doing it all to achieve their dreams. It's one of the best ski movies for kids due to its fun blend of light-hearted comedy and sporty skiing. Plus, it also teaches kids all about sportsmanship. With groovy music, breathtaking shots, and a larger-than-life plotline, it's the ideal way to begin your family's exploration of the slopes from behind the camera lens.
Who doesn't like a good old John Cusack holiday film? Both parents and children will enjoy this black comedy that is just light enough to find a place on your list of family-friendly ski movies. Although it's recommended for children 8 and above, with parental guidance, it's a classic that can't be missed.
The movie features a high school student who braves it all after the girl of his dreams leaves him for his rival. After a lot of hysterical confusion, he finds a way out of his frustrating situation with the help of a friend turned love interest who lives next door. He takes her to a ski championship, but will he emerge victorious? Watch to find out!
If warm, feel-good, winter movies for kids is what you want, Eddie The Eagle does not disappoint. It's got the perfect amount of drama, light-hearted comedy, and inspiring storytelling for a cozy Friday night watch with the family. The kids will enjoy Eddie's journey and we daresay you too will grow teary-eyed as the young ambitious Olympic athlete tries to make his mark in ski jumping.
Battling many difficulties, Eddie The Eagle emerges as an icon for kids across the world. One of the best ski movies for kids, it's the kind of biography you'll want to sit back and watch. The super cool cast, the heartfelt bond between Eddie and his coach, and the power of one's dreams shine through in this fantastic story.
Downhill Racer is a nostalgic watch for parents and grandparents during the holiday season. It's a classic ski movie across generations with a star cast that features Robert Redford, Gene Hackman, and Camilla Sparv. A story of ambition, teamwork, and the journey toward success, it's a nail-biting tale to the very end.
The movie has competitive skiing, pristine wintery backdrops, and a cameo by Sylvester Stallone! You get a peek into the difficulties of being a sportsperson and learn various downhill racing tricks. Although the movie has a PG rating, it's perfectly fine for kids 8 and older to watch with an adult.
Warren Miller's Steep and Deep is a winter movie for the underdog and undoubtedly deserves a spot on your list of best ski movies for kids. Watch as friends Stein Eriksen, Phil Mahre, and Billy Kidd conquer skiing with their moves and determination. From ice climbing to jet boating, these skiers do it all.
The movie marries skiing with a whole new area of winter sports. The stunning visuals of New Zealand, Alaska, Japan, and France will have your kids asking you for a skiing vacation immediately! It's one of Miller's classic ski films with ample 80s music and new popular landscapes.
If there's an inspiring ski movie that you must watch, it's Born To Ski. Considered one of Warren Miller's best works, it portrays the art of skiing before it was such a celebrated sport. Travel through Chile, France, and Yugoslavia, and join the cast in their journey to becoming the greatest skiers.
The story has got a soul behind all the shots and scenes, and it's bound to inspire your kids to find their calling as well. There's nothing like some quiet time with a funny and family-friendly ski movie, and this is all heart at that.
Best Family Ski Movies for Kids
If you're looking for more recent ski movies kids will love, you'll find them here. I've included a few of my own kid's favorites, plus a few that are on our list of family movies to watch about skiing this winter.
One of my go-to inspiring ski movies, Make Believe celebrates nature by filling each and every shot with wonder. You'll adore British Columbia's skiing culture that comes to life, among other winter sports like snowboarding and tobogganing. Also one of the best snowboard movies for kids, it's most groundbreaking for bringing together local skiers who have experienced the perils and thrills of skiing.
It speaks of years of learning and hard work, and its motto of never giving up is both inspirational and warm. The nature lover in you will cherish each frame, while the skier will hold close the value of chasing your dreams.
It's a little different from the usual Warren Miller movies and is more in touch with new-generation skiers. An educational treat for the kids, you'll love how the skiers challenge age-old norms to break the ceiling with their crazy and skillful moves.
With a runtime of 1.5 hours, Children of Winter is more a short feature film than it is a full-length movie. Nevertheless, it's great for some casual watching or a quick break between skiing on a vacation.
Directed by Warren Miller, this spine-tingling ski movie shows a group of tight-knit skiers taking on adventures on the big screen. Both kids and parents will be in awe of tales of winding mountains and narrow passes as the characters recount their experiences. You might even get to pick up some new tips and tricks while watching.
The snowboarding and skiing enthusiast in you will come alive with Higher Ground. It shows the journey of a group of professional skiers on the lookout for more thrilling ways to experience the sport. Pop this movie in before your next ski trip to experience the rush felt by World Cup champion and Olympian Jeremy Bloom that will get you geared up!
You'll get to feel the adrenaline and the kids will imbibe valuable perspectives on sportsmanship and teamwork. It showcases a new age of skiing that's even better than before and has just the right amount of fun and games to ensure that the whole family enjoys themselves.
A proud story of modern-day skiing for one's country, Supervention is a documentary that offers brilliant visuals mixed with an awesome soundtrack. It's one of those kids' ski movies that heavily focuses on free skiing, free riding, and snowboarding. You and your kid are bound to be completely hooked by the tricks, jumps, and all the other action-packed shots!
Your family of ski enthusiasts will begin to appreciate the love the people on screen have for their sport. With plenty of opportunity to learn and filled to the brim with emotion and effort, this one is definitely one of the sportier tales.
Narrated by Olympic medalist Jonny Moseley, Playground presents to you a film on modern skiing and an opportunity to see and learn new tricks of the trade. The story will take you through indoor skiing complexes in Dubai and mountains as well as terrains in Japan and Sweden. Get ready to be transported through all the popular ski slopes and maybe even add some to your bucket list.
Packed with wonder for the kids, they'll get to follow the lives of skiers Jon Olsson, Sean Petit, Dan Treadway, and Peter Olenick among others. It's got hints of the freeride movement skis and is an adventure-filled tale to binge on with loved ones.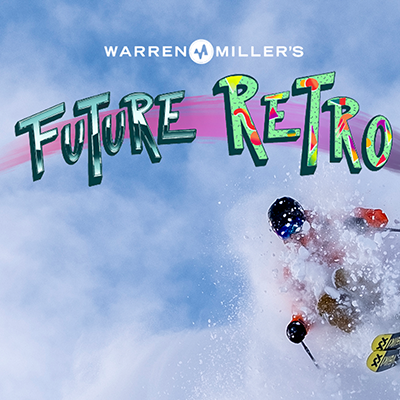 One of the newest Warren Miller ski films, Future Retro is funny, impactful, and redefines sports stories. Future Retro follows several professional skiers and is an empowering journey that deals with environmental disasters and climate change. Unearth the deep-rooted ski culture in Switzerland with two female skiers, Lexi duPont and Amie Engerbretson. You'll also get to witness the magnificence of Iceland with Baker Boyd and Victor Major. 
Winner of Powder Magazine's 2009 "Movie of the Year", The Way I See It is a documentary with world-famous athletes Bobby Brown, Sean Pettit, Cody Townsend, and Ingrid Backstrom each chipping in to share their memories.
The movie is filled with new-generation POV shots and headcams that capture experimental techniques, 100-foot gap jumps, and deep-powder skiing. As the movie takes you and your family through these stories, you will wind up revisiting your own ski trips and feeling the emotion behind the sport.
A true story that's the perfect coming-of-age film, this movie is an informative entry into the lives of tribal communities and their relationship with nature. These exceptional skiers and their knack for taking on the challenges of the mountains are awe-inspiring for an audience to watch.
Coupled with the touching story of the son of a skiing legend who seeks to pay tribute to his father, this film is more than a mere documentary. His journey towards completing his father's final skiing track is a moment best enjoyed with family. You're guaranteed to celebrate this rich tale of father and son and their quest for conquering their fears.