This post may contain affiliate links. As an amazon associate, we earn from qualifying purchases.  Find out more in our disclosure.
If you're planning a Colorado ski trip, lodging is one of the most important considerations that can make or break your trip. Summit County Colorado, is packed full of so many lodging options your head will start spinning, but if you want the best place to stay, head straight to the hill.
That's right if you're skiing Breckenridge, Keystone or Copper Mountain, the best place to stay is ski in ski out lodging. Not only does it make things simpler, but it gives you so much more time on the ski hill and gets rid of the stress of driving in parking in these crowded ski towns.
Staying right on the mountain gives you quick access to ice skating at Keystone and Copper Mountain, action sports at Woodward, and of course, tons of boutique shops all around that you can get to easily, just outside your lodging. Of course, this simplifies things with kids, since you're often within walking distance to the ski school, which makes a ski trip with kids at these family-friendly Colorado resorts so much easier!
Why Choose Ski In Ski Out in Summit County Colorado
All of the resorts that we're sharing in this review are located within close proximity of I-70, which most people think means easy access. What visitors don't notice is that this Colorado highway has only 2 lanes in each direction and traffic is a horrible mess. It often can take 4 hours to or from Denver even though it should only take 90 minutes. Save your sanity and get more ski time by choosing to stay right on the ski hill so you don't ever have to fight traffic once you get to the mountain.
Choosing a ski in ski out stay with kids also means that you have the convenience to come back when kids are tired, it's perfectly convenient for a quick nap for little ones, and it means that you have the easiest access to the ski hill, which is a dream when you're taking a ski trip with kids. Of the three resorts, Keystone, Breckenridge, and Copper Mountain, we love the base villages at Copper and Keystone best, but the huge amount of terrain at Breckenridge is a major draw to ski there.
Wherever you ski in Summit County Colorado with kids, you'll love your trip so much more if you stay right on the ski hill. If you're considering going a little farther, check out our top places to stay in Vail!
Best Ski In Ski Out Lodging In Breckenridge Colorado
What are your criteria for the best hotels in Summit County Colorado for families? Can you imagine swimming in a heated pool…under the stars… while it snows? Beaver Run Resort in Breckenridge is the place to do just that, with access to two kid-friendly Summit County Colorado heated swimming pools (one indoors and one outdoors), hot tubs, and heated sidewalks to get you to and from all of the accommodations in comfort. Family-friendly Breckenridge resort rooms are spacious and cozy with plush queen-size beds, deep couches, and homey amenities, like a small desk where you can work, or your kids can draw and color. 
Ranked as one of the best Summit County Colorado hotels, Beaver Run Resort is within walking distance to Beaver Run SuperChair, where your family can strap on ski gear and ride to the top of the mountains for a slippery slide down. Other nearby ski lifts include Camelback Patter, Peak 8 SuperConnect, and Rip's Ride. The ski in ski out Summit County, Colorado resort offers free ski storage for your gear between trips to the slopes, making things super convenient.
One of the best resorts for family ski in and ski out in Breckenridge is the Village at Breckenridge with its draw of comfortable amenities, like an on-site restaurant named The Maggie. This family lodging in Summit County, Colorado restaurant serves up hot breakfast skillets in the mornings and a lineup of lunch favorites in the afternoons. Plus, The Maggie coffee shop is open all day, inviting guests to snack on fresh-baked bagels, delicious pastries, and premium Starbucks coffee (and great hot chocolate as well). 
The rooms at Village at Breckenridge, one of the best ski-in ski-out vacation rentals in Summit County, CO, are more like condominiums, spacious and furnished with deep, plush couches, beds, and chairs. Some condos boast beautiful mountain views, so make the request before check-in if that's something your family would love to see. There are seasonal health club and swimming pool options, but the Quicksilver Super6 ski lift is less than 700 feet from this kid-friendly Summit, Colorado resort.
Amber Sky is aptly named for the sunset hues that guests can enjoy from the balcony of this beautiful family-friendly Breckenridge Colorado vacation rental. Guests have the luxury of three bedrooms, a huge sitting and living room, and a well-equipped full kitchen. There's also a hot tub with heated jets in one of the ensuite bathrooms, perfect for when mom and dad need some relaxing time to themselves. Amber Sky, a lovely ski in ski out Summit County, Colorado apartment, offers panoramic views of snowy mountains, and the Beaver Run SuperChair ski lift is a mere 1,300 feet away. 
Looking for a kid-friendly Summit County, Colorado activity away from the slopes? Try the nearby Mineshaft Maze. Your family will race the clock to escape the eerie twists and tunnels of an underground labyrinth.
Notably one of the best ski-in ski-out vacation rentals in Summit County, CO, Bluesky Breckenridge III is a family-friendly collection of apartments with all of the accommodations that you'd need to feel safe and comfortable. Each apartment comes with a fully equipped kitchen and everything you'd need to cook and dine as a family. You can also enjoy beautiful mountainside views from the ensuite balconies.
For family lodging in Summit County, CO, Bluesky Breckenridge III ranks as one of the best with close access to the Snowflake Chair ski lift. This family ski in ski out in Summit County, Colorado is also within walking distance of Town Square Mall with an abundance of shops and food courts for dining and spending fun. The resort offers a complimentary shuttle service to Downtown Breckenridge, so check the front desk shuttle schedule at your leisure. Dubbed one of the best kid-friendly hotels in Summit County, CO, there's a shared game room where you and your youngsters can challenge one another in classic arcade and billiard games, like 8-ball pool, air hockey, and ping-pong.
Best Keystone Ski In Ski Out Lodging
If you're looking for affordable ski-in ski out lodging at Keystone, then the Hyatt Place Keystone is the #1 place we recommend. It's located just across from the main village at Keystone and has some of the most affordable rates around. It does book EARLY since it's such a great deal, so if you're considering staying here, BOOK NOW!
The Hyatt Place Keystone is one of the best value options for lodging in Summitt County Colorado. It's clean and well set up, though it's nothing overly fancy (though the hot tub does have an AWESOME VIEW).
It's rare to find losing so close to a ski hill that doesn't cost an arm and a leg, so this is the best budging lodging option for Keystone. We think it's especially convenient if you're skiing with young kids or night skiing since it's easy to cut your day a little shorter and still let the kids get plenty of rest. Besides that, you're right there at the Keystone base area so you can enjoy all the fun there! Highly recommend staying at the Hyatt Place Keystone!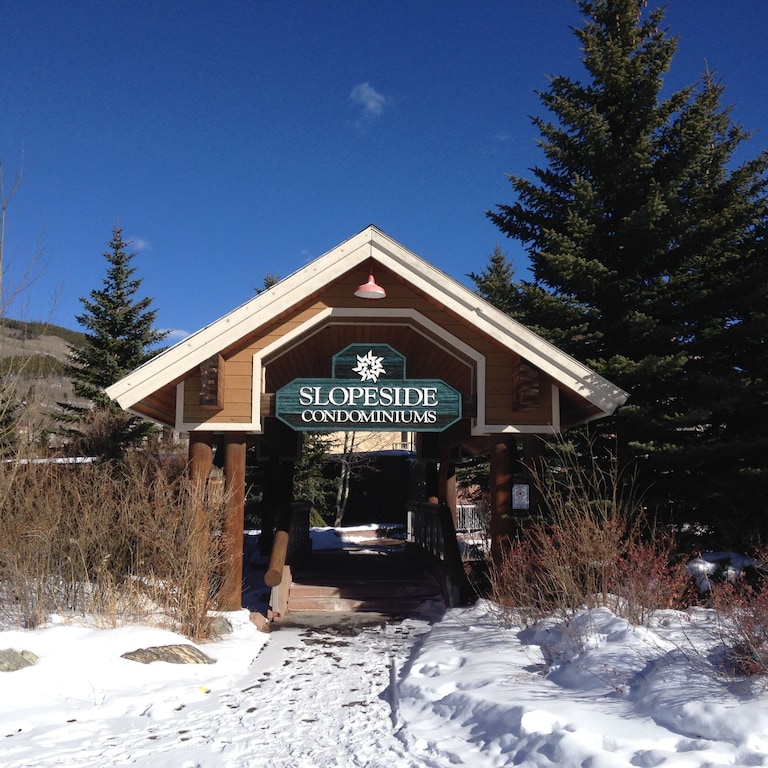 When you need one of the best ski-in ski-out Keystone vacation rentals, Slopeside Condominiums at Peru Express Lift should pop up on your radar. Each condo has a homey feel that comes through in the warmth of plush furnishings, balconies to look over the plaza and mountains, and two outdoor jacuzzi tubs. Kids will love the close proximity of the Peru Express Lift. From the comforts of this family lodging in Keystone Colorado, guests can watch riders bust out all their best tricks and skills as they ride through the Area 51 terrain park, which everyone will get a kick out of!
Slopeside Condominiums at Peru Express Lift is one of the best vacation rentals in Summit County for families because of its access to everything that a family could want and need. For instance, there are free bus shuttles to and from Keystone and surrounding cities, like Frisco, Copper Mountain, and Breckenridge. There are also bike paths, walking trails, and nature walkabouts near the property, as well as 3 seasonal golf courses. For newbies to skiing Keystone with kids, there's a Kids Ski and Ride School next door to make the logistics of ski school a breeze.
Located in the River Run Village of Keystone, this two-bedroom high-end condo is a favorite for family on mountain lodging in Summit County, CO. This option for Keystone on mountain lodging sleeps six people comfortably and had a renovation of comfy furnishings in the summer of 2020. There's a well-stocked, fully equipped kitchen and two remodeled bathrooms, each with complimentary toiletries upon arrival. This Keystone vacation rental features jetted tubs, which are relaxation favorites, and there's a private balcony off of the living room with beautiful panoramic views of Gore Mountain Range. 
There are plenty of ski in ski out rentals in Keystone, but this two-bedroom high-end condo is ranked as one of the best for families with kids. The living room has a homey feel that's made cozier with a fireplace and deep-cushioned seats. It's the perfect place to share cups of cocoa and a board game after hitting the slopes at the nearby Keystone Ski Resort. 
Best Ski In Ski Out Stays at Copper Mountain
Our top pick for a ski-in ski-out hotel at Copper Mountain is the Cambria Hotel. Its location is fantastic and the rooms are clean and modern. The kids will love the pool and mom and dad will love that you don't have to worry about fighting traffic on I-70.
To simplify your stay at the Cambria, the on-site restaurant offers a full breakfast. If you still have energy after your ski day, the Cambria has one of the best fitness centers around. FOr the kids, you're super close to Woodward at Copper Mountain so it's easy to pop over there for a freestyle session and improve your skills.
As far as options for family lodging at Copper Mountain, Tucker Mountain Lodge boasts close proximity to three Copper Mountain ski lifts: American Flyer, American Eagle, and Easy Rider. There's also kid-friendly activities on-site, like tennis courts near the shared guesthouse, and golfing on the nearby greens. Named one of the best ski in ski out hotels in Summit County, CO, guests will love the cozy furnished condos, mountainside views, and access to a heated swimming pool.
Looking for somewhere awesome to dine as a family? Salsa Mountain Cantina is a favorite near to this Copper mountain lodge. Grab authentic Mexican fare, like huge salads, Chile Colorado burritos, and carnitas chimichangas. Or bring your own food to Tucker Mountain Lodge, and make your own meals in the fully stocked, well-equipped kitchens.
Located in the Center Village of Copper Mountain, the Spruce Lodge has the honor of being one of the best ski in ski out hotels at Copper Mountain. Families have close access to the American Eagle Lift, as well as lessons for beginners and refreshers at the Ski and Snowboard School next door. As for the condo, out of all Summit County, Colorado resorts for ski in ski out access, this one is well-stocked with board games and card games for families and children.
Access to this Summit County, Colorado resort for ski in ski out access comes with a temporary membership to Copper Mountain Athletic Club. You and your kids can go swimming in one of the heated pools, enjoy a relaxing soak in a jacuzzi, or play around on one of the fitness courts. Spruce Lodge, a family ski in ski out in Summit County, CO, is a short drive to Carter Park, Mineshaft Maze, and Clint's Bakery and Coffee House.
What is the Best Time to Ski in Colorado?
The best time to ski in Colorado generally falls between December and March, with peak conditions in January and February. However, the ski season can stretch from late November to late April, depending on the resort. Arapahoe Basin is often open in late October and stays open until May or later. Early and late-season skiing may offer discounted rates but less reliable snow conditions.
How Do We Choose the Right Colorado Ski Resort?
The "right" ski resort depends on your family's needs, including skill level, amenities, and budget. Resorts like Vail and Aspen offer luxury amenities and diverse terrain, while smaller resorts like Eldora and Loveland might be more budget-friendly and family-focused. Consider the balance of beginner, intermediate, and advanced runs when choosing.
How Much Will a Colorado Ski Trip Cost?
The cost of a Colorado ski trip can vary widely based on factors like lodging, ski passes, lessons, and meals. Some Colorado resorts offer family packages that can provide savings. Research and book in advance to take advantage of any discounts.
The most budget friendly resorts in Colorado are Arapahoe Basin and Loveland, and the most expensive resorts are Vail and Aspen. Any Colorado ski resort can have great snow, so everyone can have great skiing no matter where they go!
How Do We Deal with Altitude Sickness when Skiing in Colorado?
Altitude sickness is common for visitors who are not acclimated to Colorado's high elevations. Drinking plenty of water, avoiding alcohol and caffeine, and taking it easy for the first day can help. If symptoms persist, consider seeking medical attention.
Read: How to Avoid Altitude Sickness While Skiing