This post may contain affiliate links. As an amazon associate, we earn from qualifying purchases.  Find out more in our disclosure.
Ski boot bags can come in really handy when on a ski vacation with the family. They make it easy to carry your boots and other gear by keeping everything organized and packed away in one place, but finding the best ski bag for kids can be a challenge. When buying one for your kid, you not only have to consider storage capacity and durability but also ensure that they're designed to be carried by little ones.
Buying the wrong kind of bag can lead to ruined plans, and sometimes, even worse, grumpy kids! But don't worry, this list of the best ski boot bags on the market will make choosing one that's right for your little one a piece of cake. Ski on for a quick run-through of everything you'll want to know.
Why Do I Need a Ski Boot Bag?
Ski boot bags are great for gear organization.  One of the best ways to organize your ski gear is by giving each person their own boot bag.  Most ski boot bags are able to fit not just ski boots, but also a helmet, gloves, goggles and often your ski coat and even ski pants. This makes getting your gear form home to the ski area significantly easier and your time once you get to the ski hill much less chaotic. Most ski boot bags have backpack straps which also makes getting your gear from the car to the lodge SIGNIFICANTLY EASIER.  
Things To Consider When Getting a Ski Boot Bag
If you're looking for a ski boot bag, you'll want to think long-term. If you get a good quality bag, it can easily last 10 years, so spend some time and do your research to make sure that you get a bag that's a good long-term fit for you. Here are the top things to consider when buying a ski boot bag.
Boot Bag Organization
Do you prefer to throw everything in one compartment, or would you rather have separate areas for each piece of gear? Keep those things in mind because how your boot bag is organized will have a big impact on how well it works for you!
Ski Boot Bag Weight
Keep in mind that the kids' ski boot bag itself should not weigh too much because this will only make it harder to carry when you're done packing. Ski boot bags for kids, in particular, need to be as light as possible to ensure that they don't get too exhausted before the fun even begins. Lighter bags can come at the expense of build quality, so try to find one that's in between and that doesn't compromise on either.
Ski Boot Bag Volume
Storage capacity should be at the top of your list of things to consider when buying a kids' ski boot bag. After all, the whole point of buying a ski boot bag is to use it to carry as many items as possible. A bag that is too small will be difficult to handle and carry because you will have to cram things into it. On the flip side, choosing one that is too large may add excessive weight to your child's shoulders and back, so be sure to test it out before putting it to use.
Ski Boot Bag Style
Ski boot bags come in all shapes and sizes, and include rolling and duffle-type bags. Slinging your bag over your shoulders is always the best way to distribute the weight evenly, which is why backpack-style ski boot bags are the easiest type for young skiers to carry. Some ski bags for kids even have straps that are concealable, making them easy to stow away when on a plane or in other tight places.
Ski Boot Bags For Travel and Flying
Are you flying out for a ski trip? You'll want to have a ski boot bag for your travels. Not only are boot bags the best for fitting your gear in one place and organization, but they're perfect for travel. Most airlines will count your ski boot bag and your ski bag as one combined item, so having a travel ski boot bag is a huge advantage. Of course, always check with your airline first to check their baggage allowances (PS – Southwest is one of the easiest airlines to fly with for a ski trip with their generous free baggage allowance).
Ski Boot Bags For Racers
I've yet to meet a racer who doesn't rely heavily on their ski boot bag. Each of the boot bags below has come recommended by a ski racing family, so you can know that they're packed full of the most features and functionality you can find.
Best Ski Boot Backpacks vs Ski Boot Rolling Bags
You may be wondering if it's better to get a ski boot backpack or rolling bag. Well, we've used both and would NEVER recommend a ski boot rolling bag for getting around at a ski resort. While they work great at the airport, they can be a nightmare to get around at the ski resort. Most ski resort walkways are covered with snow or ice, making it virtually impossible to roll a ski boot bag around. Trust us when we say that you want a ski boot backpack instead of a roller. In fact, we're only recommending backpack-style bags.
Kids Ski Boot Bags
Do kids need junior-specific boot bags? Yes and no. When I talked to all my ski mom friends, they all agreed that while junior-sized packs are nice for really young kids (about 7 and under), they grow out of a kid's boot bag so quickly that it makes more sense to just start them out with an adult bag.
Best Ski Boot Bags
When choosing your ski boot bag, remember to choose one that fits your needs. Different families will have different requirements depending on the destination, the duration of the trip, and the accessories that you need to take with you. We're sharing the highlights of each bag to help you find the bag that's the very best for your needs and budget.
Volume: 50L
The Dakine ski boot bag is very popular among families and is likely to check all your boxes for a ski boot bag as well. It has a compartment for your boots, a large pocket for your helmet, and a zipper pocket in front to hold light snacks and small accessories like gloves and goggles. The bag's padded shoulder straps make hauling gear around more comfortable for older kids.
Ski Mom Thoughts:
"My kids use the Dakine Boot Pack and do really well with them! They fit the boots, helmets, pants, gloves, and a bunch of other little stuff. I also don't think the zippers will die out anytime soon which is great. We love that this bag has padding so the kids use these often since they're more comfortable hauling all their gear."
Best Bag Features
Its large storage capacity will allow you to carry pretty much everything you need on your ski trip.
Even large boots will fit inside this bag due to the zippered areas being separated by stretchable fabric.
The boot compartment is tarp-lined to keep your boots warm and dry during your trip.
Ski boot bag reviews testify that the bag's hardy zippers make its durability worthy of mention too.
Features we don't like
Carrying many small items for easy grabs is not possible because it lacks outside pockets.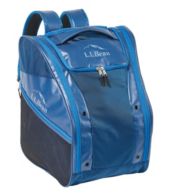 The Adventure Pro Ski Boot Backpack by L.L.Bean comes in two sizes, small and regular. While the small one will do just fine as a children's ski boot bag, the regular one is capable of holding more gear and accessories for your trip. These built-to-last ski boot bags have a simple design and a classy finish to them. The main compartment has a U-shaped zipper opening with more zipper pockets inside and the boot pockets on the sides have enough ventilation to ensure that none of the smell remains.
Ski Mom Thoughts:
"We ordered these from LL Bean last year and love them – the kids can wear them as a backpack easily"
Best Bag Features
Boot compartments on either side of the bag have compression straps to keep the weight in place.
The exterior pockets are lined with fleece to avoid scratches on items like gadgets and goggles.
It features an antimicrobial lining that prevents the build-up of odors in your ski boot bag carry-on.
Volume: 33L
The ski boot bag by Transpack is exactly what you would imagine an adult boot bag to be, just in kid size. It is made for little skiers and features a clever yet cool design and a sturdy make that is guaranteed to last; a hand-me-down that your younger ones will love to receive! The kids' ski boot bag doesn't have the largest capacity, but it can still hold everything you need for a trip, right from a helmet down to the boots.
Ski Mom's Thoughts:
"Fits boots, helmet, and extra gloves etc. I need them to be able to carry their own stuff sometimes so I don't want them too big. Also, extra room for me just leads to extra stuff, which leads to stuff getting lost."
Best Bag Features
The compartments for the boots are on the sides of the bag to distribute the weight evenly.
The middle area of the bag has ample space, complete with pockets, to hold all your other accessories.
The boot compartments come with grommet holes for draining out melting snow.
The bag keeps boots safe from dust and damage, which means you can just leave them in the bag after your trip.
The padded shoulder straps are adjustable, making it comfortable for even your littlest family members.
Features we don't like
It can be sometimes hard to fit enough into the center compartment since the boots store on the sides
This ski boot bag carry-on may look a little too bulky on smaller shoulders and backs.
Volume: 46L
Worried about your child outgrowing their kids' ski gear bag? The Transpack Unisex XT1 is one kids' ski boot bag that works for adults as well! The bag is made tough for rough and rugged use using water-resistant polyester and a rubberized bottom for setting it down in the snow. With a larger capacity than the children's ski boot bag variant, the XT1 comes in limited-edition designs (including a grey camo style!) so if you want the best ski gear bag for kids that also stands out from the rest, this one's perfect for you.
Ski Mom Thoughts:
"I always get the largest adult-sized Transpack bag and give it to my 4 YO to last for 10-12 years. It makes no sense to buy a "kids" bag. They grow out of them too fast, and the adult packs work great"
Best Bag Features
This ski helmet boot bag comes with zipper mesh side pockets for storing small items.
This one also has a "boots on the sides" design, just like the last one. The center compartment has an internal zipper pocket for keeping things in place.
The zippers on the outside are double-locking. This keeps the spaces closed and intact, preventing you from having to worry about things accidentally slipping out.
Features we don't like
This kids' ski gear bag's large storage capacity sometimes makes it difficult to store in tight spaces like lockers and safes.
Volume: 65L
The Swix Tri Pack is the best ski gear bag for kids if you're looking for the perfect blend of color and capacity. With a bold blend of black and red, the Swix Tri Pack comes with an astounding capacity of 65 liters. Throw in your boots, gloves, goggles, helmet, and even your windbreaker, and still be left with space to spare. Plus, the number of pockets on this ski boot backpack makes it easy to organize everything from mittens to munchies!
Ski Moms Thoughts:
"We like the Swix boot bags – lots of different styles/ configurations, and very roomy."
Best Bag Features
This kid's ski gear bag has 2 enormous side pockets that hold boots up to size 13.
There's an additional pair of smaller pockets on either side, in case you want to keep your season passes or devices for easy access.
It also has a zipper pocket in the front for tools or wax you might need during your vacation.
The bottom of the bag is padded to keep its contents safe, secure, and well-protected from bumps and falls.
Volume: 55L
Looking for a sleek and classy ski boot bag to match your personality? The OutdoorMaster Boot Bag looks more like a fashionable haul bag than a ski boot bag, but don't worry! The bag does not make any compromises on functionality. With zippered pockets and tightening cords for improved utility, this one can hold more than just your skiing gear. Pack it with a few pairs of extra clothes and anything else you might need in a pinch.
Ski Moms Thoughts:
"I liked that my boots have their own pockets and don't get everything dirty – plenty of room for water, snacks, helmet and layers in the center – side pockets for keys, boot/hand warmers."
Best Bag Features
The compression cords on the outside can be used to hold a jacket or windbreaker.
The bag not only has shoulder straps but also features a pair of ergonomically-designed carrying handles to minimize the strain on your hands.
The bag has key clips inside for sharp-edged items like keys. This prevents them from damaging the mesh pockets.
The bag folds up flat, making it easy to store away in your closet when not in use.
Features we don't like
This bag does not sit as close to the body as most backpacks do, especially when packed.
This ski boot bag is not padded so it's not as comfortable to wear long-term or when carrying a heavy load.
Volume: 58.5L
True to its name, the Athalon Everything Boot Bag is one of the best ski boot bags to choose if you're looking to carry – well, "everything"! Choose from nearly 30 unique designs, depending on whether you like your backpack simple and classic, or eye-catching and unique. If that's not enough, this ski boot bag also has a ton of features that are designed to assist the modern-day adventurer in you. High-density polyester and waterproofing make this an amazing choice for a ski bag for kids!
Ski Mom Thoughts:
" I got them for my kids when they were 5 but honestly even I used it for myself once (boots and helmet, ski pants and change of clothes) so I think we will use them until they wear it out;-) Great bag"
Best Bag Features
This bag's many color options are what will sway your little one into loving it. Between teal, pink, black, navy, and even camo, they'll be spoiled for choice!
The bag has two intuitive ports built right into it; one for earphones and one for a charger.
Apart from the standard drainage grommets and a waterproof bottom, the back of the bag has four padded lumbar pads for increased comfort when worn.
The piping along the ski boot bag is reflective, making it easier for you to spot your bag in the dark.
Features we don't like
The size of the bag when packed with gear can make it a little too heavy for kids.
Volume: 70L
The tough-looking KULKEA Boot Trekker is truly one of the best ski boot bags you can find for rough use. The massive bag has a unique shape that allows you to pack up all your ski gear and more. It comes in three striking shades; cobalt green, blue-black, and a very catchy orange-black combo that the kids will love. The corner bumpers, padding, and intuitive compartments allow for the safe and organized storage of gear. All in all, the Boot Trekker is an amazing kids' ski gear bag.
Ski Mom Thoughts:
"We have the Kulkea bags for my girls and we love them. It has the middle pocket for helmet and clothes and sides for boots which is a great feature."
Best Bag Features
This ski helmet boot bag comes with many compartments for keeping all your belongings, like gloves, headgear, goggles, ski pants, lunch, and water, organized and separate from each other.
It strives to provide maximum comfort with adjustable shoulder straps and an additional sternum strap, all of which are easily concealable when stowed away.
The boot pockets are very roomy, making them easy to pack and unpack.
The bag has enough space to carry even your everyday apparel and accessories for short getaways.
Features we don't like
The bag's front pocket is not big enough for storing a larger-sized helmet, in case the other compartments are already packed with belongings.
Wrapping Up
While a ski boot bag, may be considered a bit of a luxury item, they're incredible for keeping gear organized and transporting gear to the lodge area. If you're planning on doing lots of skiing or traveling with your ski gear, you'll want to invest in a good quality ski boot bag!