This post may contain affiliate links. As an amazon associate, we earn from qualifying purchases.  Find out more in our disclosure.
It doesn't matter if you're skiing at a resort or going for a backcountry adventure; you'll want to bring your best ski backpack with you. You can use it to pack all your essentials — water, ski goggles, avalanche equipment, snacks, and extra layers. There are different types of ski backpacks in the market, so we're going to break down how to choose the best ski backpack and what features you'll want to look for.
Why Ski With A Backpack??
There are many reasons to ski with a backpack. A ski backpack is the best way to carry anything extra with you on the ski hill. If you're skiing with kids, a backpack will give you a place to carry their extra layers and some food and water for them throughout the day.
Additionally, if you're looking to save money and bring your own ski lunch, you'll want to carry a backpack. We love carrying these insulated food jars and throwing them in our ski pack for a warm and filling lunch.
If you're skiing in the backcountry, a ski backpack is essential You'll want the best ski backpack possible to carry all your safety equipment, shovel and avalanche transponder.
---
The Best Ski Backpacks for Adults
Adult ski backpacks have a longer torso and can fit a wide range of waist and chest sizes. While they generally carry more, there are a few with more slim designs that just carry your ski essentials and aren't bulky and won't slow you down.
---
MSRP: $169.95
Size: 32L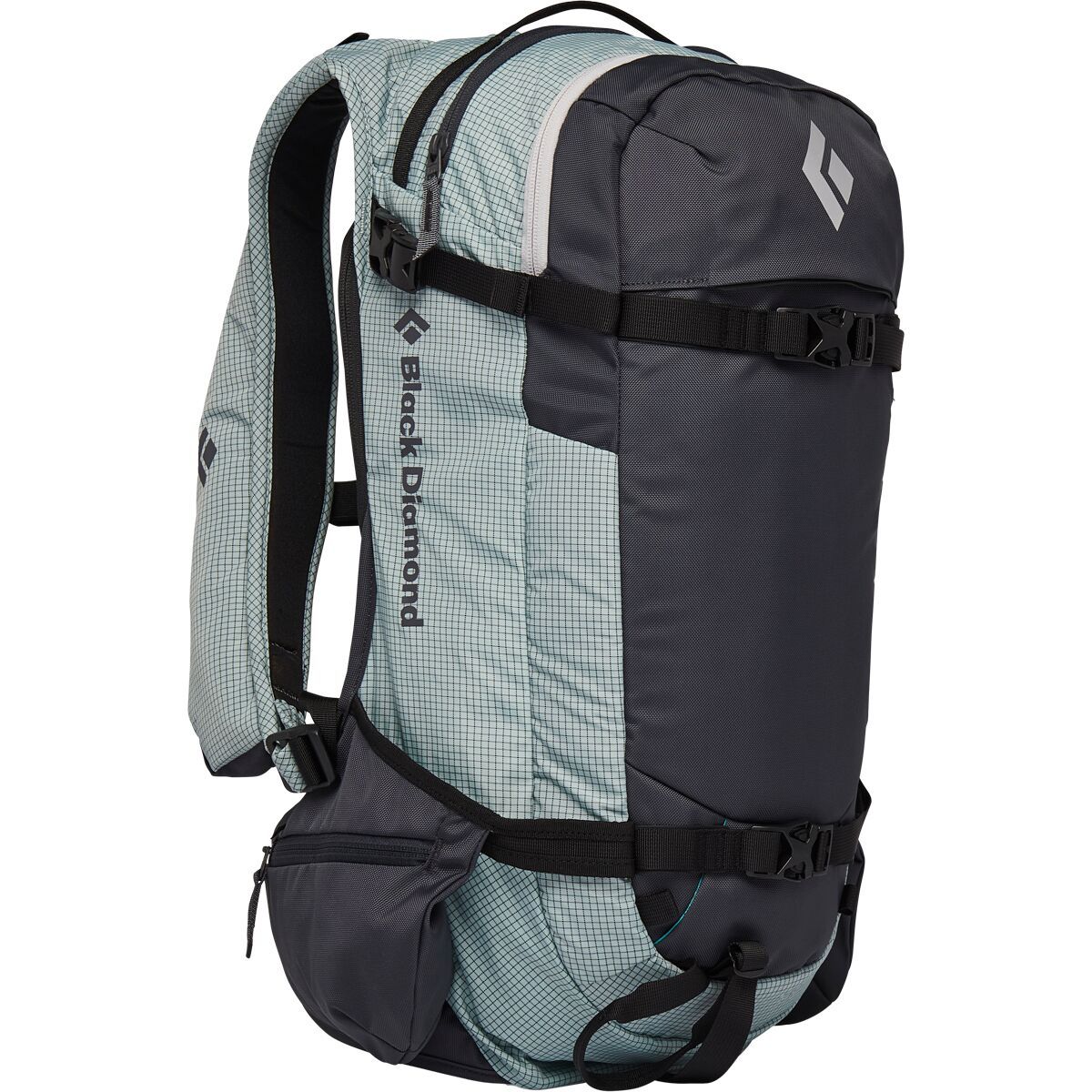 Description:
This Black Diamond backpack is ideal for backcountry or resort skiing. Its space is large enough to pack all your ski gear. And you can hit the slopes confidently with its insulated hydration sleeve that keeps your water from freezing. Its unique design makes it easy to carry skis diagonally and snowboard vertically. With an active, form-fitting suspension, the backpack will stay firm on your back. Thanks to its back panel access, you can take anything from the backpack with the skis attached. If you're going off the grid, go with avalanche safety gear in the pack's separate compartment. It's also designed with a tuck-away helmet carry system, making it a great backcountry ski backpack.
Best Features:
Insulated hydration port and sleeve that prevents freezing
Lightweight and midsized
Avalanche safety gear compartment
Dynamic form-fitting suspension
Form-fitting suspension
Unique helmet carry system
MSRP: $94.95
Size: 25L
Description:
Dakine produces quality backpacks, and this 25L backpack is no exception. With its lightweight, mid-size, sufficient gear capacity, and strong straps, this backpack makes skiing on the mountain easier than ever. The extra sleeve for iPad and laptops makes it special for anyone that wants to move around with their gadgets. You can pull a stunt with the backpack on your back — the ergonomic and adjustable shoulder straps, along with the sternum strap, provide great support. Get ready for backcountry missions with the vertical board carry and extra avalanche tools space. As one of the best backpacks for skiing, the backpack's design also accommodates fleece sunglasses and other accessories.
Best Features:
Padded tablet and laptop sleeve
Ergonomic air-mesh shoulder straps
Mid-sized pack
Sternum strap for better support
Ski carry backpack
MSRP: $120
Size: 20L
Description:
The quality of this CamelBak ski day pack is impressive. You'll like the SnoBlast tri-zip design that lets you pick stuff quickly from the ski bag by unzipping the backpack down the side or opening the backpack at the top. Stay hydrated nonstop with the 2L Crux reservoir and the Therminator harness that insulates your drinking bottle when you zip it into the shoulder strap. Worry less about where to keep more items when you buy this backcountry ski backpack; the expansion panel creates more storage space for your extras.
Best Features:
Straps to carry skis in A-frame style
Insulated hydration sleeve in the shoulder strap
Tri-Zip access
Snow shield material
Expansion panel
2 liters Crux reservoir
MSRP: $125
Size: 28L
Description:
This new ski bag has unique features that make it perfect for skiing on the mountain. What we love about this pack is its foldable back opening that keeps the back system dry anytime you drop the bag on snow. The other side of the back system offers a complete overview of the equipment. A special feature you'd appreciate about this ski day pack — and why it's one of the best backpacks for skiing — is its safety compartment, where you can keep a shovel and probe. Anyone can access the safety compartment quickly when there's an emergency. Another outstanding and new feature of this backpack is the variable fastening system with two straps that hold skis and snowshoes firmly to the skiing backpacks.
Best Features:
Quick access through the back opening
Goggle compartment lined with fleece
Hydration system that prevents freezing
Special compartment for avalanche shovel and emergency tools
Two packable fastening straps to keep skis in place
MSRP: $235.94
Size: 30L
Description:
This is undoubtedly one of the best backpacks for skiing. Made with strong material (robic and uhmwpe extreema nylon), this ski day pack can withstand any form of strain during your ski exploration. Pack all essentials with the main compartment's 30 liters capacity, and access them quickly with the rooftop opening, two side pockets, or the waterproof ID pocket. Stay refreshed while skiing in the coldest part of the mountain with the Thermo Cell insulation feature that protects your water from freezing. This ski backpack's waterproof removable dry sack protects items inside the ski bag from moisture. The Hajker Pro is one of the slimmest backpacks on the market, and you'll experience no bounce throughout your skiing.
Best Features:
Lightweight
Rolltop opening
30L of storage space
Anti-freeze thermo cell
Perfect fit, no bounce fastening
Technical buckle for a better fit
Made with waterproof and durable nylon fabric material
The Best Ski Backpacks for Teens
Most teens will love skiing with a slim backpack. It give them freedom and independance throughout the ski day and let's them carry their own things without being tied to mom and dad. Our teens especially like going out on ski days with their friends and they always pack a lunch in their backpack so they don't have to pay high resort prices for their food!
MSRP: $114.95
Size: 18L
Description:
This ski-carry backpack is an excellent choice for teens. Dakine makes skiing backpacks in different sizes, but this one is just right for adolescents. It's large enough to call anything most teenagers would like to take along with them to the slopes. And it's portable enough to be considered a small ski backpack that'll remain tight on the back. Your teen can carry this Dakine ski backpack for kids diagonally or in the A-frame style. The wide variety of pockets on the pack means they can keep items of different sizes in the skiing backpacks, including a 15-inch laptop. Buy this pack, and your teenager will have one of the best backpacks for skiing.
Best Features:
Built-in laptop and hydration sleeve
A-frame or Diagonal ski carry
Mesh padded back panel
Rescue whistle
Many pockets
MSRP: $110
Size: 12L
Description:
Hydration is a must if you're spending some skiing time on the mountain with your youngster. And teens love this CamelBak skiing backpack, which includes an insulated sleeve for its 2L water reservoir. One of the reasons why this kids' ski backpack is on our list of the best ski backpacks is — its Snowshed back panel and Snow Shield technology that protects items in the bag from snow. Also, the adjustable sternum strap and the removable stability belt secure the pack on your teen's back. Overall, this ski backpack for kids is great for having fun on the slopes.
Best Features:
Snow Shield™ technology that protects items
It comes with a 2L CamelBak Crux Reservoir
Lift Access QR harness for quick access on chair lift rides
Insulated Therminator™ harness drinking tube
Ajustable sternum strap
Storage space for avalanche gear
The Best Ski Backpacks for Kids
These ski backpacks are pretty minimal and help kids to be indepdant on the ski hill, If you ahve a child in longer lessons programs or competing on a ski team, they'll often need to carry a pack with them on when they go out with their group. Here are our recommendations for the best ski backpacks for kids.
MSRP: $114.95
Size: 18L
Description:
This Dakine ski backpack for kids is specially designed for young skiers. They can carry their small ski backpack diagonally, horizontally, or in the A-frame style. The kids' ski backpack's wide range of pockets can fit different skiing items, as well as a 15-inch laptop. The mesh padded back panel dries sweat quickly, and the strong straps keep the skiing backpack in place, making it a perfect backcountry ski backpack. Also, there's a rescue whistle attached to the sternum strap for safety or emergencies. For kids, this is one of the best backpacks for skiing, and we think your little skiers will love it.
Best Features:
Adjustable padded shoulder straps
Hydration sleeve
Mesh padded back panel
Rescue whistle on sternum strap
A-frame or diagonal ski carry
Built-in laptop sleeve
MSRP: $60
Size: 4L
Description:
Specially designed for kids' hydration while they are on the slopes, this CamelBak ski backpack for kids is what your 5 years old and up need. The insulated 1.5L Crux Reservoir that delivers 20 percent more water ensures that kids are hydrated. No matter the size of your little one, the adjustable sternum strap that slides up and down will make the kid's ski backpack fit your child. Kids can also raise alarms easily with the whistle attached to this small ski backpack.
Best Features:
Crux Reservoir with better water delivery
Lift-friendly design
Insulated tube and bite valve cover
Adjustable sternum strap with safety whistle
Snowshed back panel
MSRP: $67.96
Size: 12L
Description:
This small ski backpack is one of the best backpacks for skiing. Made with durable and snow-protective materials (nylon and polyester), this Dakine ski backpack for kids is good as a backcountry ski backpack. Your kids can pack safety tools, food, and other skiing essentials with the bag's large pockets. This kids' ski backpack features are great, and kids love it, making it one of the best ski backpacks for kids.
Best Features:
Laptop sleeve
Lightweight and slim design
Ski carry strap
Large cargo volume for kid
Hydration sleeve