This post may contain affiliate links. As an amazon associate, we earn from qualifying purchases.  Find out more in our disclosure.
Want my best advice to keep your kids' hands warm this winter? Don't skimp on getting them good kids' gloves or mittens.
While the $20 pair of gloves and mittens from your local sports store or Costco may sound like a bargain in the fall, believe me when I say this, they're useless. I have a bin filled with proof. Honestly, I spent nearly a decade buying cheap gloves and mittens for my kids, even though I've learned my lesson and always get nice coats because I LOVE a good deal. I've learned my lesson the hard way and now only buy the best kids' waterproof gloves and waterproof mittens for kids.
Buying cheap gloves and mittens for kids is never worth it if you want to spend lots of time outside!
Planning On Skiing With Little Kids?
Grab our Complete Guide to Skiing with Little Kids!
Designed to take the guesswork out of skiing with kids ages 5 and under so you can hit the slopes with confidence and get your child loving skiing from the very start!
The thing is, I've never actually found a $20 kids ski glove which has lasted me throughout an entire season, still being waterproof and warm when winter is over. Once February comes, I have to scavenge for a good pair of ski gloves kids will wear in sports stores, which still end up lasting only a few months again (since the selection for kids' gloves in February is usually horrible).
I've now learned that instead of spending my $40 on 2 crappy pairs of cheap winter gloves, I can spend that $50 on a pair of really great mittens or amazing gloves for kids that will always stay warm and waterproof AND last for years. We now instead invest in the best kids' ski gloves (which are shockingly affordable) and know that our kids' ski mittens and gloves will last for years!
With the testing help of my kids, we've tested some of the best ski gloves for kids and best kids' mittens for skiing from some of the best brands of outerwear for kids. And don't be fooled they're not just the best-rated kids gloves on Amazon because I have tried several of those and sadly have been disappointed EVERY TIME.
So we went to the industry experts AND asked outdoor parents for their best recommendations and put them all to the test. Our 5 kids have used and abused EVERY PAIR we feature below by skiing, playing in slushy puddles, winter camping, and building igloos in sub-0 weather. These are going to be the best winter gloves for kids and the best kids' waterproof mittens you are going to find. PERIOD.
Best Kids Gloves and Mittens: QUICK PICKS
Don't have time to read the full article? Here are our top picks for the best kids' ski mittens and snow gloves for kids with some exclusive discounts from our favorite companies)
Best Kids Ski Mittens Overall:
Stonz Kids winter mittens for kids: Sizes 2-8, super durable, warmest kids mittens, love the extra long cinchable elastic cuffs to keep snow out, $49 (use code bringthekids10 for 10% off)
Reima Ote waterproof mittens for kids: Sizes 1-10, amazingly durable and super waterproof, $45 (use code BRINGKIDS15 for 15% off)
Best Kids Ski Gloves Overall:
Reima Skimba Gloves for Kids: These are new to us this year and are THE BEST kids' gloves. They're warm, affordable, and have every feature we could want! $50 (use code BRINGKIDS15 for 15% off)
Burton Gore-Tex Kids Ski Gloves: Fantastic kids' gloves with great features and super warm, and only about $50.
Best Baby Mittens Overall:
Stonz Baby Mittens: These baby snow mittens are the absolute best mittens for babies. They're winter baby gloves that are super simple to put on, they actually stay put once they're on and are waterproof.
Best Mittens For Hands That Get REALLY COLD
If your kids hands get really cold, sometimes even the warmest kids mittens don't do the trick. If you need something extra warm, grab the best kids mittens that fit your child and put a pair of Aurora Heat fur warmers on the inside. They last for years and years and have been a game changer for us on super cold days, so our hands never get cold anymore! They're not cheap, but they're worth every penny for our family! Use code BRINGTHEKIDS to save 10% off your order.
Best features to look for in kids' ski gloves and mittens
When you're looking for the best ski gloves for kids or the best kids ski mittens, there are a couple of features that set the absolute best pairs apart from a normal pair (in addition to being really warm and waterproof). The first is that they do an outstanding job of keeping snow out. Both the Burton kid's glove and the Stonz kid's ski mittens have a longer cuff with a cinchable strap. This is VITAL! When kids crash skiing, snow can easily get into their gloves from the bottom and get their entire hand COLD and WET.
Additionally, we've found that there are a couple of other kids' ski mittens and glove features that are great for long days out on the ski hill. We appreciate having a soft area on the thumb or back of the glove to wipe snot (gross, yes, but a total lifesaver after 6 hours on the ski hill), and for older kids, we love touchscreen ski gloves kids can use a phone with, so we can stay connected on the mountain.
Read Next: Best Ski Gear for One and Two Year Olds and Best Gear for Three and Four Year Olds
Should my kids wear gloves or mittens?
Should kids wear children's gloves or mittens? An interesting question based largely on preference, just like three of my kids prefer wearing child gloves, and the other two prefer wearing kids snow mittens.
Well, to put it straight when any of my kids wear mittens, their hands are always much warmer than when they wear kids' snow gloves. And based on facts, mittens are always much warmer than gloves. Kids' mittens or mittens, in general, have less surface area, which means less area gets cold.
A general outline of preference would be for your child to use kids' ski mittens when you're teaching them to ski, but when you're doing stuff that involves handgrips and such, you should definitely use winter gloves for kids. Also, like I always tell my kids, the warmest winter gloves are actually mittens! I also noticed that our kids prefer gloves when playing with their favorite snow toys since that gives them increased dexterity!
These are the particular things you should keep in mind when it comes to buying the best kids' gloves and kids' mittens.
Waterproof: The best kids gloves are consistently WATERPROOF. Don't be tempted to purchase winter gloves for kids that are only water-resistant, since in the end, you're kids fingers are going to get completely drenched! With younger kids, you especially need really waterproof kids gloves since quicker than you can envision since they'll likely be licking the snow off of these mittens and gloves, and will, in the long run, end up dunking their hand in the nearest puddle when you least expect it!
Not all waterproofing is made similarly, as we learned before long in our testing. To perceive how waterproof gloves and gloves were, we absorbed the water and checked for spills at one minute and again at 5 minutes underwater. A couple of sets didn't make it past the brief dunking, while others made it past the one-minute test but couldn't stand up to the test of 5 minutes in the water. Continue perusing beneath to check out what gloves were the most waterproof gloves kids will love.
Warmth: Cold fingers will right away destroy any child's day, so picking the best winter gloves or the best kids' mittens, warmth is extremely critical. While it's great to have children gloves or mittens that will keep hands warm during a brief stop at the playground, ensure that you pick something that will keep them warm for 4 hours while skiing or out sledding with their buddies (regardless of whether you aren't skiers, picking a children's ski glove rather than a stylish glove will get you a lot higher quality and then you'll be ready for anything). I always recommend purchasing the warmest ski gloves to suit where you are skiing.
Windproof: When it's extremely cold and blustery outside, you're going to need your gloves to be windproof, or probably your children's hands will get truly cold almost instantly. Ordinarily, thin gloves are less windproof, and thick gloves are more windproof. To test how windproof they were, the children concluded that they would stick their hands out the window while driving down the roadway on a cool day (their thought, not mine). I figure in the event that anything would test to perceive how windproof gloves were, that would be it.
Check out our other reviews on the top kids' ski gear:
Best Kids Ski Helmets
Best Ski Socks for Kids
Best Kids Ski Goggles
Best Base Layers for Kids
Best Mid Layers for Winter Layering
Best Snow Pants
and of course our Family Ski List Printable
Ready to hear about the best waterproof mittens for kids and the best waterproof gloves for kids?
Our family has been wearing Stonz mittens for kids for the last 5 years and we completely love them and think they are the best ski mittens for kids. Not only are they excellent quality, but they are some of the most reasonably priced kids mittens available and are easily the warmest mittens for kids. These are hands down some of the best winter mittens for kids!
These best kids mittens always perform the best for us. While some people complain that they are a little stiff, and they are, that stiffness is exactly what allows them to stay high up and not allow snow inside. Since these are Canadian made, they have been tested through the harshest winters ever.
These have a sleeve for your child to pull up over their coat making them easy to put on and take off. The sleeve is also great for keeping snow out! My kids love that the thumb has a nose wiper which is perfect for their constantly running noses in the winter (even if I think it's gross). If you're looking for the best kids waterproof mittens, we recommend Stonz.
Overall Best Gloves and Mittens For Kids
Use code BRINGKIDS15 for 15% off
Reima Ote Kids Mittens
PROS:
Least expensive High-Quality kids mittens
Easy to put on and off and adjust wrist closure
Super waterproof and warm
Flexible fabric makes it easy to grab things
CONS:
No way to adjust the arm elastic so it can slide down
Our kids recently started wearing Reima Ote mittens and we quickly found out that these are some of the best mittens for kids. They're super durable, very waterproof and we've also found them to be incredibly warm. With the original price of only $45 you can get these amazing kids mittens for just over $38 with our discount code BRINGKIDS15!
Possibly the best feature of the Reima Ote is that the material is very flexible so it's really easy for kids to grab things with these mittns on (a problem most other kids mittens have). These are perfect for holding everything from a handrail to a snowball in an epic snowball fight. The downside to this is that the long cuff doesn't stay extended nearly as well as the Stonz kids waterproof mittens.
The kids love that they come it 14 different colors so that their mittens can be as unique as they are. Available in sizes 1-10.
Reima Skimba BEST KIDS GLOVES
PROS
Waterproof
Warm down to -20F
Extra Long cuff keeps snow out
Wrist strap to trap in warmth
Elastic cinch at the bottom of the cuff
Wrist strap so gloves don't fall when kids take them off
CONS
Wrist strap has a quick release so it doesn't snag on anything (good), but it falls off too easily (bad – we already lost one)
If I could go back in time and only buy my kids ONE GLOVE, this would be my top choice. I've had a long list of wishes for the best kid's gloves, and until the Reima Skimba came out, I had yet to find everything in one glove, but this glove has it all. They're warm and waterproof but also so much more. These kids gloves have a super long cuff that keeps snow out, but it's also cinchable so they can be tighter on kids wrists, AND it has a wrist strap so that if kids take their gloves off, they still stay attached. The extra long cuff has a pocket that's perfect for a ski pass, or if you're like my kids, stashing treats in!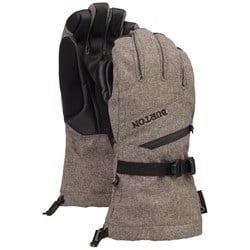 Burton Gore Tex Kids Gloves: Best Waterproof Kids Gloves
PROS
Super warm and waterproof
Hand Warmer Pocket
Adjustable wrist closure
Adjustable are gaiter opening
Touch Screen friendly
Super soft lining
CONS
None. These are the gloves I've been looking for for YEARS
I literally cannot say enough good things about these gloves. They have all the features that we look for in a great glove for kids and still only cost about $50. My daughter has been using and abusing these gloves all season and they've held up so well. The features are exactly what I want in the best kids glove. They are warm and super waterproof (thanks the the kids Goretex glove membrane). The closures are at the exact perfect location to make them easy to put on AND keep snow out. Of course, from a kid's standpoint, they're also amazing, because they look cool with lots of fun color options! The rainbow colors of this pair has my daughter telling everyone they're the best girls gloves (even though they are a boys ski glove as well).
Use code BRINGKIDS15 for 15% off at Reima
Reima Tartu Waterproof Kids Gloves
PROS
Adjustable wrist closure
Warm and Waterproof
Easy to grab things and make snowballs with
Longer Cuffs
Affordable at $49
CONS
No way to cinch down the arm gaiter
If you're looking for a basic kids glove that is designed to let kids PLAY, you'll love the Reima Tartu. It's a pretty basic glove that does a great job of keeping kids warm, dry, and wanting to be outside in the winter.
In fact, we love it so much that this always ends up being the go-to glove of a few of our kids throughout the winter.
As a mom, I'm always looking for gear that is great quality and doesn't break the bank and the $49 price tag makes me pick these as some of the best kids gloves. Better yet, use our code BRINGKIDS15, and then the price of these kids' gloves is only $42 making these also the most affordable gloves for kids.
We highly recommend these as some of the best gloves for kids, but if you're looking at Reima, the Skimba glove is only $5 more and is MUCH BETTER!
Swany is one of the top manufacturers of the best kids' ski gloves and mittens, so it's no surprise that the Swany X-Change Jr is one of the best kids gloves that we tested.  This is the pair of teen ski gloves that my 13-year-old insists on wearing every time we hit the slopes since they are the warmest gloves for kids we've ever found. 
These boys' winter gloves kids will love are made with the perfect balance between thin and thick. These have a thinner palm for extra dexterity and a thick back for keeping your kid's hands warm. These kids' winter gloves are made out of genuine leather on the palm, which is a feature that you often only find in higher-end adult gloves. Made entirely waterproof and durable, these gloves are excellent quality that's worth the price! These get our endorsement as the best ski gloves for kids, as warm waterproof gloves make for the happiest ski kids.
Other High-Quality Ski Gloves For Kids
These kids' waterproof gloves have become the go-to ski gloves of my aggressive little 8-year-old son. These gloves for boys and girls are made out of 70% leather, and 30% polyester, which gives them the best combination of the fabric that will provide your child with the best warmth and comfort there is, and with the added flexibility that leather adds. These waterproof winter gloves are kids' gloves that have a tightening strap at the sleeve, which can be adjusted whenever required.
The small pocket on the back of these kids' ski gloves can be used to trap heat inside the glove with a hand warmer on extra cold days to keep your child's hands warm and cozy. These snow gloves for kids are lined with polyester, which keeps your hands insulated and still breathable to allow comfort. Multiple layers of the glove ensure waterproof, windproof, and reliable gloves.
A great glove that keeps your hands want and gives you the best of winter. Multiple usages won't tire these best snow gloves out. These Swany mittens are made to last for a long time, and since they're gloves, they're made compatible with a phone screen. If you have a runny nose, you wouldn't have to worry since these are lines with a material that makes it easier for you to wipe your nose and not have to use wet tissues.  These aren't the best children's waterproof gloves, so only wear these for light use.
Other High-Quality Ski Mittens For Kids
These Hestra kids ski mittens are some of the softest mittens that I've ever touched.  Shockingly, not only did these children's mittens feel great to touch, but these kid mittens performed great as well.  These mittens are made with a mixture of multiple types of material to ensure you get the best of all features.
They sure do keep your hands dry and very comfortable during the winters and have been made waterproof to ensure no snowy water gets in. These are made to last for an extensive amount of time. They also have a very large range of colors, which makes it easier for your child to choose from as well.
These kids' mittens are the updated kids' version of my beloved Swany mittens that I've had since college.  I wanted to fall in love with them just like I loved my own mittens, but this just wasn't the case.  
This is like a mitten and a glove combined to make a great combination of both warmth and extra comfort. Mittens are known to be much warmer than gloves. But these are a combination of the two making them both warm and practical. You can unzip them to reveal your gloves and zip them back up to make them a mitten. They're insulated and made compatible with mobile phone screens. These are made of a leather palm and are pretty great when it comes to playing around. 
The main problem we found in this kids' mitten review is that there is no way to tighten the mittens around the wrist (like I can in the adult version).  Because of that, snow constantly goes in and out since there is no way to tighten them down.  These mittens for girls and boys look great, but don't earn our recommendation!
These are kids' mittens, which provide a great opportunity for the kids to play around and still have a comfortable environment. These are great for throwing snowballs and having fun while they're at it. These are water-resistant and have a nylon shell that is designed to have a flexible finish. 
While the Outdoor Research kids' mittens did well in our initial test, by the end of the ski season mittens were starting to lose their waterproofing.
Best Mittens for Toddlers and the Best Gloves for Toddlers
When it comes to buying the best mittens for your toddler, we have two brands that we really like, Veyo Kids and Stonz. One has thumbs and the other is a thumbless mitten, so your choice will be largely based on what mittens will work best for your toddler's thumbs.
People often ask us about buying the best gloves for toddlers. Truthfully, toddler winter gloves always seem to be a bit of a disaster. Not only are the best toddler gloves not as warm as the best toddler mittens, but they are almost impossible to get gloves on a toddler's hands.
If your toddler needs the flexibility of a glove, get them the toddler Veyo Mittyz, since they have the best mitten flexibility for toddler snow gloves. In the end, the best toddler winter gloves, are mittens!
Our family has been wearing Stonz mittens for kids for the last 4 years and we completely love them and think they are the best ski mittens. Not only are they excellent quality, but they are some of the most reasonably priced kids mittens available. These are hands down the best winter mittens for kids!
These best kids mittens are flexible and great. These can be used in the warmer seasons like autumn and fall, but are great to keep your kid warm in the winters. Since these are Canadian made, they have been tested through the harshest winters ever.
These waterproof toddler mittens have a sleeve for your child to pull up over their coat making them easy to put on and take off. The sleeve is also great for keeping snow out! My kids love that the thumb has a nose wiper which is perfect for their constantly running noses in the winter (even if I think it's gross). If you're looking for kids waterproof mittens, we highly recommend Stonz.
They are the best combination of high quality and affordability that we've ever seen, and have been nothing but thrilled with their best toddler mittens. These toddler waterproof gloves are just as great as the warmest ski mittens we recommend (Stonz for older kids)
These waterproof mittens toddlers will love are easily the cutest toddler mittens out of the bunch. These are cute kids' mittens that are designed to look like they're tiger paws or have some cartoon character incorporated in them to make them kids more willing to wear them. My son has a pair that has a skull on one side and a skeleton on the other, and he's obsessed with them (to the point that I can't get him to wear other mittens). These are made for convenience and made to get your child ready to go within minutes since they're so easy to get on and off. The large oversized mitten opening makes it easier for the child to slide them on and the lack of a thumb hole makes them a cinch.  Luckily, these mittens are really flexible so it's easy for kids to still grab onto things with these thumbless toddler mittens.  
The outside of the Veyo Kids Mittyz is made of a microfiber type of material, which absorbs water like crazy, but these are still great toddler waterproof mittens. However, the inner liner is completely waterproof and my son always keeps his hands dry when wearing these (even if the outside is sopping wet)
These are the winter baby mittens that I tell all my friends to buy, as soon as they tell me they're having a baby. I honestly love the Stonz baby mittens SO MUCH!
These baby snow mittens are the absolute best mittens for babies. They're winter baby gloves that are super simple to put on, and they actually stay put once they're on. After 5 kids, I'm thrilled that with my youngest I finally found baby mittens that stay on. 
We've used these for a few years, and I can honestly say that they are the perfect mitten for babies and toddlers. The Stonz Baby Mittz is a thumbless mitten that goes on super easy and is easy to tighten.
We've never had these mittens for babies fall off, and our little guy's hands always stayed super warm, making these the warmest mittens for babies around. These are also the only waterproof baby mittens we've ever found. These aren't cheap baby mittens like most stores sell, but are high-quality pieces of gear that are made in baby size, but also at a very affordable price, like the Stonz mittens for older kids.
If you're planning on adventuring with a baby in the winter, these mittens are a must-have for infants, up to about age 2-3. These warm baby mittens will keep your little one's fingers toasty, and the elastic closure around the wrist and cuff helps them to stay on well.
While our baby waterproof mittens from Stonz are now several years old (and we've lost one, ahem), they still work amazingly well. They are stiffer than the Veyo Kids mittens so there isn't a lot of flexibility and I noticed as our son got close to age 2, he started getting frustrated that he couldn't grab things while wearing them, but for a baby that's not really a problem.
These kids' mittens are great for anyone who decides to buy them. The kids' winter mittens have been partially tested to ensure that you get the best of the best. They have been put through trials and tests to ensure they don't lack at any point. These are a great choice for your kids and for you since these can have altered sizes that both adults and toddlers can use. Great products for great prices.