This post may contain affiliate links. As an amazon associate, we earn from qualifying purchases.  Find out more in our disclosure.
With winter knocking on our doorstep, it's time to be prepared to keep your kids warm in the snow. The best way to keep kids warm is to have them wear a snowsuit since there are fewer ways for heat to escape and snow to get inside.
Thankfully, in the last few years snowsuits have come back into style in a BIG WAY, so not only can your kids stay extra warm outside this year, but they can also be incredibly stylish.
Spoiler: We've tested out SO MANY different snowsuits and this one is hands down the warmest!
Want your kids to be extra warm this winter? Make sure to read: Best Kids Base Layers and Best Kids Mid Layers for winter layering
Do Snowsuits Keep Kids Warmer Than A Coat And Snowpants?
Yes, a good snowsuit will keep kids warmer than a coat and ski pants combination. The reasoning for this is quite simple. When kids wear a snowsuit, there are only a few places for warm air to escape and cold air and snow to get in. This helps to insulate kids better and keep them warmer in the winter. If you have a kid who gets cold very easily or who has a hard time staying warm, putting them in a snowsuit is one of the best ways to keep them warm this winter (in addition to dressing them with good Base Layers).
If your kid really prefers a two piece set, check out our reviews of the Best Kids Ski Coats and Best Snow Pants For Kids.
What Features Should I Look for in a Kids Snowsuit?
A kid's snowsuit should be thick, with great insulation. You want to make sure that there is no chance of snow or cold air getting into the suit, so make sure to get the right size and not get one that's too big.
Waterproof kids snowsuits
One of the most important features of the best kids' snowsuits is that they're waterproof. This is especially important on the bottom area and on the shoulders since this is where water seeps in the most easily.
The best kids' snowsuits will have a waterproof rating of at least 10,000 and the best will have a rating of 20,000 (though those are rare to find). We recommend also getting a snowsuit that has the critical seams taped so that water doesn't soak through the stitching. Check out all our favorite winter coats for kids.
Snowsuit Hood
We are big fans of having a good hood for kids snow gear since it's one of the best ways to keep heat in and snow out. The best kids snowsuits have a hood, and it's extra great if you can find a helmet-compatible hood so you can stay extra warm while skiing or sledding with one of the best winter sports helmet.
How Tight Should A Kids Snowsuit Fit?
While it may be tempting to go a size or two up on your kid's snowsuit, be careful with how big you go. If it's too big, there will be too much empty space for air and kids won't be able to stay warm in it. If it's too tight, it might be hard for kids to move around and play with snow toys or enjoy snow play like sledding or a snowball fight.
A proper fitting kids snowsuit is just a little bit roomy so that you can layer a good base layer (these are our favorites), and a mid-layer to help insulate them like a light puffy coat or fleece jacket. It's also important to make sure that there's plenty of room in the rise so it doesn't pull in the crotch area.
Can I Wear A Snowsuit Skiing or Snowboarding?
Absolutely YES! Snowsuits are perfect for skiing and are such a great way to stay warm. We also love ski snowsuits because instead of having to pack a coat and snow pants for everyone, it's simpler to just grab one thing. And YES, we absolutely have forgotten ski coats and snow pants, only to discover at the resort that we didn't have everyone's ski gear. This would be totally eliminated with a kid's snowsuit!
We also highly recommend snowsuits for skiing in powder conditions, since this is the best way to keep snow out and kids warm since even with a coat powder skirt, snow can still get inside a traditional coat and snow pants.
Best Kids Snowsuits
We've searched high and low to help you find the best kids snowsuit whether you're looking for a toddler snowsuit, a snowsuit for kids or even a snowsuit for teens so they look cool on the ski hill. Whatever you need, we've got you covered!
Here are our quick recommendations if you don't have time to read the entire article:
Overall, we think that Reima makes the best kids snowsuit. They're warm, waterproof and really designed with kids in mind so that kids can just play! Use code BRINGKIDS15 for 15% of any order at Reima.
These are our favorite snowsuit for toddlers. Lots of styles and colors, and they seem to fit little ones SO WELL! This is a great snowsuit for kids and the one that our youngest wear and is obsessed with. This is a great snowsuit design for teen boys and we also really like this awesome snowsuit for teen girls.

Planning On Skiing With Little Kids?
Grab our Complete Guide to Skiing with Little Kids!
Designed to take the guesswork out of skiing with kids ages 5 and under so you can hit the slopes with confidence and get your child loving skiing from the very start!
Size: 9 months-3T
Use code BRINGKIDS15 for 15% of any order at Reima.
Reima has TONS of snowsuits for toddlers and we love EVERY. SINGLE. ONE. Our favorite snowsuit from Reima is the Stavanger (starting at size 4), and their toddler snowsuits are equally amazing. Reima toddler snowsuits are designed to be warm, waterproof, and incredibly cute so that not only will your little one want to wear them, they'll be begging to go outside and play in the winter because they always stay so warm and dry. Several of the designs even have an extra insulated bottom since they know that toddlers spend a lot of time sitting down in the snow!
We've tested Reima's durability over and over again and have yet to be disappointed! All of these snowsuits will keep kids warm down to -5 degrees Fahrenheit and have a waterproof rating of at least 10,000. These are the best toddler snowsuits you can buy!
Size 4-10
If you're looking for a kid's snowsuit that's similar to the popular Reima Stavanger, but with a few more technical details, we highly recommend the Kipina Snow suit also by Reima. We got this for our 8-year-old this season because he needed something to keep him extra warm on super cold ski days (this is rated to -20F), and he wanted a cool pattern to make him look more grown up. We also love that the Kipina has a cinchable waist for a more tailored fit.
Use code BRINGKIDS15 for 15% of any order at Reima.
Sizes: 3T-10
We love the Namuk Nemphis snowsuit for many reasons, but with a 15,000 waterproof rating, it's one of the best waterproof snowsuits on the market! Most others have 7500 or 10,000 waterproof ratings, so a 15,000 waterproof rating is exceptional. Beyond its exceptional technical specifications, this snowsuit is incredibly eco-friendly as well. In fact, the entire thing could biodegrade in under 2 years and the insulation is made entirely of recycled materials.
One of the coolest features about this snowsuit is the special zipper that makes bathroom breaks SO MUCH EASIER than any other snow suit we've used. It also has integrated suspenders and even a trash pocket that can easily be turned inside out to dump it out (brilliant!!). Together you have a snowsuit that's good for the Earth, packed with great features, but it's also going to keep your kids warm and super dry!
Size: 2T-10
Use code BRINGKIDS15 for 15% of any order at Reima.
This is hands down our favorite snowsuit for kids, and the snowsuit that our youngest has worn for the last 3 seasons. We've always loved Reima gear for kids, but this is our absolute FAVORITE piece of winter kids gear by Reima. It's incredibly easy to put on and off (with a smooth polyester lining). It's roomy enough to easily layer underneath, but also lightweight enough to let kids run and play freely. Because our son loves this suit so much, it gets worn in ALL conditions from rain to snow and even some warm sunny days 😉 and it's been amazing with every weather we've thrown at it. It's designed to keep kids warm down to -5 degrees Fahrenheit, has a waterproof rating of 10,000 and is ridiculously durable. Oh, and the faux fur trim is detachable (though it's so cute you'll want to keep it on forever!) This is the best kids' snowsuit!
The Reima Stavenger is the most durable snowsuit we've found! After being worn nonstop by my son for 3 years, we passed it on to a cousin and they were so thankful for the brand new snowsuit we gave them 😉 I cannot say enough good things about how perfect this kids snowsuit is!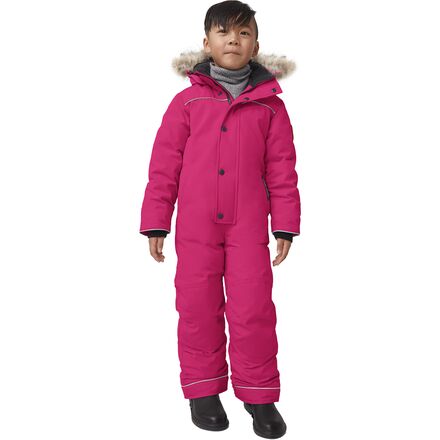 Grizzly Snow Suit – Toddler Boys'
Sizes: 2T up to 6/7
This Canada Goose kid's snowsuit is hands down the warmest kid's snowsuit on the market and the one you'll want if you live in extreme conditions. Filled with 625-fill white duck down, this snowsuit locks in the warmth better than any other snowsuit we've found. The duck down is also very lightweight and compressible, so while this snowsuit is warm, it's incredibly lightweight and easy for kids to move around it.
The seat and knees are reinforced and have extra waterproofing so that kids are sure to stay dry, even when rolling around in the snow. For extra comfort, you'll find ribbed fleece cuffs and elastic boot gaiters to trap in warmth and keep out the snow. The price tag is high, but if you want the absolute best quality, you won't be disappointed by this Canada Goose down snowsuit.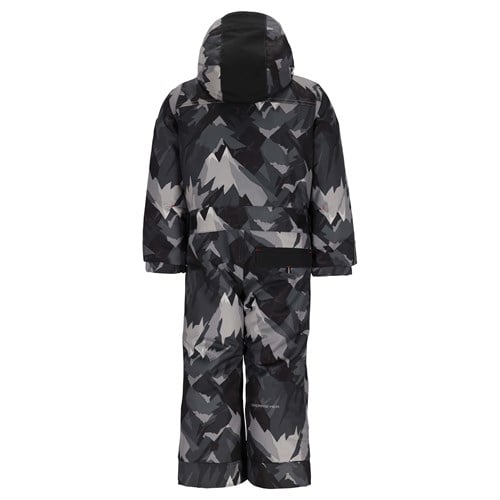 Size: 2T-8
This Obermeyer Toddler Snowsuit is one of the cutest snowsuits around, and the quality is just as amazing. It's packed with 180 g of synthetic insulation and has a 10,000 waterproof rating. To help keep kids extra cozy and warm it has an attached hood, fleece ear warmers, a chin warmer and even a fleece-lined collar. This toddler snowsuit is designed to last with a double reinforced bottom area, knees, and hems so that it lasts longer than your kids do. We especially love the integrated mitten clips so that you don't have to worry about losing your kids' mittens all the time (check out our review of the best waterproof mittens). It also features grow cuffs that extend the length so that it fits kids longer. This is a fantastic toddler snowsuit.
Sizes: 2, 4, 6, 8
This is the best deal on a kids snowsuit and we are really impressed with the quality as well. This kids snowsuit has 100 grams of synthetic insulation so it's a great lightweight snowsuit (not intended for super cold days). The 10,000 waterproof rating and fully taped seams are great at keeping water out and the boot gaiters and elastic wrist cuffs help keep snow out! If you're looking for a budget snowsuit for kids, this is the best option.
Size: 18 months to 5T
For just the right fit, you'll love that this Burton snowsuit for little kids has enough room to layer, without being too baggy. The DRYRIDE fabric has a 10,000 waterproof rating and it's also incredibly breathable so kids don't overheat. The back panel is made of microfleece to help kids feel extra cozy and warm, so they'll love to wear this snowsuit. Parents will love that it's easy to put on and that there is a Room-to-Grow system that extends the length of the sleeves by 1.5″ as your kids grow.
Size 5-12
The Oneskee Acclimate is an innovative new design in kids snowsuits, since it's actually 2 pieces. Yes, the top and the bottom zip apart so that the coat can be worn independently. This is a genius idea, since it allows kids to wear to coat solo (perfect for going to school), and then also have the warmth and comfort of a full snow suit when both pieces are zipped together.
Available in lots of fun featured designs, this is one of the most practical snowsuits we've ever seen. Of course, it's made with fantastic construction like 10k/10k waterproof and breathability ratings, so it's going to also perform great out on wet, and snowy days.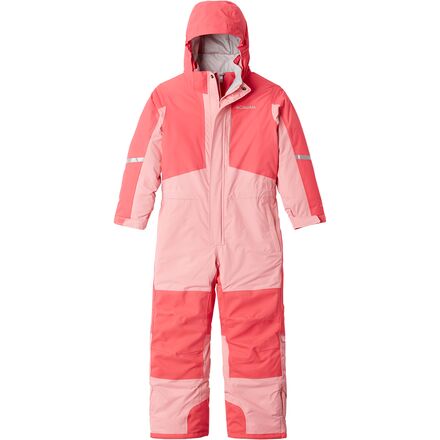 Buga II Suit – Girls'
Sizes: 2T up to 18/20
The Columbia Buga II Suit is a great snowsuit for girls boys who love to be out in the snow in the winter. It's got fantastic features like Omni-Tech waterproofing, and synthetic insulation to keep it extra warm. We also love that this snowsuit for girls has adjustable cuffs and leg gaiters to keep snow out as well as a removable hood. Girls will also love that there are multiple pockets to stash all their valuables!
Size: 6/7 to 14/16
For chilly ski days, this insulated snowsuit for girls is ideal. It's made of a fantastic fabric that resists water well with a 10,000 waterproof rating. Synthetic insulation delivers consistent warmth in cold and wet conditions. We also love that the inside of this snowsuit is extra soft and cozy with a microfleece lining. The hood fits over a helmet which is a great feature as well. We wish that all the seams were sealed, but are grateful that at least the critical seams are sealed.
Shazam One-Piece Snow Suit – Boys'
Sizes: 6/7 up to 18/20
Whether you're skiing the powder or just rolling around in the backyard snowbanks, the Shazaam snowsuit is an amazing way to keep snow out and kids warm. We especially love that it has critically taped seams, adjustable cuffs (to help prevent snow from entering near your ski gloves) and boot gaiters. This snowsuit for boys was thoughtfully designed so that boys can be boys and not have to worry about staying warm and dry.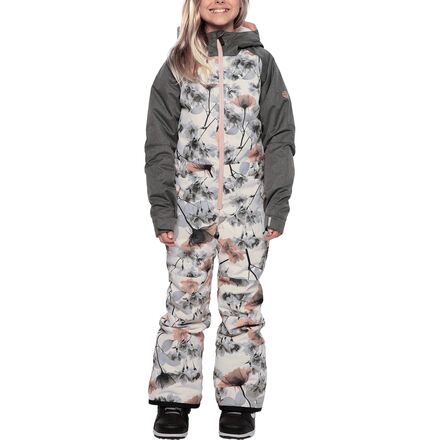 Shine One-Piece Snow Suit – Girls'
Sizes: 6/7 to 18/20
While the beautiful design of this girls snowsuit will instantly win you over, the amazing features are what will keep you wearing it again and again. It's constructed with an InfiDry waterproof membrane (that's also breathable so you don't get clammy) and all the critical seems are taped to prevent water from leaking through. Of course the 10,000 waterproof rating is amazing and the entire snowsuit for girls is extra durable. If you're looking for the warmest girls snowsuit, you'll love this one since it has extra insulation in the body to keep your core warm when you're outside.
Sizes: 5-14
If you're looking for a one-piece snowsuit for teens, this is a fantastic option. This snowsuit for teens has a 10K waterproof rating and the eco-friendly DWR retains 80% repellency after 20 machine wash cycles, which is incredible.
Designed with only 80grams of synthetic insulation, this lightweight teen snowsuit is designed so that kids can layer as much or as little as they need to under their suit to match the weather and ski conditions. Since snowsuits are a pretty big financial investment, we love, that this Airblaster snowsuit has grow cuffs so you can wear it for longer
Sizes: 4-14
Use code BRINGKIDS15 for 15% of any order at Reima.
We absolutely love all things Reima, especially their gear for older kids. Reima snowsuits are designed to let kids play and explore without ever having their outerwear slow them down (or make them come inside for that matter). This is the warmest snowsuit for teens and older kids and will keep kids warm down to -5 degrees Fahrenheit. The reinforced legs make this Reima snowsuit extra durable (and prevent it from getting cut by kid's skis), and it's designed with snow locks on the legs to keep snow out.
The smooth polyester lining makes this snowsuit easy to put on and off, and kids will love that there are several pockets, including a ski pass pocket on the sleeve. This is one of our favorite snowsuits and the warmest snowsuit for teens!
As you can see, snowsuits come in all shapes, sizes and styles. They're one of the best options for keeping kids warm in the winter, so they're great for cold weather or kids who have a hard time staying warm outside.
Should I choose a one-piece or two-piece snowsuit?
One-piece snowsuits offer better protection against snow entry but can be more cumbersome during bathroom breaks. Two-piece suits offer more versatility and are easier to put on or take off. Consider your child's activity level and preference. If your child needs a coat sometimes, a 2 piece snowsuit can be a great option since the tops can be worn alone!
How can I determine if the snowsuit is warm enough for my child?
Look for insulation material details, typically synthetic fill or down. A lightweight snowsuit may only have 80g of insulation, whereas a really warm one might have 200g. Check for reviews or temperature ratings if provided. Remember, layering beneath the snowsuit can also aid in warmth. Overall, it's important to consider your climate and where you'll be. If you live in a more mild climate, I recommend one that's more lightweight. If you're somewhere that it's always super cold, I recommend getting the warmest snowsuit you can.
It is possible for a snowsuit to be TOO WARM, and you want to avoid that. If a child's snowsuit is too warm, they'll sweat a lot, which will actually make them colder during the winter.
How do I wash and care for a kids snowsuit?
First of all, always follow the manufacturer's care instructions, typically found on the tag. We recommend not washing a snowsuit with your regular laundry and using this laundry detergent. It's a little bit more than a grocery store brand, but it will help maintain the waterproofing on your kids snowsuit and help it last longer. Never fabric softeners, as they can affect waterproofing. Air-drying is often recommended over machine drying.
What's the difference between synthetic and down insulation for a snowsuit?
Down is lightweight, compressible, and offers excellent warmth but can lose insulating properties when wet. Synthetic insulation remains warm even if damp but may be bulkier. Typically, we recommend synthetic insulation, unless you really need the extra warmth of down, since it's easier to take care of for kids gear.
Are snowsuits easy to put on and take off?
Absolutely YES! YES, YES, YES!! My kids can usually get a snowsuit on and off by themselves right around age 3. It's fantastic to have them be able to dress themselves. On the flip side, my kids typically need some sort of help getting their snow pants and coat on until about age 5.