This post may contain affiliate links. As an amazon associate, we earn from qualifying purchases.  Find out more in our disclosure.
Kids are the future of skiing, so if you want them to love the sport, it's important to get them started on the right equipment. A good pair of kids' skis will last for years, is easy to use, and can work well in lots of different snow conditions.
After skiing with our own kids for 14 years (in addition to teaching hundreds of other kids to ski as an instructor), I've learned that not all skis are created equal. Some kids skis we've held onto for years to pass on through all of our kids and others we've let go after just a few days on the slopes.
To help you find the best skis for your kids, we've gathered together the best kids skis that we can find all in one place. We're here to help you find the best skis for your kids at a price that works for your family.
Buying New Vs Used Skis
When you're trying to decide if you should get new or used skis, there are a few things that you need to consider.
Read: Renting vs Buying Kids Skis – which is best?
The Best Ski Boots For Kids
Kids Ski Budget
How much money do you want to spend on the skis and how will that affect your decision? If you need skis for multiple kids, it can make sense to invest more in good skis once. In our family, our oldest usually gets the nicest ski gear, knowing that we can easily pass that gear on through all of our kids.
Kids Ski Quality
If your child is just learning to ski or has only been skiing a couple of times, it's okay to get them a pair of kids skis that's just in fair condition. However, if your kids are really serious about skiing (or you're hoping they will be), the quality of their skis matter. They'll need skis with solid edges, great bindings and the right amount of flex for the terrain they want to ski.
What Size Skis Do My Kids Need?
Kids' ski sizes are based on height, not age, so first and foremost, keep that in mind!
When it comes to selecting the right ski size for children, there is some flexibility. Seriously, there IS a bit of wiggle room when picking the best ski size for your kids, and a range of skis that could work for your child. We still want to get them as near to the correct size as possible, and fortunately – finding the right size of children's skis is rather simple.
It's easy to tell if a ski is the right size for your child. All you have to do is set the ski up right next to your kid and see whether the skis are between their neck and nose – if so, it's a good fit! Don't worry about being exact here, as long as the ski falls somewhere within this area then you should be fine.
The majority of ski experts recommend that beginners and young skiers use smaller ski that are about neck height. For toddlers and really young kids, their skis can be as short as their upper chest (though it can sometimes to hard to find them that small).
If you aren't sure when your child should start skiing, read our article on the best age to teach kids to ski.
On the flip side, if you're skiing kid has a few years skiing under their belt and is a more advanced skier who's ready to ski harder terrain, you can go for longer skis that end in the forehead area. Longer skis make your kids ski faster and are more difficult to maneuver, so there's always a delicate balance here between speed, maneuverability, and skill. We don't let our kids start skiing on a longer set of skis (for their height) until we feel like their skills are VERY SOLID.
Overview
For skis for young kids and toddlers, our favorites are the Salomon T1 and the Elan Maxx. (Don't forget to learn how to use a ski harness and an edgie wedgie before you go).
For beginners, our top picks are the Elan Sky and the Salomon Spark.
For Intermediate skiers check out the K2 Dreamweaver, Nordica Enforcer, and the Rossignol Experience Pro.
If you're looking for the best skis for advanced skiers, we highly recommend the Volkl Mantra.
Planning On Skiing With Little Kids?
Grab our Complete Guide to Skiing with Little Kids!
Designed to take the guesswork out of skiing with kids ages 5 and under so you can hit the slopes with confidence and get your child loving skiing from the very start!
Best Skis for Toddlers and Little Kids
Skis for toddlers and little kids can be incredibly difficult to find used, so if you're looking to get your kids started skiing young, then these are the skis that you'll need. While you can find plenty of play skis at local stores, make sure that the toddler skis you get have metal edges, and real ski bindings, since most ski resorts require them. For most kids just starting out, we recommend a size 70 for kids under 4, since this is just about as small as kids skis get. From there, you can get bigger skis for taller kids, but we recommend nothing taller than above the chin for little kids (unless you can't find a smaller ski).
Not sure when to teach your kids to ski? Read all about the best age to start kids skiing.
Also check out our article on the Best Ski Gear for One and Two Year Olds and the Best Ski Gear For Three and Four Year Olds.
TIP: Smaller kids skis tend to sell out FAST and often don't restock during the season. When you find the best skis for your kids, buy them FAST!
Best Toddler Skis of 2022
These skis for toddlers are one of the best values in skis for little kids. They have a good amount of flex and are an excellent value. We also love that these are a great gender-neutral toddler ski.
These little kids skis by Elan are a great option for an 70cm kids ski. We love that the bindings are easily adjustable and that they have plenty of flex to make learning to ski easier!
We like these skis for little kids from Salomon because they've got a great amount of curve and rocker for kids to learn how to ski AND have some of our favorite styling which is sure to get your kids excited about getting on the ski hill.
+ 2 year manufacturer warranty
These skis are very similar to the T1, but with different top styling. These have a very solid construction that's sure to last for years and years, so they're perfect to pass on to friends or younger siblings.
+ 1 year manufacturer warranty
These little Atomic kids skis have a good amount of flex to them that makes learning to ski easier for kids. The biggest downside to these skis is that the bindings do not come attached to the skis, so you will need to pay for a ski technician to install them.
These children's skis by Head are really fantastic. Featuring a great design, they'll put the fun into skiing with kids right from the beginning!
Best Beginner to Intermediate Skis for Kids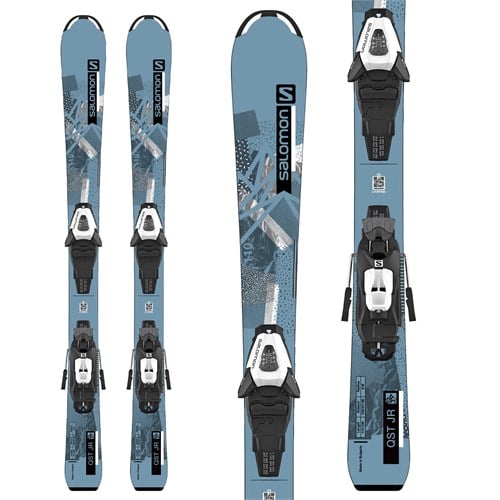 The Salomon QST S skis are a wonderful choice for beginning to intermediate skiers who want to get their first taste of ripping through the terrain park. A light-weight core makes turning on these skis easier, allowing you to focus on edge skills and overall control while you're still learning to ski. The composite core is good for variable conditions and the twin tips are great for learning to ski in the terrain park!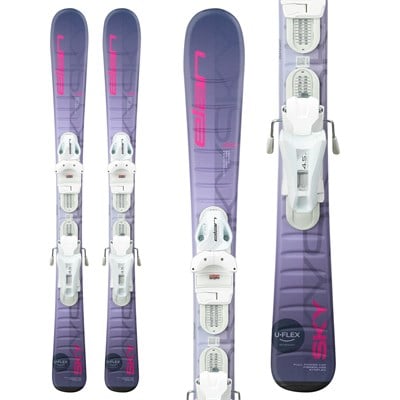 To provide just the right amount of flex for kids skis, Elan has worked hard to develop their U-Flex technology that increases the flex of the ski by 25%. That means that it's perfect for kids learning how to ski and it also pairs perfectly with softer kids ski boots to provide an all-around better ski experience for young kids learning to ski. This is one of the best beginner skis for kids!
If you're looking for a great beginner ski for kids, the Nordica Team AM FDT is a great option. The On Piste Rocker features a camber profile that is confident while also providing a Factory Bevel for times that you need more performance. We also love that the sidewall construction gives consistent flex while still being incredibly durable for a kid's ski.
The Elan Formula is very light and forgiving, making it great for smaller skiers who want to stay in control without the weight that many skis have. We love that the Power Cap construction makes these skis more durable and resistant to scratches and chips in the top plate, so they'll look new for longer. The Fiberglass composite core is incredibly light and forgiving, making it easier for kids to ski with ease. This is one of the best beginner to intermediate skis for kids.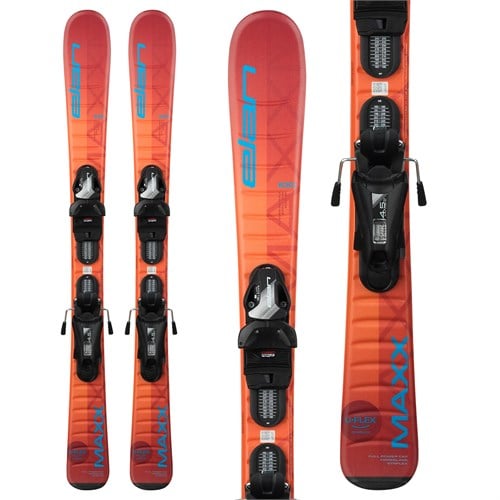 We really love these little kids skis from Elan. They have a great gender neutral styling and a good amount of flex (25 % more than others) to be extra forgiving for young skiers. We also love that the binding is designed to use with the softer materials in young kids ski boots.
These Fischer skis are built for first time kid skiers. They feature a composite core with Fiber Tech Laminates to give them adequate support while keeping the skis lightweight. These skis are easy to control and will make it easier for kids to learn to stop and turn. This is a fantastic beginner ski for kids and a great way to make learning to ski for kids even easier!
Best Skis For Intermediate To Advanced Ski Kids
When kids are skiing at an intermediate to advanced level, they need skis that can handle the terrain and style of their skiing. This typically means a stiffer core, more responsive edging and advanced construction. These are the best kid's skis for intermediate and advanced ski kids.
READ: The Best Ski Helmets For Kids and Teens (an absolute necessity for intermediate and advanced skiers)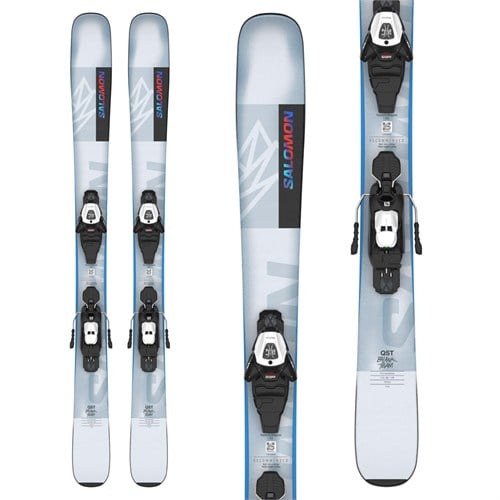 Ready to help your kid get to the next level? Do they have their eyes on chutes, steeps, and every amazing terrain the mountain has to offer? Then the QST Blank Jr is an awesome option. It's forgiving enough for intermediate skiing kids, but solid enough for the best the resort has. This is the kids' version of the Salomon QST All Mountain ski, so you can expect just as much from this ski as from its adult counterpart. The poplar wood core provides stability and the ABS sidewalls still allow easy carving on groomers!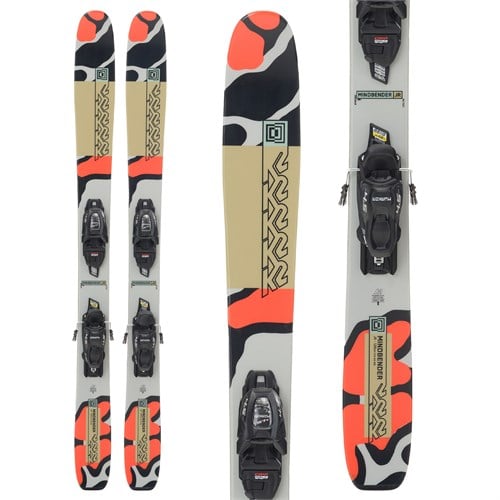 If your kids are ready for a real ski that can have take them anywhere on the mountain, they won't be at all disappointed by the K2 Mindbender. This ski will actually blow their mind! The aspen wood core keeps the skis lightweight enough for kids, while still giving them the stiffness needed to charge new terrain. The directional rocker camber makes this a fantastic all mountain ski for kids that's got great edge hold on hardpack while also enhancing energy return when carving. The rocker in the front improves turn initiation by making the ski simpler to put on edge which is great for kids learning how to ski. This is a great kids ski for advanced intermediate skiers.
Rossignol Experience Pro in sizes 104, 110, 116, 122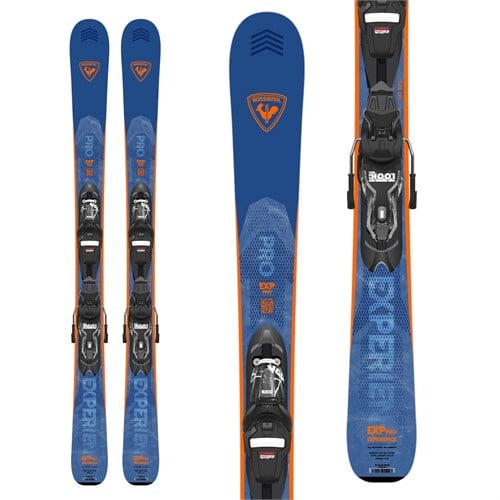 4
The kids' Experience Pro junior ski was created to make learning to ski easier, more pleasant, and more fun. Even the tiniest skiers can improve their skills thanks to this expert ski that's designed for children. This ski's junior-specific flex and rocker profile make it easy for children to learn to pivot, steer, stop, and have fun on skis by using changing terrain to their advantage. The oversized shape of this ski and sidecut, also make carving out turns even easier. This is one of the best all mountain skis for kids.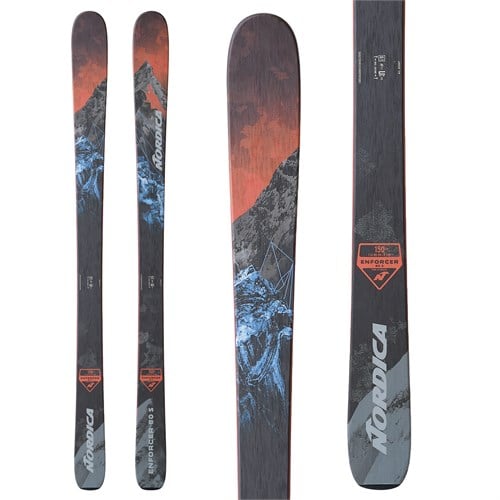 These youth skis are some of the best all mountain skis, allowing you to ski practically any snow condition at the resort during the season. If you're looking for a ski that will take your kids skiing to the next leve, this is it! With a wood core and sandwich construction, you child will be able to handle anything the mountain throws at it. This ski will take your kid all teh way up to the expert level with it's fantastic construction!For further durability and stiffness in key areas, Nordica added underfoot sidewalls which really allow kids to push this ski harder and stretch their own limits.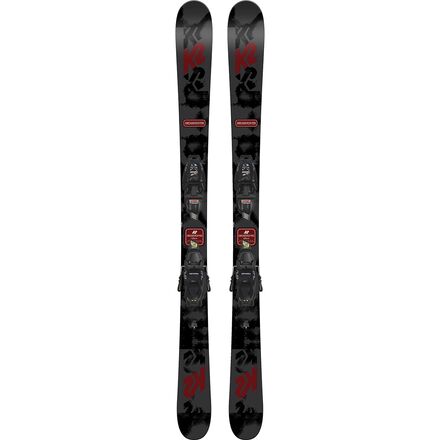 The K2 Dreamweaver is an excellent all-around ski for intermediate young skiers who want a solid all-mountain performance that can also handle occasional visits to the terrain park. Our favorite feature of this ski is the full-length wood core which not only lasts longer than other cores, but also gives more power and control as young skiers test their limits. The K2 Dreamweaver kids skis also have a rockered tip, camber underfoot and also a slight rocker to the tail to make turning and control both more powerful.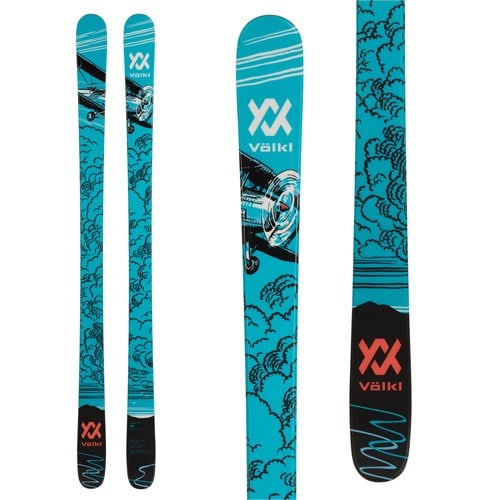 The Revolt Junior is Völkl's a youth ski that's designed to ski all over the mountain. It's designed more for older kids, but if you have a kid who's ready to rip all over the mountain, they'll absolutely LOVE this ski. Kids will appreciate the twin tips, both for the terrain park and for landing tricks switch throughout the resort. It's well-designed with a multilayer wood core and cap construction that make it incredibly versatile all over the ski resort. This is a great ski for intermediate to advanced skiers.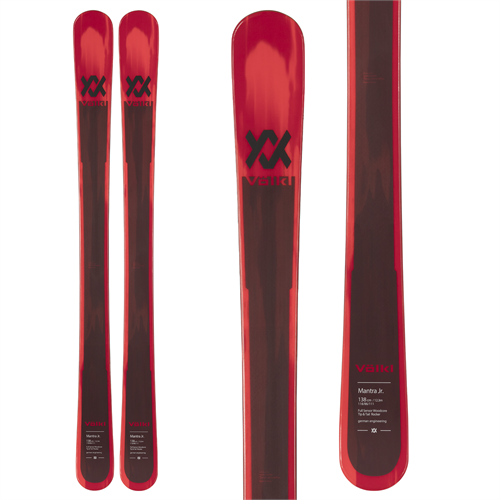 If you're looking for a performance all mountain ski for kids, this is the best advanced ski on the market. We've skied several pairs of adult Volkl Mantras (Dad's favorite ski) and these are just as good for kids as they are for adults. We cannot recommend them highly enough!
The best feature of these skis is the firm wood core for maximum edge control and stability, yet the tips and tails are more lighthearted for better snow engagement. The sidewall construction gives a more rigid and powerful feel, which is perfect for kids who really love to ski fast and hard. This is the best advanced ski for kids on the market and is also the best ski for teens who are all-mountain skiers. Having a great pair of skis is a fantastic way to get your teen more interested in skiing!
Should I buy or rent skis for my child?
Renting is a good option for rapidly growing kids or beginners, as it can be more economical and allows for frequent size changes. If your child skis often, investing in a pair might be cost-effective, especially if you can find a used pair of kids skis. Consider how often they will use them and for how long they might fit. Read all about renting vs buying here.
Should my child have twin-tip skis?
Twin-tip skis are versatile and allow for skiing backward (switch). They're fun for kids who might venture into park skiing once they get to the intermediate or advanced level. However, for pure beginners focused on alpine skiing, traditional skis might be more suitable.
How wide should kids skis be?
For most kids, it really doesn't matter how wide their skis are. Older skis tend to be more narrow and newer skis typically have a wider and more shaped form. Once kids get to be advanced skiers, getting a wide ski can help them to ski powder, but for beginners, it really doesn't matter.
How stiff should the skis be for my child?
Young children and beginners benefit from softer skis as they're more forgiving. For beginners and intermediate skiing kids, you'll typically find skis with a foam core which makes them lighter and more forgiving. As they advance in skill and strength, they might require stiffer skis for better control. Most skis for advanced kids will have a wood core. As they get to be an adult and if they're looking for an advanced ski, they can even get a ski with a metal core. Typically a metal core is too hard to handle for most kids.
Do kids need specialized skis for different conditions like powder or racing?
Most kids are fine with just one pair of all-mountain skis. If your child is starting to get into competitive skiing, they'll need specialized skis. Generally, it's a good idea to get a ski that's well-tailored to the train they'll be skiing most. If you live in the west and plan on skiing lots of powder, a wider ski to ski powder is a good idea. If your child spends most of their time in the terrain park, get them a pair of all-mountain skis with twin tips. Most skis work well on multiple types of terrain, so you can just get one pair of kids skis.