This post may contain affiliate links. As an amazon associate, we earn from qualifying purchases.  Find out more in our disclosure.
Growing up, goggles seemed to be a bit of a luxury item, where our parents would frequently hand us a pair of neon sunglasses and turn us loose. However, once I got my coveted first pair of goggles, there was no going back. Not only do kids' snow goggles provide much better visibility than sunglasses, but they also help to keep wind and snow off your face so that you have better visibility and are overall safer when you ski.
Make sure to also READ: Best Ski Helmets For Kids
Now that I've got my own crew of 5 little skiers, we went straight to goggles for kids. Not only are kids ski goggles more comfortable than sunglasses, but they work much better with a helmet than sunglasses do, stay on better, and keep kids faces warmer. Thankfully, affordable kids' ski goggles aren't hard to find, so you won't have to break the bank buying everyone new goggles. Below, we're sharing the best ski goggles for kids of all ages from the best ski goggles for toddlers to the best ski goggles for teens. We're including a huge variety of brands and styles, including some budget ski goggles that are a great buy as well.
Quick Picks For The Best Kids Ski Goggles
Best Toddler Ski Goggles
Best Budget Ski Goggles For Kids
Best Ski Goggles For Older Kids
Best Ski Goggles For Teens
Why should kids wear ski and snowboard goggles?
Youth ski goggles went from a luxury item 30 years ago, to an absolute necessity today, much like the use of ski helmets. Goggles protect kids' eyes from harsh UV exposure, help keep moisture and wind out, and also insulate the face. Most kids' ski goggles have lenses that work well in a variety of conditions including sunny, cloudy, and stormy days, so for the average kid learning to ski, getting one pair of children's ski goggles is all you'll need. If you have teens who are really starting to advance and different lighting conditions are becoming a problem (this often happens in wide-open bowl terrain on stormy days), scroll to the bottom for great teen ski goggles options with interchangeable lenses for different conditions.
What are the best kind of ski goggles for kids?
Looking for the best kind of ski goggles for kids? There are a few things that you need to look for. The most important factor is that you want to get junior ski goggles with either 99% or 100% UV A/B protection. Kids' eyes are really sensitive to sun damage, so getting kids goggles with the best sun protection is really important.
The next factor you need to consider when getting kids ski goggles is the fit. Just like shoes, goggles for kids seem to fit everyone a little bit differently, so look closely at our kids ski goggles reviews below. They should fit snugly all around the face, and along the bridge of the nose.
When trying on ski goggles for kids, always wear the helmet you plan to ski with so that you can make sure the two work well together. Not all helmets and goggles are a good match for each other, so this is incredibly important. The goggles should fit inside the face of the helmet and should come close to the forehead of the helmet with little to no gap.
Read Next: Best Ski Gear for One and Two Year Olds and Best Gear for Three and Four Year Olds
Do all kid helmets work with ski goggles for kids?
When picking goggles that work well with a helmet, like I mentioned above, fit is incredibly important. We've also found that the best kids ski goggles have a little rubber strip on the inside of the elastic band, so that kids can lift them onto their helmet without them slipping off. The combination of a good kids ski helmet and goggles will help your kids stay comfortable and safe all season long. Some helmets and goggles are sold as a pair (which can be a great deal), where others are sold separately. Don't worry though, most goggles and helmets can work together to some extent, just make sure to try them on for a good fit.
Note: We've found that older helmets often aren't as compatible with kids goggles for skiing, so make sure to double-check.
Read our full review of the best kids ski helmets.
Trying to narrow down what the best ski goggles for kids are? We've put together a list of the top ski goggles for kids to help you out.
Best Kids Helmet and Goggle Sets
If you want the best compatibility between a kids helmet and goggles, we recommend getting one of these sets. They are great for younger kids and often are cheaper than buying a helmet and goggles separately (though not always)
BEST FEATURES: Super soft goggles, Anti-fog lenses, lots of color options
Best For Ages: 1-7/8
These are hands down the softest little kid ski goggles that we've ever seen with a cozy microfleece lining! This kids snow skiing goggles and helmet combination is specially designed with individuality in mind. Lots of fun, bright colors help your little one stand out on the mountain and makes them always easy to pick out of a crowd.
This season, our 7-year-old is wearing the Giro Spur, and we're super impressed with it. A great value for both a helmet and goggle combination for kids. This combination includes one of the best toddler ski helmets and the best ski goggles for toddlers.
BEST FEATURES: Fun colors, triple thick lenses
Best For Ages: 2-7/8
Wildhorn is a relatively new brand on the market that happens to be one of our favorite local ski brands here in Utah. The goggles pair perfectly with their helmets and I recommend getting the two as a combination. This is what my super picky about the way things fit, 5-year-old wore all last season without a single complaint. We really love this set and think they are some of the best ski goggles for little kids.
I will also mention that this helmet doesn't fit all little kids equally. While it fits one of our kids great, the other two smaller kids don't fit it at all. Remember, if it rides up too high on the forehead, it doesn't fit properly! Wildhorn only sells their goggles with a helmet included, so if you want one, you'll need to buy the full set.
Best Ski and Snowboard Goggles For Kids
A good pair of ski goggles for kids is worth looking around and finding the perfect pair for your child. They'll keep them warm, help them see better, and protect their eyes from the sun, wind and snow. Our family has gone through SO MANY pairs of skiing and snowboarding goggles for kids over the years (14 years X 5 kids) – some we love and pass down over and over, and others we toss after a few days on the hill. These goggles below are our favorites and we hope that you find the best goggles for your kids here!
BEST FEATURES: Fun designs, affordable, easy to adjust
Goggle Size: Small
Best For Ages: 1-6
It can be really difficult to find a good pair of ski goggles for toddlers, but the Outdoor Master Happy Valley goggles are great for little kids. Not only are they really affordable (even more affordable with our discount below), but they fit younger kids faces well. My 2-year-old neice wears them and they also work well for my 8-year-old son. These are some of the all around best ski goggles for kids.
Our 4-year-old is wearing these this year and loves that he can ski like a dinosaur with his new goggles (he has the dino band on his). Outdoor Master has a big variety of boys ski goggles and girls ski goggles, so they're a great option if your little skier has big opinions on what they wear. These are great budget ski goggles for toddlers and we highly recommend them!
Best Ski Goggles For Older Kids
Giro Grade
BEST FEATURES: Great for older kids, super clear lenses, very comfortable, OTG compatible
Goggle Size: Kids medium to large
Best For Ages: 8-13
Finding a good pair of ski goggles for kids that are between kid sizes and adult can be difficult, but the Giro Grade kid ski goggles is one of the best middle-sized goggles that we've found. They are a great fit for older kids and even teens with smaller faces. Best of all, we love that they're comfortable to wear for the entire day, have excellent visibility and that we've never had problems with them fogging up!
If you're looking for a larger pair of kids ski goggles, these are our favorites! Available in 13 different colors, these are sure to match your older kid ski goggle style! Best large ski goggles for kids!
BEST FEATURES: Flexible, Good visibility, Comfortable
Goggle Size: Kids Small/medium
Best For Ages: 4-9
If you want to get your kids a nice pair of ski goggles on a budget, these are the goggles to get. The quality is on par with what you'll find from a lot of bigger brands and they've got some other great features as well. The best feature in these budget ski goggles for kids is the SUPER flexible frame. These are perfect for kids who are hard on their gear.
We also love that there's a thick layer of foam to make them more comfortable and to wick sweat away from the face when your kids start to warm up. These are OTG compatible and work great for kids with glasses! We think these are the best budget ski goggles for kids!
BEST FEATURES: Don't scratch easily!! Good price!
Goggle Size: Kids Meduim
Best For Ages: 4-10
The Bolle Royal is a really well-built pair of kids skiing goggles. Bolle is a brand we've known and trusted for years and their kid's ski goggles are great. Through the years, we've had several different pairs of Bolle kids ski goggles and the Royal are some of the best!
Our favorite feature of these goggles is that they don't scratch easily, so they're a great choice if your kids are hard on their gear. The price is also hard to beat in certain color combinations. This is a good pair of kids ski goggles that will easily last your kids for years to come!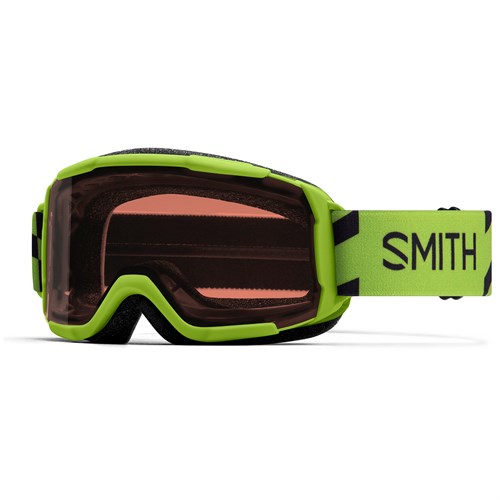 BEST FEATURES: Durable Lenses, easily adjustable, Don't scratch easily
Goggle Size: Kids Medium to Large
Best For Ages: 6-13
Smith is a great company that excels in sportswear and has years of experience knowing what the customers want. The youth goggles are great for skiing and snowboarding kids and we have had wonderful experiences with all the Smith goggles we've owned. As you can see, there are quite a few great features to love about these Smith ski goggles for kids. In our experience, these are great quality snow goggles for kids.
The goggles are made in a way that ensures that they don't retain any sort of grease, grime, or moisture. Your goggles will stay cleaner for longer, which is a major plus when it comes to kidsI love that they fit all of my kids faces well (we have several different face and head shapes in our family), so our experience has proved them to be the best snow goggles for kids.
These skiing goggles for kids are made to fit a smaller sized face, so they are great kids goggles. To really help with comfort, these goggles not only have padded foam around them, but also a layer of fleece so that they stay comfortable all day long. A perfect pair of ski goggles for smaller faces.
S
Spy Optic Crusher Kids Snow Goggles
Best for Ages: 5-10
•Has a huge range of 14 colors to match anything you've got.
•The Lexan lens which is used in these children ski goggles is anti-fog and scratch-resistant which helps them survive longer
•The glasses on these goggles are made 100% UV protectant and help the kids keep their eyes safe.
•The straps at the back of the Spy Optic goggles us made out of flexible polyurethane and are silicone-ribbed, which helps them to stay tight and not slip off of helmets.
•The size is perfectly made compatible with most helmets on the market.
The Anon Tracker is a great model of childrens ski goggles for kids ages 6 and up. Built with the same quality you would expect in their adult goggles, this is a pair of goggles that you can expect to last for years.
Anon Tracker Ski Goggles For Kids
Best for Ages: 5-12
•Specifically designed for the face frame of kids. Has a good fit for the face of young children.
•The children ski goggles come with a microfiber case, which keeps your goggles safe and sound.
•The lens shape is cylindrical and helps your child have a wider angle of vision/
•The straps at the back of these white frame goggles are anti-slip so they work really well with helmets.
•The youth ski goggles are lightweight, and the frame has been made of TPU, which is sturdy and easy to use.
Picador is a discount ski goggle brand that you're likely not familiar with, but if you're looking for lots of color and style options, this is a great brand and their prices on children's ski goggles are great. They have everything from cartoon prints, to emoji's to great graphic patterns to appeal to older kids for these kid ski goggles.
Findway Snowboard Goggles For Kids
Best for Ages: 4-7
•These little ski goggles are made for smaller children.
•Picador kids ski goggles have an amazing ventilation system which helps maintain the airflow between the goggles and the wind outside to prevent any sort of fogging.
•These goggles have a TPU frame that is great and durable and has soft foam on the inside, which helps make them more comfortable.
•The strap at the back has three layers and is easily adjustable so that it is compatible with a variety of helmets.
Best Ski Goggles For Teens and Older Kids
Finding the best goggles for teens and older kids can be a bit of a challenge. Often times, adult goggles can be too big and kids goggles are too small. We understand this challenge all too well when choosing skiing goggles for teens and tweens, so we've tested out some of the best we could find. Take note as well that age isn't always the best determination of fit, so you may need to try some of these teen ski goggles on. Most of these are adult goggles that are smaller than average (or just have awesome features teens will love), and we really do believe that the models below represent the best ski goggles for teens.
BEST FEATURES: Super soft microfleece lining, incredibly comfortable, great size
Goggle size: Small to Medium adult fit
Best For Ages 10+
The Giro Moxie ski goggles are hands down the most comfortable ski goggles that I've ever used. They have a soft microfleece lining that makes them fantastic for all day wear. These ski goggles are a great size for older kids or for smaller-faced teens.
My 9-year-old son (with a big head) is just starting to fit these, and they also fit our teens well too. I'm an adult with a slightly bigger than average head, and they feel a bit small on me. Whie the Moxie is technically a womens ski goggle style there are so many different patterns and colors, that it's easy to find a design that works well as a boys ski goggle too, even though this is a girls ski goggle!
BEST FEATURES: Affordable, magnetic interchangeable lenses, biggest color variety
Goggle Size: 95mm tall
Best For Ages: 13+
If you're looking to get a good pair of ski goggles at a budget ski goggle price, Outdoor Master is the place to go. They make great ski goggles and we love that their goggle prices are great for teens who want the look and features of a high-end ski goggle, but without the price.
We love the triple silicone strap lining so they stay up on your helmet as well as the magnetic interchangeable lenses. Outdoormaster also has one of the biggest color selections of ski goggles, so if your teen has a specific color combination in mind, you'll likely find it here.
These goggles are on the bigger size and fit both myself and my husband as well as our teenage son. I recommend these for kids ages 13+ with a face that's getting close to adult size. If you use the included goggle case, these could easily last all through the teenage years!
BEST FEATURES: Wide field of vision, super comfortable, fits a variety of face shapes
Goggle Size: Medium Adult fit
Best For Ages: 13+
If you're looking for a really great pair of skiing goggles for teens, look no further than the Atomic Revent Q Stereo goggles. These are a high end pair of goggles and are paced full of incredible features. These are made with spherical lenses that offer a fantastic field of vision as well as excellent clarity.
I was incredibly impressed that these ski goggles gave such a great view of the mountain and really helped me to be much more aware of what was happening around me than with smaller skiing goggles. These teen ski goggles also have a live fit frame that allows for a really great custom fit. I was incredibly impressed because in our family we have very different face shapes between us and these fit each of us fantastically. These goggles also include extra lenses, and the lenses can be changed in about 30 seconds flat!
We have been incredibly impressed with these ski goggles for adults and teens and love how perfectly they pair with the Atomic Revent Plus Amid helmet! If you want your teen to have the best ski goggles around, these are our top recommendation!
BEST FEATURES: Polarized lenses, super clear lenses, great fit for teens and small adults
Goggle Size: 86mm tall
Best For Ages: 12+
The Nevada Small is a great ski goggle for teens or for adults with smaller faces. The area where these goggles really stand out is with their excellent lenses. Not only is there an option to get them polarized, but the clarity of these ski goggle lenses is fantastic. They've got a great anti-fog coating and excellent UV protection.
Our teens also loved that these goggles come in lots of fun colors. As a parent, I love the gender-neutral styling so that they can easily be passed down to siblings! These are really great ski goggles for teens to get and keep as they grow into adulthood (these also fit me well as a mom!)
If you're looking for a bigger ski goggle for older kids with longer faces, this is a fantastic option. We love that these Pro Plus goggles have a super-wide field of view so that it's easy to see everything around you on the mountain. These ski goggles were also incredibly clear and easy to see through, making skiing even easier. The frameless style of these also makes them fantastic as kid's snowboard goggles.
They come with an interchangeable lens for different lighting conditions, which can easily be switched out on the go, thanks to the magnetic lense attachment. These goggles really are meant for a little bit of a longer face, so if you have a teen with a shorter face these will make their nose uncomfortable. Overall these are some of the best affordable ski goggles for teens.
BEST FEATURES: Oversized look, magnetic lenses
Goggle size: 100mm tall
Best For Ages: 15+
If you haven't noticed, big and flashy one lens goggles are the go-to with the teen crowd. If your teen likes the oversized goggle look, the Pipeline is one of our favorites. They're well constructed, have amazing colors, and best of all, are really comfortable. We love that they have a super wide visability as well as a silicone lined strap to keep them on your helmet. Teens will love that the lenses are interchangeable with new magnetic lenses.
Do toddlers need to wear ski goggles?
It can be difficult to get toddlers to wear ski goggles, but yes they should wear them. Not only will toddler goggles help keep their face warm, but they will help increase their visibility.
What are the best ski goggles for toddlers?
We like the Outdoor Master Happy Valley goggles for toddlers. They're comfortable, easy to adjust, and are incredibly affordable.
How much do kids ski goggles cost?
Kids ski goggles typically cost between $20 and $50. Most kids will never need ski goggles that cost more than $50. You can easy find the best ski goggles for under $100 for kids! Truthfully, with so many goggle options out there, you can get some really good cheap ski goggles for kids that are also great quality.
Will ski goggles help keep my kids face warm?
Yes, they absolutely will. Ski goggles for kids not only protect their eyes, but they help keep the top half of their face warm. A good pair of childrens goggles should touch the helmet in the front so there is little to no gap between the goggles and the helmet.
Snowboard Goggles VS Ski Goggles For Kids
If you're not sure if your kids need snowboard goggles or ski goggles, I've got a little secret for you…they're both the same thing. Yes, snowboard goggles for kids and ski goggles for kids are identical and both just fall under the wintersport goggle umbrella of products. If your kid insists that they need the best snowboarding goggles, take them to the store and let them pick out a pair, because what they're really saying is that they want the cool ski goggles!
What If Kids Don't Like to Wear Ski Goggles?
If your kids don't like to wear ski goggles, it's time to chat about why. Maybe their goggles are too tight or don't fit well. Sometimes kid's goggles fog up and they can't see well. Talk you your child to see why they don't want to wear ski goggles. Then you can get to the root of the problem. If your child really doesn't want goggles. insist that they wear sunglasses at a minimum. The sun's rays bounce off the snow and can quickly damage kids eyes. If sunglasses don't work, consider a helmet for kids with an integrated ski goggle visor.
Do ski goggles work with prescription glasses?
Yes, many kid's ski goggles work with prescription glasses. Look for goggles labeled as OTG Goggles, which means "over the glasses".