This post may contain affiliate links. As an amazon associate, we earn from qualifying purchases.  Find out more in our disclosure.
It's ski season! Hands down the most used piece of winter gear for kids is their ski coat, so it's important to buy one that's really good quality to keep them warm and dry while skiing. To help you narrow down the best kids ski coat this season, we've put together a list of the 11 best kids ski coats that are waterproof and will keep your kids warm this winter.
Do Kids Need A Ski Coat?
If you're going to buy your kids a winter coat this year, do yourself a favor and just make it a ski coat. Many kid's coats are more "fashion coats for kids" and are designed to look good rather than perform well. Kids ski coats, on the other hand, are designed with performance in mind first, meaning that their main purpose is to keep your kids warm and dry. If you ask me, all kids should wear ski coats all winter.
If your kids have a hard time regulating their temperature, we recommend getting them a good puffy jacket or fleece coat and then wearing a shell over the top. This company makes our favorite ski layering outerwear.
Skip ahead to the best kids ski coats
Looking for more kid's ski gear? We've got great suggestions:
The Best Kids Waterproof Snow Pants
The Best Kids Gloves and Mittens
Best Kids Ski Helmets
Best Kids Ski Goggles
Best Kids Ski Socks
Best Kids Mid Layers for Layering
Best Kids Base Layers
Best Ski Coat Features For Kids
If you're doing some serious winter play this year, you'll want a ski coat for kids that has some specific features. Here are the best features that you may want to look for in a kids coat for skiing (or even just snow play):
Powder Skirt: While your little one may not be doing any deep powder skiing this winter, a powder skirt on a kids ski jacket is an amazing feature to have. It's basically an elastic cuff you can snap up in the bottom of your kid's coat so that snow doesn't come up from the bottom making them cold. While these are traditionally designed for deep powder days, we find them invaluable for snowboarding and sledding with kids as well.
Wrist Gaskets: To keep your kids as warm and dry as possible this winter, you want to keep snow OUT as much as possibleof your kids ski jacket. One of the best ways to do that is with wrist gaskets. Some jackets have a lycra wrist gasket with thumb holes, others have simple velcro straps and our favorite kids coat has rubber wrist gaskets. Whatever you choose, make sure that you can tighten the coat around their wrists.
Hood: Don't be fooled – only buy a kids coat if it has a hood (even a detachable hood is fine). Weather in the winter can change FAST, and I cannot count the number of times that having a hooded kids coat has saved us in the middle of a storm.
Waterproof: Every winter coat for kids needs to be waterproof. Aim for a waterproof rating of at least 10,000 and if you can get a kids winter coat with a 20,000 waterproof rating, you'll be all set for wet winter conditions. For a more waterproof coat for kids, look for taped seams and zippers.
Pit Zips: If you have a kid who gets really warm in the winter, you'll want to make sure to buy a kids coat with pit zips. These are exactly like they sound like, zippers that open up in the armpits to provide extra ventilation. These are especially helpful for kids who ski hard and are prone to working up a sweat, since they really help them to regulate their body temperature well and not overheat while skiing.
If your kid doesn't love a 2 piece coat and snow pants combo, check out our review of the Best Snowsuits for Kids.
Cheap Ski Coats For Kids
Before I jump in and share the best ski coats for kids, I want to chat about buying cheap ski coats for kids. When our oldest was three-years-old I bought him an awesome-looking little kids ski coat at Target. It looked like it had some good features and I was thrilled to have found a budget ski coat that he loved the look of.
However, throughout the winter, I noticed that he just couldn't stay outside very long before getting wet and cold. "That's normal" I'd tell myself, or "it's just because he doesn't like the cold". Fast forward a few kids, and some lessons learned in buying good gear for our kids and I discovered that getting wet and cold in the snow isn't normal. The next year, we bought him a REAL ski coat and suddenly he loved being outside in the winter and could stay outside for hours and come inside dry at the end of the day. While it's tempting to get a kid's ski coat at Costco or another similar store, you really do get what you pay for.
If you want your kids to stay outside longer and be warmer and drier, invest in a good ski coat for them.
Read Next: Best Ski Gear for One and Two Year Olds and Best Gear for Three and Four Year Olds
Making Ski Clothing Warmer
Did you know that you can make ski clothing warmer? It's true. By getting a good insulating base layer (check out our favorite kids base layers) and then adding a warmer mid-layer, your kid's winter ski coat will actually keep them warmer.
Ski Coats vs Snowboard Coats
People often ask "Is there a difference between a kids ski coat and a kids snowboard coat?" The short answer is NO! Both kid's ski coats and kids' snowboard coats are designed to keep kids warm and dry on the ski hill and allow them to move around freely. Snowboard coats often have more of a "freestyle" look, but many ski coats have similar stylings, so there really isn't much difference.
Best Kids Ski Coats
There are lots of amazing ski coats for kids that are waterproof and extra warm. Decide where you're going to be spending most of your time this winter when choosing the best ski coat for kids. If you'll be somewhere that's really wet, choose one with better waterproofing. If you'll be in the winter somewhere that's very cold, insulation will be incredibly important when choosing the best winter coat for kids.
Overall Best Kids Ski Jacket
Shred Dog Hardshell + Insulator Jacket
Discount Code Below
WaterProof: 20,000 Waterproof Rating
Warmth: Warm down to 0 degrees
Best Features: Helmet compatible hood, adjustable to go larger and smaller multiple times, ultra waterproof, rubberized wrist gaskets
This is hands down our favorite ski jacket for kids. Shred Dog creates amazing quality kids ski outerwear that's designed just with kids in mind. This is truly a one coat fits all design, and I'm shocked that it works so well for all of my kids from ages 4-14! Inside the coats are really customizable with an adjustable fit elastic to make them smaller or bigger (and then small again – just like the waist of kids pants), which gives each kid a custom fit as they grow AND allows it to be passed down. My kids who run warm LOVE the pit zips, and my cooler kids are huge fans of the oversized hood that fits over their ski helmets. As a mom, I love that these coats are super durable, keep the kids warm on cold days AND are incredibly waterproof kids ski coats.
Shred Dog outerwear is built on a layering system so that kids can make their outerwear as warm or cool as they need AND get year round use out of it. In the winter, our kids typically leave their insulator puffy zipped into their hard shell, but we use the insulator alone the rest of the year (literally every day for biking to school – it's small enough to stash in their backpacks for the day), and the hard shell for rainy days (it was the only kids jacket that could stand up to the rains on our trip in the PNW this summer).
This is the ski gear that you'll see all of our own kids wearing this season, because the quality is so incredible. Last season we got a set of Shred Dog outerwear for our oldest son, and by the end of the season, we had switched over all 5 of our kids gear to Shred Dog because it's just THAT GOOD! We also love that their colors work well for boys ski jackets and girls ski jackets alike so it's easy to pass them down between siblings!
Use code BTK25 for 25% off any order or
BTK35 for 35% off any order over $400
Check Prices on Shred Dog Hardshell Waterproof Ski Coat For Kids and on Shred Dog Insulator Jacket.
WaterProof: 20,000 Waterproof Rating
Warmth: Warm down to 15 degrees
Best Features: Adjustable cuffs, thumb loops, lifetime warranty, ultra waterproof
The Burton Powline is a high-quality kids' ski jacket and snowboard jacket. It has a 20,000mm waterproof rating, just like Shred Dog, so it's one of the best coats for skiing in wet conditions. Of course, to match the extremely resilient outerwear material is fully taped seams and excellent breathability. It also offers fantastic insulation so that children stay warm while skiing in this warm ski coat for children.
Add to that a fantastic wind and powder skirt to shield snow from entering the bottom of this boys ski jacket while sledding, skiing, or snowboarding. We also love the generous helmet compatible hood to keep kids warm and dry on extra cold or wet days. This best winter coat for boys has a distinct style that makes it ideal for snowboarding or a great kids' ski coat for groms who want a freestyle appearance. If you're shopping for a high-quality waterproof winter jacket for children, this is an excellent choice.
Check prices on Burton Stark GORE-TEX winter ski coat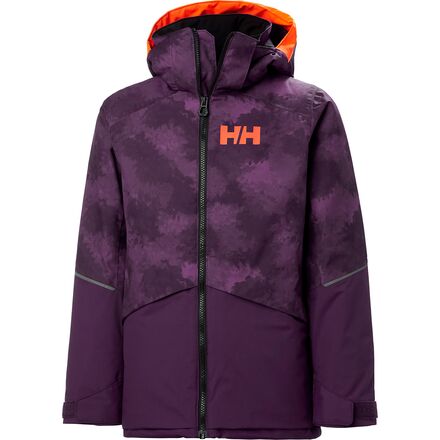 WaterProof: 12,000 Waterproof Rating
Warmth: Warm down to 0 degrees
Best Features: Adjustable cuff and hem, taped seams, super waterproof
This is one of the best girls' ski coats you can find. With an incredible 12K waterproof rating and Primaloft insulation, this jacket is perfect for when your gal wants to tackle a powder day. The seams are fully taped adding more waterproof protection to this girl's ski jacket. We also love that this ski coat for girls has a great powder skirt, adjustable cuffs, and a drawcord hem (both for style and function) to be one of the top performers on the mountain. While it does have a hood, the hood is not helmet-compatible.
To help kids move around better, the articulated sleeves make it easy to move around and be as active as possible. And since most kids are skiing with a phone in their pocket, they'll love the insulated Life Pocket+ that extends phone battery life in low temperatures. This is one of the best girl's ski coats you can buy.
Check prices on Helly Hansen Divine girls ski coat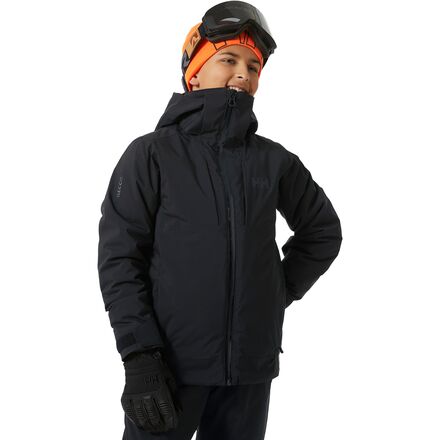 Helly Hansen Jr Alpha Jacket – Boys' – Kids
WaterProof: 12,000 Waterproof Rating
Warmth: Warm down to 0 degrees
Best Features: Adjustable cuff and hem, taped seams, super waterproof
The Helly Hansen Jr ALpha boys ski jacket is one of the best boys' ski coats that you can buy. It's packed full of features and is built to let your boys ski or ride all day long!. It's super waterproof and breathable, so it's great for boys who are going to be out in harsh, wet weather ALL DAY and need the best boys' ski jacket features! While we love that it has a powder skirt and adjustable cuffs, the hood on this boy's ski coat isn't helmet-compatible but it is detachable.
Ski boys will also love that there is a special "Life Pocket" that helps to insulate your phone battery so it lasts longer during the day. The ski pass pockets make it easier to get on and off the chairlift and the fastening cuffs and hem do a great job of keeping snow out! This is one of the best ski coats for boys.
Check prices on Helly Hansen Tornado boys ski coat
WaterProof: 15,000 Waterproof Rating
Warmth: Warm down to about 10 degrees
Best Features: Articulated design, 2-way stretch fabric, lots of pockets
This relaxed-fit boys ski jacket from Obermeyer is packed full of features to keep your boy happy on the ski hill. our favorite feature is the articulated design and 2-way stretch fabric so this coat moves well with kids and doesn't slow them down. It's also packed full of tons of pockets, adjustable cuffs, a powder skirt, and a lined collar and chin warmer. The 15K waterproofing is very good, and that's only aided by the critically taped seams to keep more moisture out. This jacket is warm enough for most ski days (with extra insulation at the core) and also has good ventilation for kids who get hot easily. This is one of the top boy's ski coats.
Check prices on Obermeyer Mach 12 winter ski jacket
WaterProof: 10,000 Waterproof Rating
Warmth: Warm down to -10 degrees
Best Features: Thumbhole wrist gators, Helmet compatible hood with fur trim, lots of pockets.
If you are looking for the warmest girl's ski jacket, then take a peek at the Spyder Atlas. Made of synthetic down, this jacket provides comparable insulation to a 600 fill down coat. It's got a puffy look and fit but is still ready for wet weather with a 10K waterproof rating and taped seams. To add to the style of this warm ski coat for girls is a removable hood with fur trim. This warm girls ski jacket comes in regular girl's sizes as well as toddler sizes, making this also the warmest ski coat for toddler girls. This is the best ski jacket for girls made of down.
Check prices on Spyder Atlas ski coat for girls
WaterProof: 10,000 Waterproof Rating
Warmth: Warm down to 15 degrees
Best Features: Detachable hood, powder skirt, limited lifetime warranty
One of the best things about this winter ski coat for boys is that it comes with a lifetime guarantee (though you probably won't need it). This is an excellent option for a waterproof coat for boys since it has 10,000m waterproofing. It's also among the best ski jackets for boys. Another excellent feature of the Spyder Ambush jacket is that not only is the hood detachable, but it's also helmet-compatible, adding additional warmth on chilly days while still providing coverage. If you're shopping for one of the top ski jackets for boys, and don't need one with incredible waterproofing, this is one to think about!
Check prices on Spyder Ambush ski coat for boys
WaterProof: 10,000 Waterproof Rating
Warmth: Warm down to 10 degrees
Best Features: Detachable hood with faux fur, zippered pockets, drawstring hem and powder skirt
The Spyder Conquer is one of the best ski coats for girls and has fantastic styling that will let girls stand apart from the boys. We love the faux fur trimmed hood that's helmet compatible, but also detachable for days where fashion trumps function. The synthetic down insulation keeps kids extra warm on colder days making it a very warm girls ski coat.
Check prices on Spyder Conquer ski jacket for girls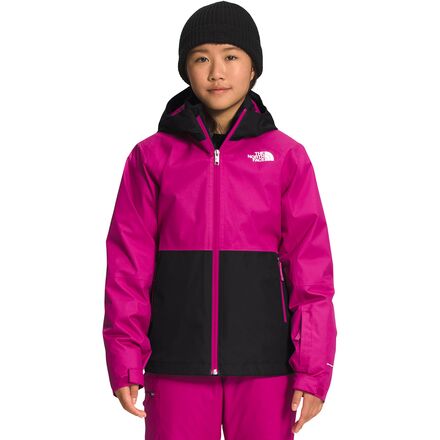 The North Face Freedom Triclimate Jacket – Girls' – Kids
WaterProof: 10,000
Warmth: Warm down to 0 degrees
Best Features: 3 in 1 layering
There are a few things to really love about this kid's ski coat from The North Face. The best feature about this warm kids' ski coat is that it's really WARM. This comes from the 3 in 1 layering system that allows you to customize the warmth of your kid's coat to suit their preferences and the ski conditions.
While we want to love a lot of the other features of this kid's North Face jacket, a lot of them come in sub-par. While this coat looks great for outdoor play, it's lacking some features that make it a great kids ski coat. This jacket is lacking a powder skirt and the hood is not helmet compatible. The idea of it is good, but for this price, you can get a better quality coat. Overall, this appears to be good name-brand coat, but for the high cost of this kids ski coat, you can get better quality for the money.
Check prices on The North Face Freedom Triclimate Kids ski coat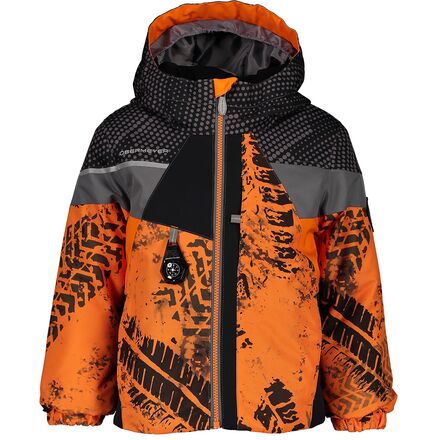 Obermeyer Orb Jacket – Toddler Boys' – Kids
WaterProof: 10,000
Warmth: Warm down to 0 degrees
Best Features: Fleece lined collar and cuffs, articulated design, I-Grow system
If you're looking for the best toddler ski coat, we highly recommend the Obermeyer Orb. This ski coat is designed just for little skiers to keep them dry and extra warm on colder days. To help keep little ones cozy, this toddler ski jacket has a fleece lining on the cuffs and collar, right where other jackets rub the most. Best of all, this little kids ski coat has an articulated design to give kids more freedom of movement whether they're learning to ski or just playing in the snow.
The Obermeyer I-Grow cuffs allow you to extend the arms as your kids grow (though you can't shorten them again like with Shred Dog). This is one of the best toddler ski coats and warmest toddler ski coats on the market.
Check prices on Obermeyer Orb Toddler ski coat