This post may contain affiliate links. As an amazon associate, we earn from qualifying purchases.  Find out more in our disclosure.
A kid's puffy jacket is one of the most versatile pieces of outerwear, and a must-own for every outdoor kid. Puffy jackets are our kids' go-to all year round, and along the way, we've discovered some pretty amazing puffy jackets for kids that we can't wait to share with you!
In the summer our kids use their puffy jackets on every single camping trip, and they're perfect for night games on cool summer evenings in our mountain town. During the school year, puffy coats are what our kids wear almost daily for riding bikes to school on cold mornings since they're warm but small enough to stash inside a backpack. In the winter, we use puffy coats to layer under ski clothes on extra cold days or to wear under our favorite ski hardshell. They're also ideal for travel because they pack up small! Do you get the point? We are always wearing puffy coats – they're a great kids mid-layer!
When it all comes down to it, puffy jackets are one of the best ways to keep kids warm.
Skip ahead to the best puffy coats for kids
Need other coat ideas? Check out our reviews of the best kids winter coats, best kids fleece jackets, and the best snowsuits for kids.
Kids Puffy Jacket Insulation: Is Down Or Synthetic Better?
Kids' puffy jackets are usually filled with either a down or synthetic insulation (and there are even some new more eco-friendly insulations we'll share below). Both types of insulation can do a great job though both have a few drawbacks. Here's the quick rundown:
Tip: Kids can stay warmer in any coat by wearing a good base layer underneath!
Down Insulation for Kids Puffy Coats:
Down insulation typically comes from goose or duck down (not feathers), and is super soft, lightweight, and compresses easily. A good rule of thumb for the warmth of a puffy down coat for kids is the fill power. While it doesn't directly correlate to warmth, it's a good starting point and kids' down coats with a higher fill power are typically warmer.
Pros of Down Insulation
Lightweight
Packs Down Small
Typically warmer
Lasts longer
Cons of Down Insulation
More expensive
Not water resistant
Requires special care
Can cause allergy problems
Synthetic Insulation For Kids Puffy Coats
If you're looking for the most affordable puffy jackets for kids, you'll probably be looking at a kids puffy jacket with synthetic insulation. For many kids and many conditions, these puffy coats are going to be just fine, and there are some major advantages to synthetic insulation. Most of the time, I put my kids in synthetic puffy coats since they're so easy to care for and work better in variable weather like rain and snow where the coat might get wet.
Pros of Synthetic Insulation
Water resistant
Cheaper Cost
Easier to care for and wash
Cons of Synthetic Insulation
Bulkier and doesn't compress well
Not as warm as down (typically)
Can Kids Wear A Puffy Coat Skiing?
While there are a few kids' puffy coats that are waterproof, we generally recommend that for skiing, a puffy coat is used as a mid layer. The best puffy coats for layering while skiing are the Patagonia down sweater and the Shred Dog Insulator.
Overall Best Puffy Coats For Kids: Top Recommendations
While we've done a more thorough review of each coat below, here are our quick recommendations for kids puffy coats:
Best Toddler Puffy Coat: Reima Kupponen
Best Down Puffy Coat: LL Bean Ultralight
Best Synthetic Puffy Coat: Shred Dog Element Insulator
Best Puffy Coat For Teens: Marmot Guide Down Puffy Jacket
Warmest Puffy Jacket For Kids: Reima Pellinki
Best Puffy Jackets For Kids: Down Insulation
Below you'll find the best down puffy jackets for kids. There are so many great styles and color options, in addition to a huge price range, that you're sure to find the perfect down puffy for kids.
Kids' Ultralight 650 Down Jacket | Jackets & Vests at L.L.Bean
Size: 2T-18
MSRP: $99 (toddlers) $149 (kids and teens)
Fill Power: 650
Ultralight jackets for kids are hard to come by, but LL Bean has really nailed it with this kid's Puffy. It has 15% more down insulation so it's warmer without adding extra weight. To minimize environmental harm, the water-resistant shell of this ultralight puffy jacket is made of 100% recycled ripstop nylon now. It keeps kids 50% more dry than the original DownTek because of 650-fill DownTek PFC-FreeTM water-resistant down. We also love that it can be machine washed and dried on cold, making it easier to care for.
Sizes: 12 months-5T
MSRP: $99
Down Fill: 550 Fill Power
What? A waterproof down coat made just for toddlers? BRILLIANT! We love Reima for all things kids and this toddle puffy coat is no exception. It's made of a windproof, breathable material that also has a waterproof rating of 10,000. It has a detachable hood and the down is Responsible Down Certified.
Size: 5/6 to 14
MSRP: $119
Fill Power: 600
If there's one thing that Patagonia is best known for with kids it's their amazing down puffy jackets. The Patagonia Down Sweater is super durable with rugged ripstop nylon outer and a polyester lining. Both the interior and exterior are treated with a DWR finish to resist moisture and extend the life of this kid's coat. This coat is a great weight for year-round wear, as a stand-alone coat for 3 seasons and a mid-layer on cold winter days. One of the best things about the Patagonia down sweater is that it's light and compact enough to be able to use it as a layering piece. This is a kid down puffy jacket that will last for years and years (perfect for passing down or sharing!)
A kid's puffy coat will be one of the most used pieces of outerwear that a child will ever own, so make sure to get them one that works well. Decide carefully how water-resistant, warm, and packable you want your puffy coat for kids to be BEFORE buying so that you make sure you get the best option for your kids.
Sizes: 4-14
MSRP: $129
Fill Power: 550
We love this stylish puffy coat for children with its diamond quilting. However, the thing that really makes this puffy coat stand out is it's warmth. While it has a fill power of 550, it's rated warm down to -20 degrees Farenheit (proof that you don't need the highest fill power for the most warmth). This kids coat has a light water propellant finish on the outside as well as a smooth lining that contains recycled fibers. Reima kids outerwear is designed to let kids just be kids and not be slowed down by their gear, and this is just proof with one of the warmest puffy coats for kids!
Size: 7/8 to 18/20
MSRP:$129
Fill Power: 550
Whether you want to use it for layering or to just get outside on cold days in the winter, The North Face Reversible Hyalite Down puffy coat is a fantastic coat for boys. This coat is reversible, with one side looking quilted like a traditional down jacket and the other appearing smooth, so kids can get 2 looks in one with the puffy coat. The 550 fill power is great at keeping kids warm and we love that there is elastic at the wrists and hem to help trap in warmth!
Size: 4/5 to 17/19
MSRP: $140
Fill Power: 700
The Marmot Boys' Guides Down Hoody is a puffy jacket for winter on the playground. The jacket gets its handsome good looks from the adult version, much like your son probably gets his baby blue eyes from you. This is one of the warmest down puffy coats for kids with 700 fill power down and wide baffles to trap warm air against kids' bodies.
We also love that the down is treated with "down defender" to help make the down more water-resistant, as well as a DWR finish to make the exterior of this kid coat more water-resistant. We also love that this coat is extra durable with tough ripstop nylon, so it can keep up with kids as they play HARD! This is a fantastic winter down puffy coat for kids who like to stay outside ALL DAY LONG, and never want to come inside to warm up!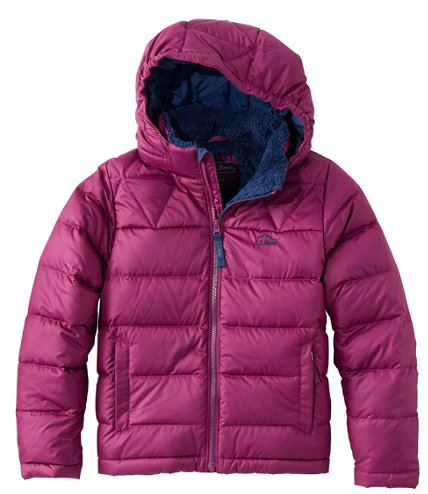 Kids' L.L.Bean Down Jacket | Jackets & Vests at L.L.Bean
Size: 4-18
MSRP: $99
Fill Power: 650
If you have kids who always want to be cozy and warm, they're going to LOVE this puffy jacket. The inside is lined with a cozy high pile fleece that will make your kids want to wear this coat ALL DAY LONG! They'll also stay extra warm with the 650 fill down that has this coat rated warm down to -15 degrees Fahrenheit. The exterior is made of recycled ripstop nylon to make it extra durable and also treated with a water-resistant coating to make this coat last even longer!
Size: 3-4 to 10-12
MSRP: $50
Fill Power: 650
If you want a really affordable lightweight down jacket for kids, this is your best option. Costing right around $50, this is the cheapest kids puffy jacket made of down that we've ever seen. Weighing only 0.6 lbs, this is great for travel, backpacking, camping, or even just stuffing into a backpack at school. While the exterior is a thinner fabric and will require kids to be more careful, we love seeing small packable puffy jackets for kids being made at an affordable price!
Best Puffy Coats For Kids: Synthetic Insulation
Here you'll find our favorite synthetic puffy coats and jackets for kids. These include everything from budget puffy jackets for kids to higher-end children's puffy jackets.
Element Kids' Insulator
Sizes: 4-16
MSRP: $66
This is our family go-to puffy jacket for kids. We love that it's lightweight to wear year-round, and it's easy to compress so it's what our kids always grab for to bike to school and what we take when we travel. In the winter, our kids layer it under their Shred Dog hardshell and are warm enough for our cold ski days. Our favorite feature of this puffy jacket for kids is that you can shorten the arms and then make them longer again, with their awesome grow system (similar to the waist of kids' pants with a button and elastic). This is the best synthetic kids' puffy jacket!
Sizes: 2-13
MSRP: $199
This year we were introduced to the Namuk Glow Puffy and while it's got a big price tag, it's fantastic quality. We were looking for a puffy that our daughter could wear to and from school while she bikes in the snow, so it had to meet a good list of criteria. It had to be super warm (it's often 10 degrees Fahrenheit), pack down small to go in her backpack and also be stylish enough for her to wear with friends. Not only did the Namuk Glow check all these boxes, but the stitching is reflective, so she's more visible to cars on those early morning rides.
We also love that this jacket is reversible, which is a big benefit when kids want a few different looks, but you only want to get them one coat (or pay for one).
This jacket runs a little big, which is great so you can get more use out of it. Our daughter is wearing a 11-13 which should easily last one more season (she normally wears a 12-14).
Sizes: 4-14
MSRP: $99
Once again, Reima puffy coats for kids makes our list. Both the Sumppi and Kahvi are very similar in their construction. The Sumppi has a more athletic fit with a ribbed bottom and wrists, while the Kahvi is longer with an A line cut and wider styling.
Our 7-year-old wears the Sumppi jacket and absolutely adores it. It's perfect for days that are below freezing when kids need to stay warm and dry, but don't want to wear a full ski coat. Our son is vary particular about textures, and he loves the smooth lining, making this children's puffy coat a big favorite in our house!
Size: 3-7
MSRP: $50
Our 4-year-old has this coat and we absolutely LOVE IT! He's always been drawn to soft material, so the fleece lining is perfect for him (and the fun print is a great bonus). While this jacket is technically reversible, we always just keep it with the fleece inside, because it's so soft. This is a great puffy jacket for toddlers, especially if you want a soft kids jacket for them to wear.
Size: 2T to 16
MSRP: $95-$129 (lots of sale options available)
We really love the Burton Evergreen children's puffy, not just because it comes in some of the best color and pattern combinations…
What really makes us love it is the fit and construction. This is a coat that's designed to fit well so that it moves with kids and doesn't slow them down by being too baggy or tight. The synthetic insulation gives off a good amount of warmth and kids really love the microfleece collar so that its softer on their faces (the handwarmer pockets are also lined with microfleece). The binding at the hem and wrists does a great job of trapping in heat, making this a great puffy jacket for kids.
L.L.Bean PrimaLoft® Packaway Jacket (Big Kids)
Size: 4-16
MSRP: $89
This synthetic puffy jacket for kids is a super lightweight and packable jacket, while still remaining nice and warm. With PrimaLoft Gold Insulation it can stay much warmer than other lightweight coats, so it's perfect for all 4 seasons. We also love that this puffy jacket is made with 100% recycled materials making it the most eco-friendly puffy jacket for kids!
Size: 2T to 14/16
MSRP: $39
If you want the most affordable puffer jacket for kids, Amazon Essentials is the place to look! These children's puffer jackets are really lightweight and waterproof, and a great price. While these are an okay option for a lightweight kids puffer coat, they're not quite up to the quality of Shred Dog, so I'd recommend those before the Amazon Essentials Puffer jackets. That being said, if you have a kid who loves cool patterns puffy coats, this is a fantastic choice!
Size: 7/8 to 13/14
MSRP: $70 (sale price linked here)
For years and years this was our favorite puffy jacket. It's super warm so kids can even wear it out on cold winter days, and the construction is very solid. We love that the synthetic material is a little water resistant, but mostly that it retains some heat even when wet. Perhaps our favorite feature of this children's puffy coat is the cinch cord at the bottom which is perfect for really trapping in the heat on cold days.