This post may contain affiliate links. As an amazon associate, we earn from qualifying purchases.  Find out more in our disclosure.
Kids mid layers are an essential piece for layering kids for winter. They're the best way to keep kids warm on cold days and are an essential piece of kids ski clothing.
The best way to keep kids warm in the winter is by layering their clothing. We always start with a high-quality base layer, an insulating mid layer, and top it with waterproof outerwear (both a coat and snow pants). Wool socks are our go-to in the winter since they are warm and insulating, and also dry quickly if the kids accidentally step in a puddle.
Kids mid layers come in a wide variety of materials, weights, and prices to keep kids warm in winter. When looking for mid layers for kids, make sure to get both pants and a top. Many people skip the pants and kids end up getting so much colder without them.
Best Kids Wool Mid Layers
When the weather is really cold, we always turn to merino wool. Merino wool is the absolute best at helping kids regulate their temperature (both for hot and cold), insulates when wet (perfect for spills), and is naturally odor resistant (hallelujah). The 2 wool mid layer sets below are both incredible in terms of comfort and performance and are worn on repeat at our house during the colder months.
When we weather is really cold, this is what my kids live in. These merino fleece layers are simply genius. They feel like a regular sweat suit to kids, but they have all of the performance features that you'd expect from merino wool.
They're super warm, regulate body temperature well, and they resist odors (which is perfect since my kids wear them several days in a row when it's cold). We also really love that you can get the top and bottoms separately so that you can make sure to get sizes that fit perfect for any body type. These fit true to size and have a relaxed fit (similar to sweats…which my kids adore)
Iksplor is one of our favorite brands for kids since their merino wool is really well made. We've been wearing their Adventure Jogger Set for a while now and really love it – both for kids and adults. The merino wool is thick and cozy, and is the perfect relaxed fit so that you can easily layer underneath or just wear on it's own.
This adventure jogger set comes with both a top and a bottom and is generously sized. My kids are all slim, and I ordered their regular size and they fit well, but still had plenty of length to grow into (in arms, legs, and shirt length) so they could easily wear them for 2 years. We have a hard time finding outdoor gear that fits my slim kids, and these are an excellent fit for them (but also stretch so they'd fit bigger kids well too).
Puffy Mid Layers For Kids
Puffy jackets can be a great mid-layer for kids, but often they're too bulky and inhibit kids movement under their outerwear. We've only found one puffy jacket that we always LOVE for layering under our kids clothes…
This is the puffy coat that we recommend the absolute most. Everyone in our family has one and they're amazing. Not as puffy as most other "puffy coats for kids" but they're still just as warm. We wear them under our waterproof shells in the winter and then really for the rest of the year whenever it's cool. They pack down really small and are a great value for the quality they provide!
Also read: Best Puffy coats for kids
Fleece Mid Layers For Kids
Fleece makes an excellent midlayer for kids since it's warm, super cozy, and really affordable. The big thing that fleece doesn't do that merino does is regulate body temperatures well (so it's easy for kids to overheat and start to sweat). If you're looking for a budget mid-layer, fleece is one of our favorite options.
Fleece Mid Layer Sets For Kids Top + Bottom
My 5-year-old basically lives in the Reima Kahbvilla Coffe Baen Fleece. It's smooth on the outside and super soft on the inside so he's wearing it all the time on our cold winter days. Perfect for wearing outside on its own or for layering under something warmer for skiing or sledding. We especially love that this set can get FILTHY and washes up so nicely every time!
This toddler mid-layer set is absolutely AMAZING! The material is so cozy, it fits well, and the prints are adorable. The only bad thing about it is that it doesn't come in bigger sizes. If you have little kids, this is the set to get!
This set is actually marketed as a base layer, but we think it works better as a mid layer. This set is made of microfleece and is super cozy and soft. It's the best complete top and bottom mid layer for kids' set that we've found that goes into the bigger sizes. The fleece is lightweight and extra soft so kids will love wearing this winter fleece set. This is a good mid-layer set for warm to cold days.
Fleece Mid Layer Pants For Kids
Often overlooked, mid layer pants are essential to keeping kids warm outside in the winter. A cold backside can make kids want to come in FAST, so dress them well with fleece pants. We love fleece pants because they're durable and forgiving enough to wear to school, for climbing trees, and also as a layer underneath snow clothes.
Columbia makes some of our all-time favorite fleece for kids. It's thick, lasts long, doesn't pill, and is affordable. These fleece pants for kids are some of our favorites since they are super soft and layer well. Available in both toddler and kids sizes, these kids fleece leggings are excellent quality that doesn't sacrifice any warmth!
These girls fleece pants from Columbia are an excellent combination of warmth and style. Girls can easily wear these under a tunic or dress for a more dressed up look, or they can be layered under ski pants for a day on the ski hill. These do have a more fitted style, so just make sure to buy them big enough that you can comfortably wear them over base layers on really cold days.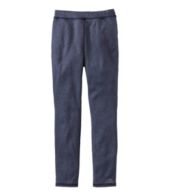 These girl's fleece leggings are the perfect insulating pants for girls. The thick fleece will keep kids super warm and they'll last long with the anti-pill fleece finish. We love that they are fitted, but not too tight for kids to still put a base layer underneath.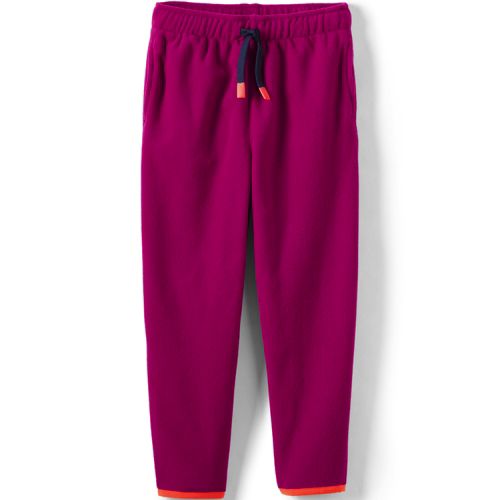 These kids fleece pants from Lands End are great mid-layers for boys or girls. We love that they come in lots of fun colors, have a small bottom cuff so they work well with ski boots, and that they have a bit of stretch to them. These are some of the best budget mid-layer pants for kids.
Fleece Mid layer Tops For Kids
Having a good mid-layer top is essential for keeping kids warm in winter. A warm mid layer helps to insulate kids' core, which is one of the most important things to regulate body temperature. Below are some of the best mid-layers for kids made of fleece.
Make sure to also read: Best Kids Fleece Jackets
This is a good lightweight microfleece top for kids. It's best for days that you need an extra layer, but don't want it to be too thick. This Columbia mid-layer for kids is great for layering and won't add much extra bulk under a coat. This is a good mid layer for kids on warm to cold days.
This is hands down the best kids fleece jacket for your buck if you want traditional fleece. The fleece is thick, warm, and lasts for years and years (we have one that's on it's 4th kid and still looks great). We highly recommend this kid's fleece jacket if you need something warm and toasty for really cold days, or for wearing alone on spring and fall days. This is a great mid-layer for super cold days.
This fleece jacket is another mid-layer piece that gets worn ON REPEAT at our house. It doesn't have the same feel as a traditional fleece, but it performs just as well if not better. The outside is smooth and soft and the inside is a waffle knit fleece that does a great job at insulating kids. This jacket is really warm but still manages to be much thinner than most other fleece jackets, making it a great kids' coat for layering. This is a great mid layer for any weather.
This fleece pullover for kids has a classic design that's perfect for the mountains. We love that the fleece is thinner so good for layering on days that aren't absolutely freezing. The snap neck gives you extra neck warmth, but can also be folded down for more airflow. Of course, who can forget that this comes in 8 different prints that are super cute, so kids are sure to find something they love. This is a good mid-layer for kids on warm to cold days.