This post may contain affiliate links. As an amazon associate, we earn from qualifying purchases.  Find out more in our disclosure.
Over the last decade or so, there's been a major shift from unisex gear to gear that's more specific for girls bodies, and we are so excited about it! It's no secret that girls and boys bodies are different, so we are thrilled to see so many skis designed just for girls to help make skiing easier for them.
We also know that many girls, our daughter included, care a lot about looks, so these girl-specific skis have some fantastic design options that will make your ski girl thrilled to hit the slopes and show off her style!
To help you find the best skis for young girls, we've gathered together the best girls skis that we can find all in one place. You'll find everything from beginner girls' skis to expert girl skis for tweens and teens.
READ: Best Ski Gifts For Girls
Best Girls Skis Overview
If you're looking for the perfect skis for your daughter, here are 5 of our top picks that we think girls will love! These are some of the best skis for girls (more details on each below).
Best Toddler Girls Skis: BlizzardPearl JR
Best Beginner Girls Skis: K2 Luv Bug
Best Intermediate Girls Skis: Rossignol Experience Pro
Best Advanced Girls Skis: Nordica Santa Ana 80 S and Nordica Santa Ana 95 S
Need more options? Check out our full review of the best kids skis.
Looking for More Ski Gear Tips? Read These Articles:
Best Ski Boots For Kids
Best Kids Ski Goggles
Best Ski Helmets for Kids and Teens
Best Kids Ski Coats
Best Kids Snow Pants
Best Beginner Skis For Girls
We love these adorable beginner skis for girls. They all have good flex to them that make learning to ski even easier to help girls fall in love with skiing. Make sure to also read up on how to use a ski harness the right way, and the pros and cons of using an edgie wedgie before you hit the slopes.
Also available in 124cm and 136 cm here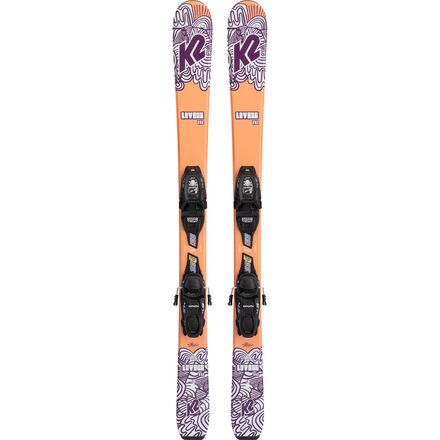 Luv Bug Ski + FDT 4.5 Binding – 2022 – Kids'
Best For: Beginner Ski Girls
With the Luv Bug, you can easily pass on your enthusiasm for skiing to your little girl. The K2 LUV line of skis is one of the most legendary womens ski lines and we love that they've taken that women-specific technology and created a little girl ski. Of course, we love the composite core that's sure to last for years and provide tons of fun on the ski hill.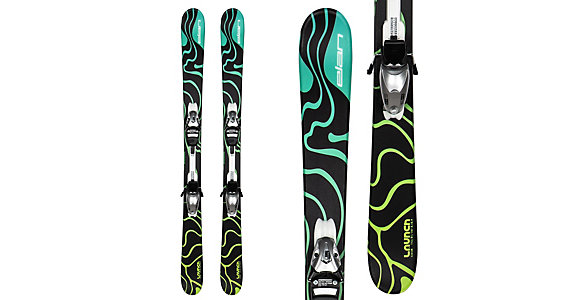 Elan Launch QT Kids Skis with EL 4.5 GW Shift Bindings
Best For: Beginner Ski Girls
We really love these little girls skis from Elan. They have a great styling and a good amount of flex (25 % more than others) to be extra forgiving for young girls learning to ski. We also love that the binding is designed to use with the softer materials in young girls ski boots. This is an excellent ski boot for girls learning to ski and intermediate ski girls.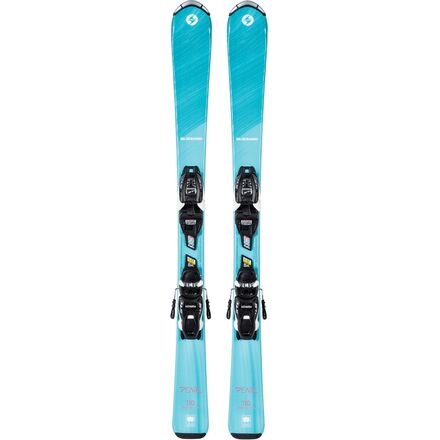 Pearl JR Ski + FDT JR 4.5 Binding – 2022 – Kids'
Best For: Beginner Ski Girls
The Blizzard Pearl Jr is a fantastic choice for the little girl who is just starting out with skiing but also wants her first pair to be great quality (maybe to pass on to a friend or little sister). The Full Camber profile makes it simple to start a contact point on the slopes, which makes learning enjoyable and fun at the same time. The Composite Core makes learning to turn and control skis even easier with the lightweight handling that these little girls skis provide.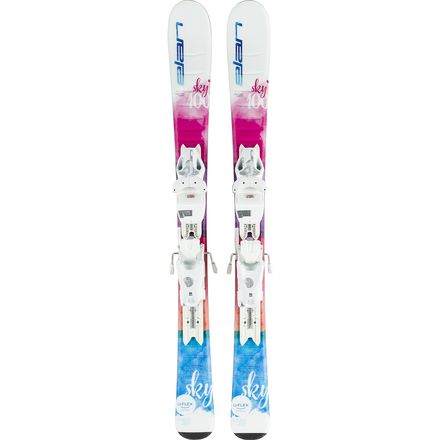 Sky QS Ski + EL 4.5 AC Binding – 2021 – Kids'
Best For: Beginner Ski Girls
Beginner-friendly ski aimed at children looking to learn how to ski. Transitions are easier because of the rocker in the tip, which also adds float. Short turn radius enables for quick and effortless control. Power Cap construction provides a lightweight and durable feel. The ski is easy to flex for smaller riders due on U-flex technology.
Roxy Ski Kaya Girl/Etrack C5 20-21
Best For: Beginner to Intermediate Ski Girls
Get your little lady excited about skiing this year with the Roxy Kaya Girl's Skis. This cute ski set-up makes skiing easy and stylish! The Kaya is designed to be simple to steer and light underfoot, from its form to its construction. This is one of the best beginner to intermediate skis for little girls!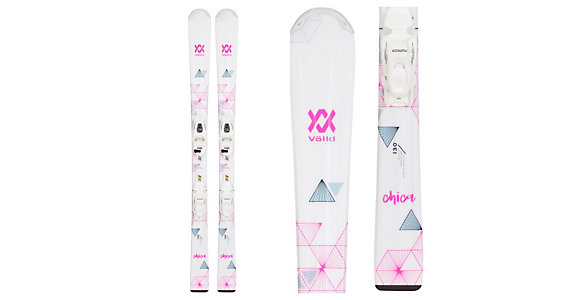 Volkl Chica Kids Skis with vMotion 7.0 Jr. Bindings 2022
Best For: Beginner to Intermediate Ski Girls
The Volkl Chica is a great ski for girls who are beginner to intermediate skier. It has plenty of flex so it's forgiving for girls learning to ski and still ahs enough power that they can turn easily. we also love that it has a durable topsheet to help prevent scratches and chips and keep these girls skis looking like new for longer.
Best Intermediate Skis For Girls
When girls are skiing at an intermediate level, they need skis that can handle the terrain and style of their skiing. This typically means a stiffer core, more responsive edging, and advanced construction. These are the best girls' skis for intermediate ski kids.
Rossignol Experience Pro Girls Skis w/ Bindings 2020-21
Best For: Intermediate Ski Girls
The girls' Experience Pro junior ski was created to make learning to ski easier, more pleasant, and more fun. Even the tiniest skiers can improve their skills thanks to this expert ski for children. The girls ski's junior-specific flex and rocker profile make it easy for children to learn to pivot, steer, stop, and have fun on skis by using changing terrain to their advantage. The oversized shape of this ski and sidecut, also make carving out turns even easier. This is one of the best all mountain skis for girls.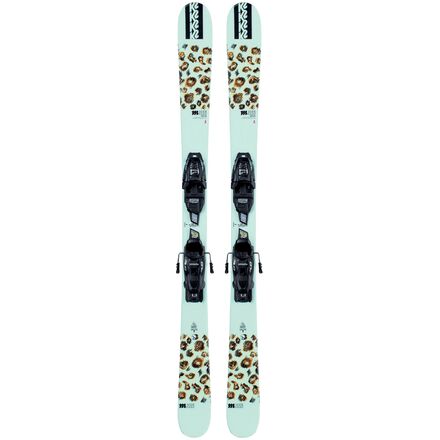 Missy Ski + FDT 4.5 Binding – 2022 – Kids'
Best For: Intermediate to Advanced Ski Girls
The K2 Missy is a girls ski designed for kids who want more from their skis than what the average junior ski can give. This is one of the best girls skis for advanced skiers. It features a twin-tip design and a 72mm width that works well on any condition from the groomers and bumps to the terrain park. The Missy is a ski with a cap construction and composite core that makes it durable yet light. Of course, the graphics will be an easy sell to any girl skier!
Best Skis For Advanced Girls
When a girl starts skiing at an advanced or expert level, she needs a ski that can keep up with her. That means a stiffer core, wider body, and incredible responsiveness. A ski for girls who are advanced can go all over the mountain and does just as good racing down a groomer as it does in the bumps and can also easily plow through the crud or float on the powder.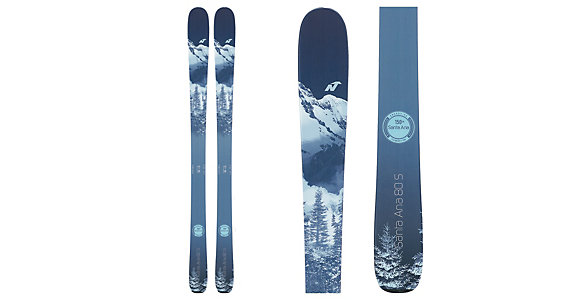 Nordica Santa Ana 80 S Girls Skis 2022
Best For: Advanced Ski Girls
The Nordica Santa Ana 80 S is a ski for intermediate to advanced ski girls looking to get into all-mountain skiing. We love that the wood core provides a lightweight and super stable core for girls who are really looking to push their limited with both speed and terrain. A super stable core is essential for more advanced skiers and we think that this is one of the best skis for advanced girls. We also love that the sidewall has a thin layer of Energy CA for lots of snappiness making this an all-around great ski for all-mountain ski girls. Note: This ski does not include bindings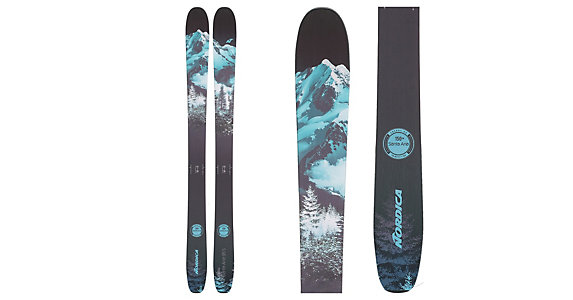 Nordica Santa Ana 95 S Girls Skis 2022
Best For: Advanced to Expert Ski Girls
The Nordica Santa Ana 95s girls ski is the most advanced ski that you can buy for girls. With a 95mm measurement at the waist this is the best fat ski for girls and the longer lengths make this a great ski for teen girls who are really looking to ski all over the mountain and go fast. The wood core provides lots of stability and the wider design makes this an excellent teen girls powder ski. If you want to get girls skis that are the very best, the Santa Ana 95 is the way to go. Note: These skis do not include bindings.
I hope that this has been helpful to help you narrow down the best girls skis so that your little one can have a fantastic ski season!